Campus Life
News
U of A law graduate awarded Mandy Macleod Prize for Excellence in Mooting
Gagnon received the award for her contributions as a competitor and moot mentor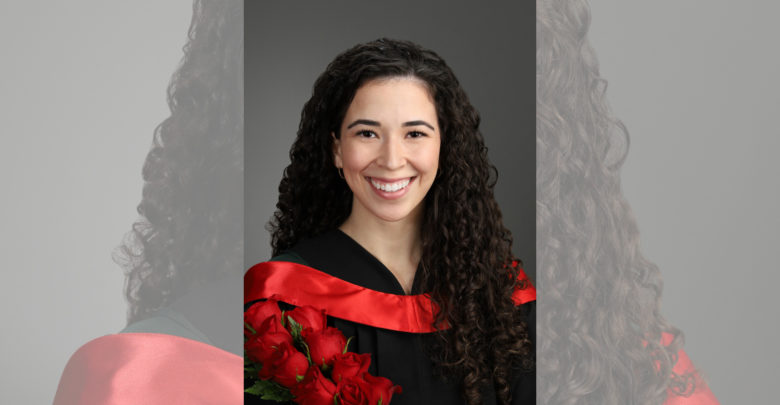 Rielle Gagnon, a 2022 law graduate, was recognized with the Mandy Macleod Prize for Excellence in Mooting. Gagnon received the award during the annual Celebration of Mooting for her contributions as a competitor and moot mentor. 
The award was established in 2020 after alumna Mandy Macleod, a 2014 law graduate. The award recognizes graduating students who have made the greatest contribution to the moot program during their time at the University of Alberta law program.
A moot is a simulated court case in which law students are given a position to argue. Students analyze a problem, prepare written submissions and present an oral argument. The goal of a moot is to have a dialogue with the judges in order for them to gain a deeper understanding of the issues so they can find in a team's favour.
"I was so shocked and incredibly humbled because our faculty is full of extremely wonderful, extremely intelligent, capable, and just incredible mooters," Gagnon said about receiving the award. 
In Gagnon's second year, she was placed on a team for the Alberta Court of Appeal Criminal Law Moot. During that moot, the U of A won all three rounds of the criminal law moot, the civil law moot, and the constitutional law moot. 
"Once you get the moot itch, it's like it bites you and you can't get rid of it. So I tried out again."
In her third year, Gagnon participated on the Wilson Moot Team, a national moot competition where 13 law schools participate across the country, including one law school from Australia. 
Gagnon and her team competed in the final round of the competition and placed second overall and first for written facts.
"That was an absolutely surreal experience being asked questions by these judges from the courts in [British Columbia], the Ontario Court of Appeal, and Ontario Superior Court," she said. "That was just such a unique experience that I will cherish forever."
Gagnon added that she was grateful for her coach and her teammates.
"My teammates and my coach are people that I admire so much and have learned so much from, and I feel so privileged to have had the opportunity to work with them."
As an upper-year student, Gagnon mentored first-year students to prepare them for their moot.
"[Moot mentoring] is something that the U of A does so well in their program," she said. "It's absolutely incredible the growth that you see over the few weeks that you work with [first-year students]."
After graduation, Gagnon will article at a law firm in downtown Edmonton.
"It's a full-service program … [and] a very litigation-heavy firm. So I will hopefully get to put some of those mooting skills to practice there."
Gagnon said that while some of the time she spent at the U of A law program was online, it did not take away from the "incredibly valuable experiences."
She added that it is important for students to take on challenges during their program.
"Do something that challenges you and maybe something that scares you because competitive mooting was something that made me nervous and scared me, but that was undoubtedly the best experience that I had in law school."