Campus Life
News
Ukrainian solidarity rally hosted by Ukrainian Students' Society in Main Quad
Students, faculty, and administrators came out to show solidarity with Ukraine at the University of Alberta Main Quad.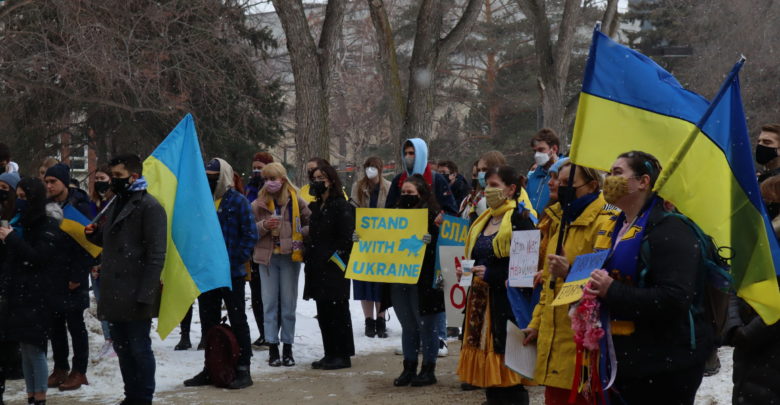 A rally hosted by the Ukrainian Students' Society (USS) took place at Main Quad on February 28 to show solidarity with Ukraine and Ukrainians during this time.
On February 24, Russia launched an invasion of Ukraine, initiating a war. In support of Ukraine, demonstrations have been taking place around the world and the rally on campus had approximately 100 attendees and featured speakers from the student body, faculty, researchers, and the university administration.
Natalie Hanas, president of the USS, was the first to speak and began the rally with prayer in both English and Ukrainian before opening her speech by condemning the Russian invasion.
"Today we come together as supporters of democracy and international law to show our support for Ukraine and its people. The Russian Federation and its army has initiated an unprovoked full-scale war on Ukraine and the Ukrainian nation," she said.
Hanas explained the conflict has already claimed dozens of lives and displaced millions of Ukrainian people, according to the European Union.
She explained how this conflict has negatively affected the wellbeing of Ukrainian members of our campus community.
"For those of us with family and friends in Ukraine, we have no more words for what we feel. We are beyond the point of exhaustion — pain, frustration, repulsion, and heartbreak," she said.
Hanas added however, that this would not stop Ukrainians from showing support around the world.
"The Ukrainian people have unified and Ukrainian organizations at the regional, provincial, national, and international levels have taken action through various campaigns to show support for the Ukrainian people's right to live freely and peacefully in their own land — which the Ukrainian Students' Society firmly supports."
"We must stand with Ukraine today and every day," she said.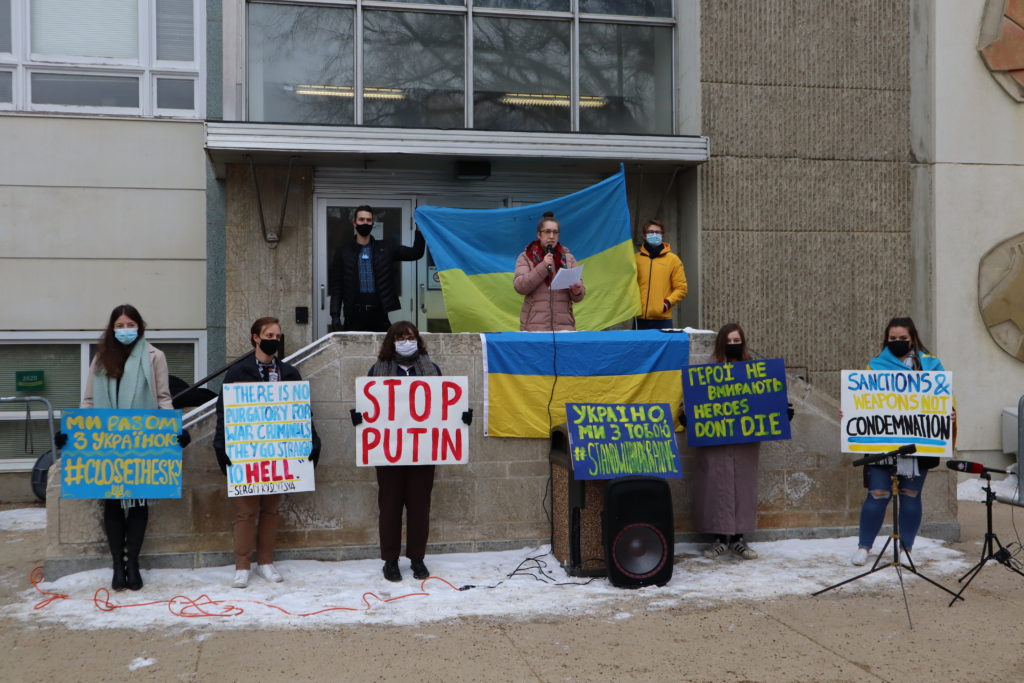 Alla Nedashkivska, the chair of modern languages and cultural studies at the U of A, spoke next on behalf of the Ukrainian studies department.
"Today, for the first time this year we are meeting in-person. Instead of enjoying this moment, we find ourselves here standing with Ukraine," she said.
"Ukrainian people are giving up their lives for their country. In their fight in their fight for world peace and democracy, bravely combating an authoritarian regime that falsifies history, including its own."
Nedashkivska expressed that the Ukrainian community is immensely grateful for the support they are receiving, but that Ukraine needs more global aid, and urged Canadians to step up and show financial support.
"Let's overtake our Canadian government's promise to match up to $10 million in support to Ukraine by the Canadian Red Cross," she said.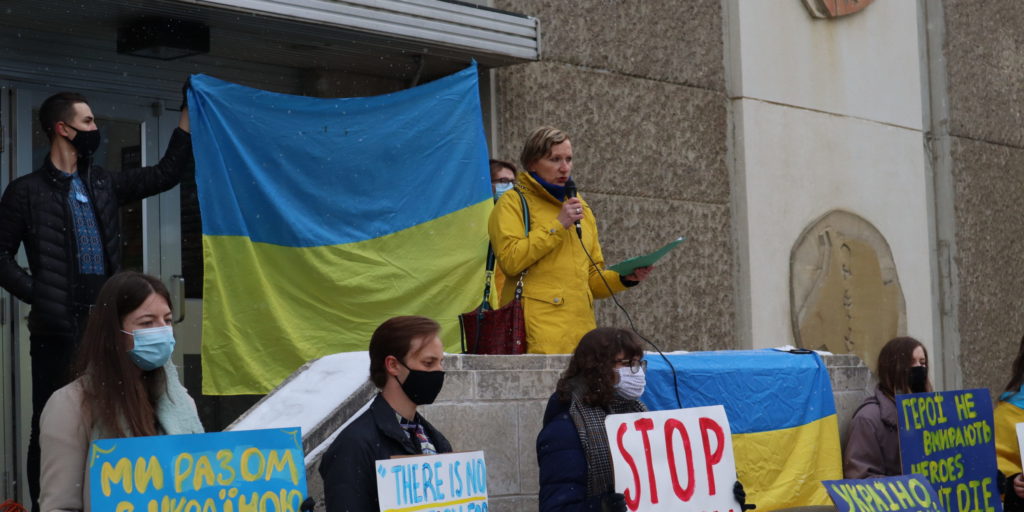 Alla Nedashkivska, the chair of modern languages and cultural studies at the U of A
"Let's ensure that every wounded Ukrainian soldier has the medical aid they need and deserve, and let's ensure that every Ukrainian baby born in a bomb shelter has the life they deserve."
Serge Cipko, assistant director (research) spoke on behalf of the Canadian Institute of Ukrainian Studies.
Cipko explained how Vladimir Putin and the Russian government have violated numerous national and international agreements and laws.
"Yet, ironically, it is the Russian Federation who holds the position of President of the United Nations Security Council," he said.
He added that the Russian government is, however, unable to silence the voices of the international community.
"We here today are part of this international movement of protest. In short, the world has become one big Maidan."
Cipko ended by mentioning that, in response to the war in Ukraine, the Canadian Institute of Ukrainian Studies has created initiatives that students can check out, including "a series of roundtables, analyses, and short videos."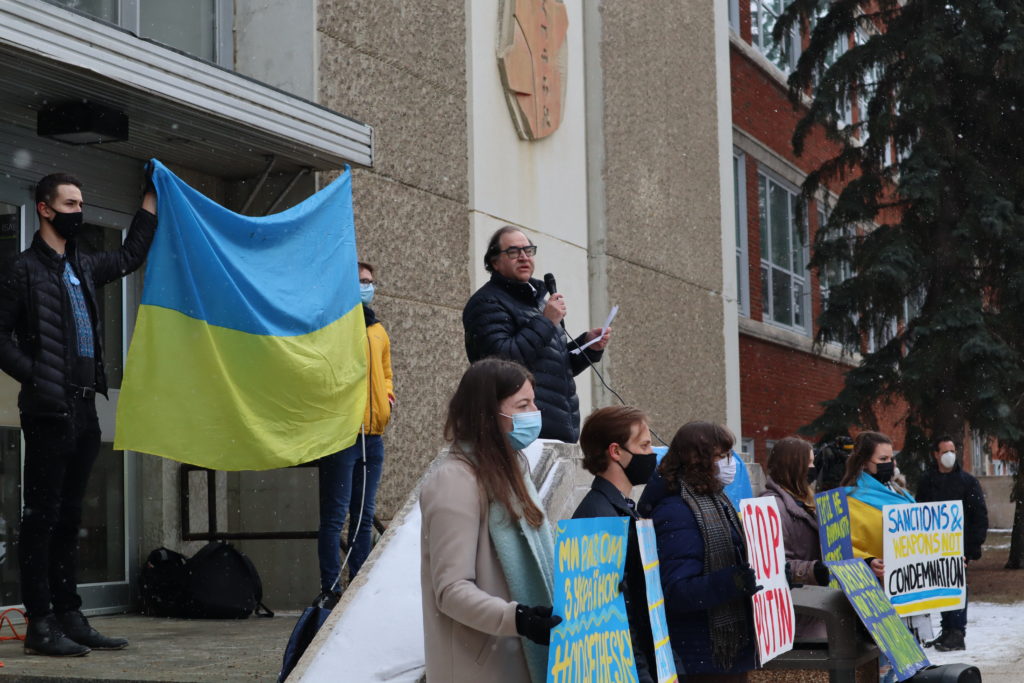 Serge Cipko, assistant director (research) spoke on behalf of the Canadian Institute of Ukrainian Studies.
Elan MacDonald, vice-president (external relations), spoke on behalf of Bill Flanagan, the president of the University of Alberta. MacDonald expressed solidarity on behalf of the university with the Ukrainian community on campus.
"We are with you, we are here for you," she said.
The rally wrapped up with the singing of the Canadian national anthem, followed by the singing of Shche ne vmerla Ukrainy, or "Ukraine is not yet lost," the national anthem of Ukraine.
ISA president shows support for Ukrainian Students' Society
Chanpreet Singh, the president of the ISA, attended that rally and spoke of how Ukrainian international students need our support during this time.
"It's devastating to be honest, because a lot of international students who are from Ukraine — they're over here alone, and their family members are still back [in Ukraine]," he said.
"It's really important for us to stand by the Ukrainian students who are within our community and show them that we are standing in these hard times with them. These are the students who have their family members back home and they don't know if [in] the next morning their family members are still going to be there or not."
Singh also raised that there are many Russian students on our campus as well but that this conflict is not a reflection of any decision Russian students or citizens made. The ISA does not usually take sides on global issues because they represent all international students but Singh raised that the ISA wanted to give support to the USS and show solidarity with them. Singh attended the protest in his capacity as president of the ISA.
Roxy Iszcenko, a second year student studying sociology and Ukrainian and Slavic studies, explained why she came out to show her support for the rally.
"I'm of Ukrainian descent. I actively celebrate my Ukrainian heritage and my culture," she said. "I have Ukrainian family still there in different parts of the country, so it is a very personal cause for myself, and I feel a personal responsibility to show support and contribute in any way I can."
Like many at the rally, Iszcenko encouraged Canadians to show their support by attending these demonstrations, donating, and sharing resources, but cautioned against spreading misinformation.
"It's just being mindful because there are so many lies that Russia uses against Ukraine in particular, and that acts as just as much a weapon as a missile," she said.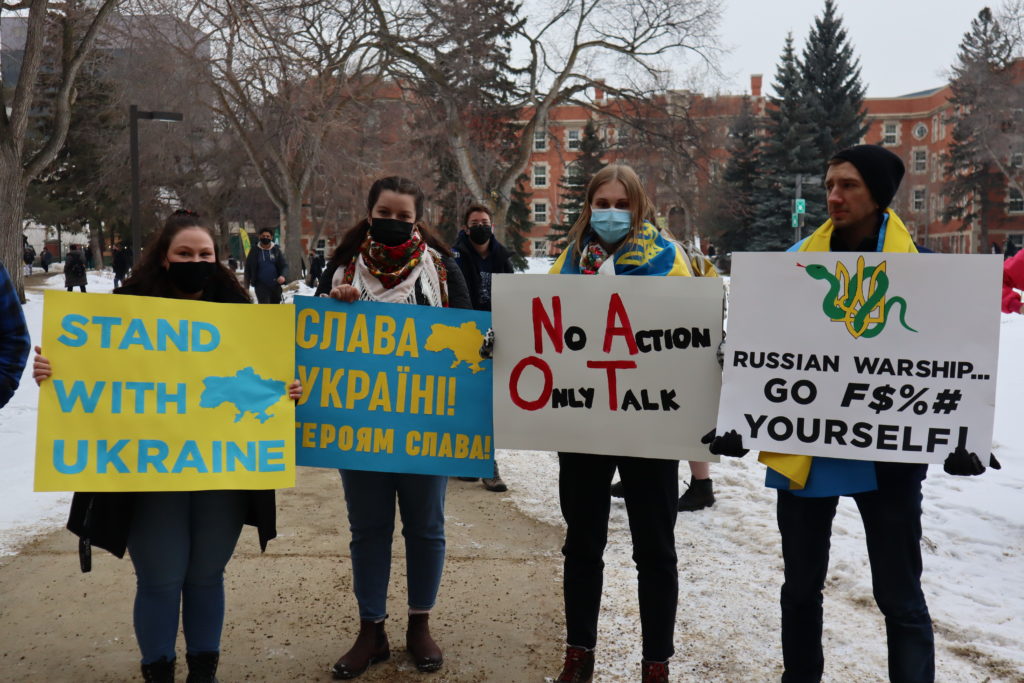 Protest organizers emphasize impact on Ukrainian students
Hanas raised the fact that Ukrainian students need support right now.
"We've been fortunate to set up supportive listening sessions as appointments through the Peer Support Centre so it can be facilitated in Ukrainian or English."
Christina Strilets, vice-president (internal) of the Ukrainian Students' Society, expressed how Ukrainian students have been affected by this conflict.
"I think a lot of members on our executive team at the Ukrainian Students' Society have relatives back in Ukraine and we feel really hopeless about the situation. We kind of live every day in fear not knowing that it's going to be the last time we text or call some of our relatives. It's been a very difficult few days," she said.
"Some of us are just trying to console our relatives who are on the brink of a nervous breakdown every day because they're scared every night, because that's when the attacks happen. It's impossible to do schoolwork or care about anything else."
Strilets said that in addition to showing solidarity, the motivation for the rally was to let campus know how this conflict is affecting students.
"It's a situation where there's a lot we can't control, and we thought it was important to at least let campus know that this is an important issue," Strilets said.
"We care about this issue, and this issue is impacting students."