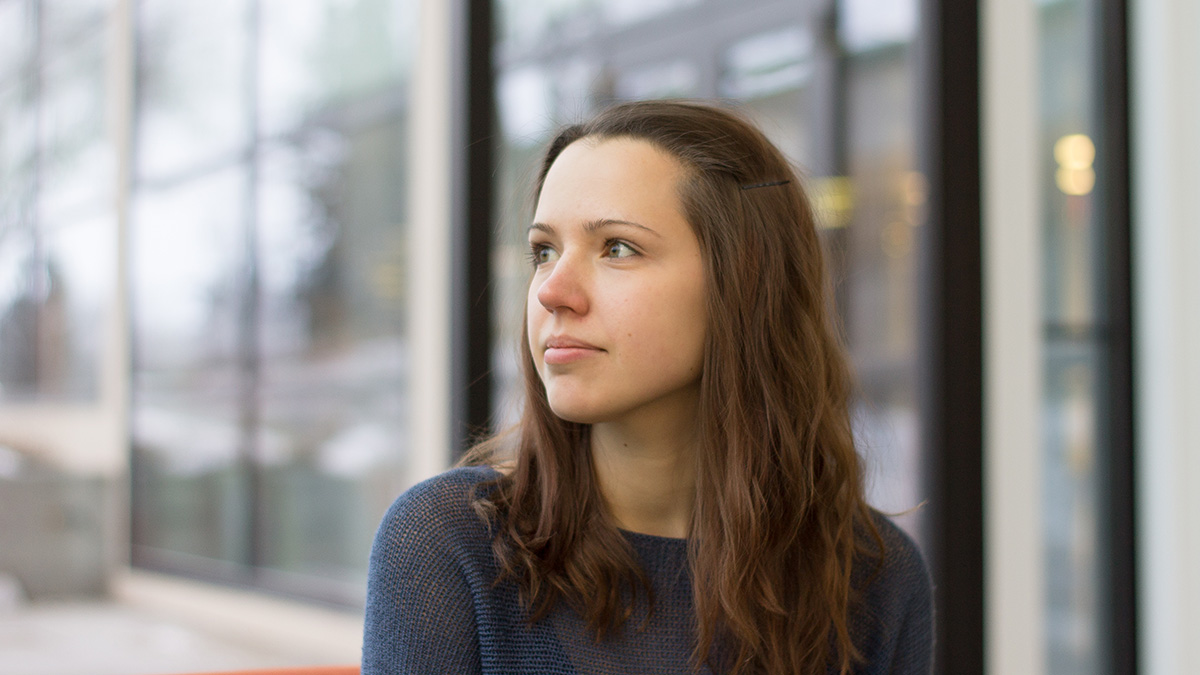 The following is part of a series detailing the experiences of international students at the University of Alberta. Given that these students face separation from family, paying more than $20,000 in tuition per year, and uncertainty when it comes to rising tuition costs, we are sitting down with some of these individuals to talk about their experiences at the university.
---
Jen Zhuravlova chose a political science minor because she couldn't understand how war could happen in her home country.
"Since I grew up in a very loving family in a peaceful country I kind of assumed that (war) cannot happen there," she said. "Then one day the government's shooting people and some neighbouring country's invading your country."
An international student from Kiev, the capital of Ukraine, Zhuravlova came to the University of Alberta to study biochemistry. After three and a half years, she's soon graduating with a major in chemistry and a minor in political science.
Zhuravlova wants to remain in Canada and hopes to work in politics, which she's been interested in since the war started in Ukraine in 2014. Protests escalated in Kiev at the time after the country's president decided to take a $15 billion loan from Russia. The protesters overtook government buildings, and caused the president of Ukraine to flee (and later lose the presidency). Armed conflict has since broken out between the Ukrainian government and pro-Russian forces — and the Russian government has intervened in the conflict without Ukraine's permission.
In Canada, Zhuravlova said she has found what she couldn't find in Ukraine: good education, career opportunities, and feminism. However, she hasn't taken any courses at the U of A on the conflict in her home because the way it's discussed frustrates her.
"People want to be respectful and look at both sides but when you're trying to be neutral it only benefits the perpetrator, the aggressor," she said. "I know that people are trying to be smart and see the big picture but sometimes there are just facts."
After Zhuravlova left her home country, her family left for Slovakia one year later. Her mother previously rented apartments to foreigners, but since no tourists were coming to Ukraine because of the war, the business couldn't survive. Now Zhuravlova travels to Europe about twice a year to see her family.
Finding close friends in Edmonton has been hard for Zhuravlova. She tried to avoid Ukrainians when she first moved to the city as she wanted to learn more about other cultures, but now she thinks she might reverse that decision.
"I find that in general, people are friendly but at some point you hit the wall where people don't want to be friends," she said. "At first I assumed I could get a lot of Canadian friends but that's just not the case."
Culturally, Zhuravlova has also experienced new territory. Though she was raised in a culture of "women serving men" in Ukraine, Zhuravlova said moving to Canada has changed her perspective. In Pinecrest she had a feminist, Swedish roommate who lectured Zhuravlova on female independence.
"My mom used to tell me 'You should serve food and tea to your husband or boyfriend or else he'll choose someone else over you,'" Zhuravlova said. "I never really bought that idea but … I never knew you could actually be yourself and have a career."
---
Read the previous installment in Lives of International Students: Lives of International Students: Yi Heng Low — Malaysia