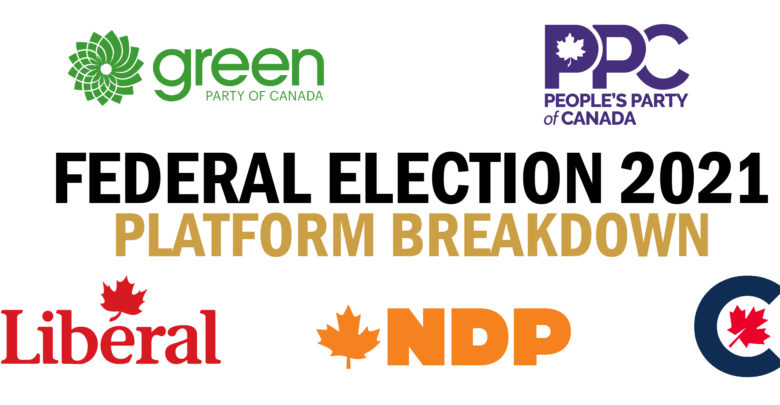 Election day is Monday and it's time to narrow down who you want to cast your ballot for! 
While this is the election that arguably no one asked for, it's still important to go out and make our voices heard on important issues that will define the next few years of our lives. Among the many issues debated during this election cycle have been some proposed policies that directly apply to us as post-secondary students. Whether you've known all along who you're voting for, or you're still undecided, here is a breakdown of how each party platform plans to address student concerns.
Loans and affordability
Liberals promise to permanently eliminate interest on federal student loan debt. This idea began as a COVID-19 measure but the Liberals promise if elected, to keep it, along with continuing to double Canada Student Grants for low-income students.
While the Conservatives are offering nothing on the student loan front, they do promise to introduce the Working Canadian Training loan program. This new low interest loan would provide individuals with up to $10,000, for people to "upgrade their skills." The party would also invest $250 billion over two years to create a Canada Job Training Fund. The fund would provide grants to organizations, including post-secondaries, for projects that either provide job training to people recently laid-off, reach out to traditionally underrepresented groups, support the talents of small businesses, or otherwise help people get job training — specifically in areas of the economy where there is a shortage of workers.
The New Democratic Party (NDP) is promising a few things on this front. First, they say they will work in the long term towards "making post-secondary education part of our public education system" by first working with provincial governments to address capping and reducing ever-rising tuition prices. Second, like the Liberals, they promise to remove interest on federal student loans, but also plan to implement a debt forgiveness program that could "forgive up to $20,000 in student debt." And third, they promise to permanently double non-repayable Canada Student Grants.
The Greens platform goes one step further, featuring universal post-secondary and the cancellation of all student debt. They also promise to bring back the Canada Emergency Student Benefit (CESB) until the pandemic is over and ensure that international students, along with recent graduates, are eligible for the program. Lastly, they promise to triple the number of Canada Graduate Scholarships for master's students and double the number for PhD students.
The NDP and Green platforms are clearly the two which address student affordability the most effectively. This doesn't seem to be a priority for the Liberal platform, which is basically a continuation of the status quo. The same can be said of the Conservative platform because when it comes to student affordability concerns, it really doesn't go beyond attempting to create jobs to help students pay their debt.
Services
The Liberals promise to address student wellbeing with a new fund that can "support the hiring of up to 1,200 new mental health care councillors." This program will dedicate $500 million over four years, 10 per cent of which will be dedicated to Indigenous led and operated post-secondary institutions.
The NDP platform includes a promise to "require universities to develop plans to end sexual violence on campus." While there is no mention of mental health in the context of universities, part of their plan for medicare is to get free mental health services to those who are uninsured and get mental health related prescriptions covered under their proposed pharmacare program.
The Conservative platform too has no mental health plan for universities specifically, but their platform does include policies such as the creation of a nationwide suicide prevention hotline and tax credits for employers that add mental health coverage to their employee benefit plans.
Mental health has been a major election issue and the pandemic exacerbated the mental health crisis in Canada. However, these parties have not done enough to connect this issue with post-secondary students. Many students faced unemployment, financial strain, social isolation, mental health struggles and missed opportunities during an extremely influential part of our lives. The new Liberal fund sounds like progress, but I would have liked to see more to address these issues in the context of post-secondary students from all parties.
Campus Saint-Jean
The Liberals are promising to "permanently increase funding for post-secondary institutions in official language minority communities to $80 million per year." Campus Saint-Jean (CSJ) is listed as an example of one of these schools and the platform adds that these funds can help "counter cuts made by Conservative governments."
This is one of the issues the federal Conservatives are trying to perhaps distinguish themselves from their provincial counterparts as they promise $30 million per year for francophone post-secondary.
The NDP and Green platforms are less specific here. The NDP promise to work with provinces and territories to "improve minority language education." The Greens say they will ensure "permanent, stable funding."
The NDP platform is disappointing here and while Edmonton Strathcona MP Heather McPherson has spoken on protecting Campus Saint-Jean, it didn't make it into her party's platform in any meaningful way.
Accessibility
The Liberals are dedicating $30 million over five years to support Black Canadian students in research, graduate school and other opportunities. Additionally, they promise to strengthen equity targets for federally funded scientific research.
The NDP promise to close the education gap for Indigenous students. They promise to help give access to post-secondary education through "expanded financial assistance."
The Greens also promise to address Indigenous access to post-secondary by removing the "two per cent cap on increases in education funding for Indigenous students."
Free speech on campus
The Conservative party promises to promote free speech and academic freedom on university campuses, specifically through working with the provincial and territorial governments. The People's Party of Canada (PPC) takes it one step further, promising to "withhold federal funding from any post-secondary institution shown to be violating the freedom of expression of its students or faculty." This was the only mention of post-secondary education in their platform.
It's unclear if policy on free speech on campuses is actually appealing to academics and students or if this is just a play to the base of these two parties. Either way, these parties placed more emphasis on this than student affordability, services, and accessibility which doesn't seem cognizant of the priorities of students.
Overall, student concerns were overlooked in last week's leaders' debate and if leaders want to engage young voters, they need to talk about these policies more. That being said, candidates in Edmonton Strathcona did discuss what they would do for students at a forum organized by the Students' Union last week. It has become clear that even if post-secondary education is mostly under provincial jurisdiction, the results of this election have a lot of money and services at stake for post-secondary students. These days the future is uncertain and students need all the help we can get, but one thing is certain: voting is one of the best ways we can make our voices heard.

Voting day is September 20, 2021 and you can find more information on how to vote here. There will be no on-campus voting this year.