News
Students' Union
Notes from Council: Golden Bears and Pandas, Ring House Coalition, and Campus Food Bank present to council
The executive director of the Campus Food Bank confirmed that, from a personal perspective, a correlation between increased tuition costs and food bank usage is noticeable.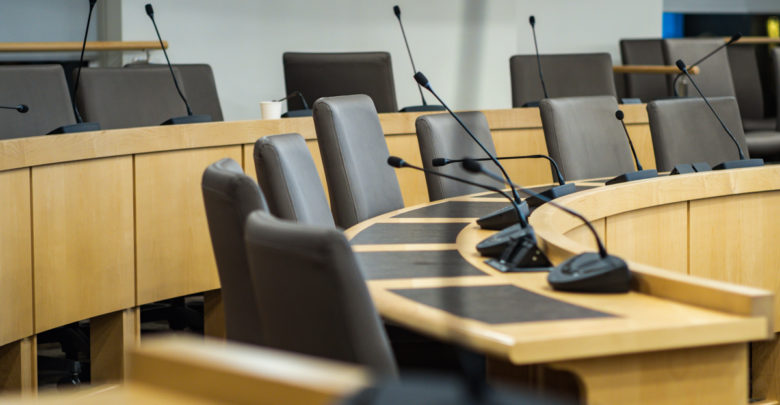 "Notes from Council" is The Gateway's ongoing series of recaps of noteworthy items from Students' Council meetings.
---
Council hears presentation on the intersection between Golden Bears and Pandas and student life
The July 13 Council meeting began with Cameo Hanlon, promotions and marketing campaign coordinator for University of Alberta Athletics, presenting to the Students' Council on the Golden Bears and Pandas' new large-scale marketing and promotions campaign. 
According to Hanlon, the purpose of this campaign is to generate school pride, increase attendance at Golden Bears and Pandas events, and expand brand awareness and knowledge of upcoming athletic events.
The athletic department is planning to do so in the following ways:
Golden Bears and Pandas activation on campus
Student targeted ad campaign
Increased partnerships with campus groups
Giveaways and contests for students
Student events and theme nights
Hiring student ambassadors
"As a student body, especially after this year off [of campus], we are looking for opportunities to connect with one another," Hanlon said. "To form school spirit, to have this sense of school pride, and to generate that in a larger capacity than we have in the past."
When considering the campaign's path forward, Hanlon described exploring collaborations between the athletics department and the Students' Union, student groups, and residences.
"Athletics has been existing in a bit of a silo; we've been guilty of just being our own community," Hanlon said. "We want to get out into our broader campus community. We want to partner with the Students' Union, with student groups, and facilitate as much connection and community at school pride as we possibly can."
Rowan Ley, president of the Students' Union, asked Hanlon what average students can do to support university athletics in the upcoming semester. Hanlon recommended students attend varsity games and interact with the campaign's social media content.
"Something the everyday student can do is choosing to attend [games], even if it's a couple of games a semester, [as that] has a massive impact," Hanlon said. "Just showing that support is huge… and more tangibly, we are going to be doing a lot of activation on social media presence. Sharing our graphics and entering our contests… all of those little things on a day to day would just be helpful in propelling this campaign forward."
Ring House Coalition presents on regeneration proposal the coalition recently made public
Connor Thompson, a student representative with the Ring House Coalition, described the coalition as a group of historians, heritage professionals, architects, community leaders, and university student representatives who are "concerned about the fate of the Ring Houses."
The Ring Houses are four historical buildings present on North Campus. According to Thompson, the demolition of the houses was publicly announced in February, in light of the funding cuts being faced by the university
"The Ring Houses were deemed not within the purview of the university's focus on education and research and as such, had been slated for demolition," Thompson said. "While public updates were issued by the university, no public consultation was undertaken regarding the decision to demolish these houses."
According to Thompson, the coalition's stance is that the Ring Houses are "a vital part" of the university with "irreplaceable" heritage value.
The coalition presented the council with a proposal consisting of future possibilities for the Ring Houses. These possibilities include — but are not limited to — a boutique hotel, craft brewery, community housing, and childcare.
Thompson expressed gratitude on behalf of the coalition to the Students' Union for their past advocacy for the Ring Houses. He also requested their further involvement in advocating for a delay in the demolition of the houses.
"The main thing right now is to advocate for a one-year moratorium on demolition and removal of the houses," Thompson explained. "We encourage you to write letters to President [Bill] Flanagan and Chancellor [Peggy] Garrity — the only way we can have this conversation that this proposal is meant to spark is if the houses are still there."
Talia Dixon, vice-president (student life), echoed her support for the proposal drafted by the Ring House coalition.
"I encourage everybody to sign the [coalition's open] letter," Dixon said. "When you look at [the coalition's proposal for reusing the Ring Houses] from a very student perspective, it's great for sustainability… and this reimagination is very student-centric."
Campus Food Bank provides council with overview of past year's work; discusses correlation between tuition increases and food bank usage
Cory Rianson, executive director of the U of A's Campus Food Bank, described the Campus Food Bank's usage patterns during COVID-19 to differ from those of regular Canadian food banks. 
According to Rianson, while many Canadian food banks reported a decrease in usage during COVID-19 due to governmental supports such as Canada Emergency Response Benefit (CERB), this decrease in usage did not translate over to the student population.
Rianson described financial difficulties and a lack of food literacy as two primary drivers in food insecurity among students.
"[The Campus Food Bank] has tended to structure its response and programming around those two primary drivers [in food insecurity]," Rianson said. "Providing support around the income [component], as well as providing support around the knowledge and food literacy [component]."
Rianson mentioned the Hamper Program, Campus Kitchens, Grocery Busses, and WECAN Food Baskets as services currently offered by the Campus Food Bank to tackle food insecurity within the community. The Trick-or-TrEAT Food Drive, a door-to-door food drive in October, and Fast and Studious, a peer-to-peer fundraiser in November to raise awareness of hunger, are two upcoming events being run by the Campus Food Bank.
Ley questioned Rianson on the possible correlation between increasing tuition costs at the university and Campus Food Bank usage by students.
"I was wondering if — from your perspective — there has there been any correlation between increasing tuition and fees in recent years and food insecurity and food bank use?" Ley asked Rianson.
Rianson confirmed that, from a personal perspective, a correlation between increased tuition costs and food bank usage is noticeable. However, he also pointed out a larger factor behind current usage.
"I would say obviously, yes, there is," Rianson said. "If we increase [tuition] costs, people are going to be squeezed [for money]… I don't know if I see it necessarily in our data, but we definitely hear it from people [that] things are harder or that [their] situation has been kind of tough.
"The one thing I'll that is I would say a bigger factor is that youth unemployment is very bad," Rianson said. "I think that's driving a lot of need locally right now."