Campus Life
Institutional
News
U of A professor creates petition to save ring houses from demolition
The Ring Houses were on sale until last Sunday and it's unclear if they have been purchased.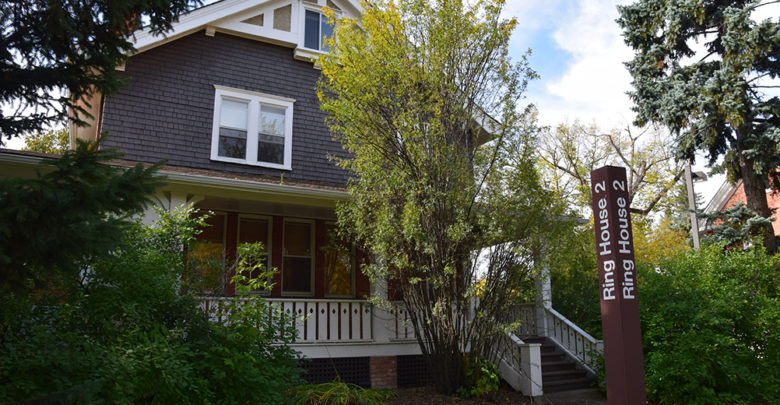 The University of Alberta has slated the four Ring Houses on North Campus for demolition early this spring, prompting the start of a petition signed by over 2000 community members.
Built between 1911 and 1914 the houses served as offices for the University Press, UAlberta North, and university museums. Initially, they served as the home for the first president and other faculty members.
Due to maintenance costs the houses can not be brought up to code and therefore are going to be torn down. The houses were up for sale for $1.00 until February 28, 2021 for any buyers who can cover the cost of removal. The sale has now closed and it's unclear if the houses were purchased.
Andrew Sharman, the U of A's vice-president (facilities and operations) said the houses are unsustainable.
"Given their size and purpose built design as individual family dwellings, they do not provide adequate space for modern teaching, research or work activities," he said. "These single family homes were never intended to be more than that single family homes."
Sharman explained that though some buildings are able to be renovated for modern use, such as the dentistry and pharmacy building undergoing renovation, the Ring Houses do not fall into this category.
"As already noted, not all of our assets are able to adapt to changing times as well as the dentistry pharmacy centre," he said. "The ring houses are unfortunately an example of this. The ring houses have sadly not stood the test of time. The ongoing costs needed to make and keep them safe are just unsustainable"
If demolition of the houses moves forward the area will be turned into a "green space."
Sharman says in the past Fort Edmonton Park was asked if they would be willing to move and preserve the houses.
"This was a couple of years ago [and there] was a discussion whether there would be any interest in moving one of the buildings to them," he said. "They have limited funding as well. They're trying to preserve a multitude of different types, so there wasn't a need for them to have [the ring houses]."
U of A professor calls Ring Houses "irreplaceable"
Sarah Carter, a history and classics professor at the university found the demolition of the houses to be unexpected, which prompted her to write an open letter to president Bill Flanagan asking for a delay in the demolitions and community consultation.
"It's like, there's just no meeting of minds here," she said. "But nor is there any effort to consult with the very vital heritage community that there is here — both on our campus, in Edmonton and in Canada."
The open-letter also included a petition. With over 2000 community supporters signing the letter, Carter emphasized the importance of the houses.
"They're a link to our past….and they are an important aesthetic contribution to the architectural history of our campus in our city… they give us a connection to the past and a sense of place," she said. "They are absolutely irreplaceable once they come down…and I just don't think that they should be destroyed forever."
Carter also pointed out that the demolition of the ring houses is repeating history on campus with other older buildings that were once up for demolition.
"There has been good work done to preserve Pembina Hall, Rutherford House and other places, but the University did in the past try to destroy them," she explained. "It was only with huge community protests that those [were] saved. So, I think we have a precedent for those sorts of decisions being turned around and I'm hopeful that that is what can happen."
Ultimately Carter just wants more time to think about how the ring houses can be saved.
"I think we have to sit down and figure out how this vital legacy of our past can be maintained for future generations of Albertans. There's talk of kind of having some sort of a group… of heritage people that can come up with these studies. But we need time and that's what's critical right now."
Correction: On March 2 at 10:36 p.m. the article was corrected to properly spell Pembina Hall and Rutherford House. The Gateway regrets the error.