Campus Life
News
New Augustana award hopes to increase Black representation in chemistry
The award hopes to make post-secondary, and more specifically chemistry, more accessible to Black students hoping to enter their first year of university at Augustana.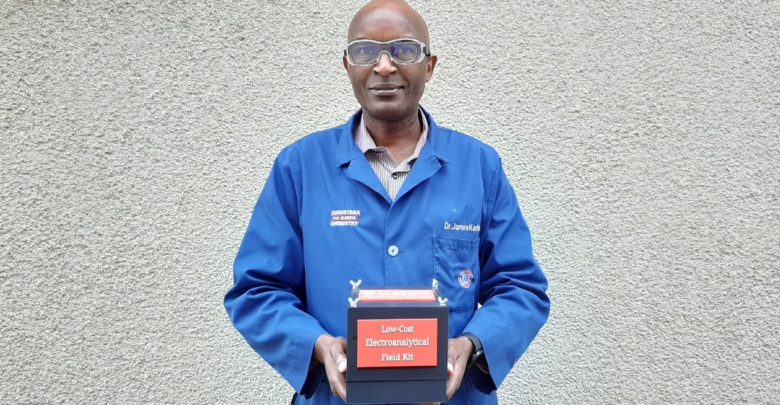 An Augustana chemistry professor is hoping to see himself more reflected more in his classrooms with a new Augustana award focused on Black representation.
The award is named after James Kariuki, a chemistry professor and associate dean of teaching at Augustana. The Professor James Keffa Kariuki Award is for a first-year Black, African-Canadian, Afro-Caribbean or Afro-Latin Augustana bachelor of science student with a major or minor in chemistry. Once a year a student meeting those requirements will receive $1,000 from this needs-based award.
Kariuki created the award in partnership with the Black Youth Mentorship and Leadership Program, which was founded and led by Bukola Salami, an associate nursing professor at the University of Alberta.
The idea for the award is rooted in Kariuki's everyday experience in the lecture hall as a chemistry professor.
"As I am teaching my chemistry classes, there aren't many students of colour, particularly many Black students," he said. "I know it's only for one student at a time, but the overall goal is to increase the ability of more Black students to join chemistry."
This lack of Black representation in Chemistry extends beyond the classroom — it's also a daily reality for Kariuki within his faculty and the greater academic community.
"As a Black professor I see how few of us there are," he said. "For example, at Augustana, I do believe there are only two Black professors overall. I [created] this [award] because I believe the more diverse a community the better we all are as we learn from each other."
"When I go to conferences in Canada or the U.S, I look at the participants from students to faculty and I don't see too many Black people."
Starting at the root by financially supporting more Black undergrad students, this is something he hopes to change — even if the award can only afford to help a single student a year.
"It's through one student at a time — I know it will take time and I can't change [the lack of representation] all at once, but I will one student at a time," Kariuki said.
Kariuki came to Canada as a graduate student from Kenya in 1995 to do his chemistry PhD at the U of A. He came on a graduate teaching assistantship which included a grant to support his degree. He recalled how important both financial support and mentorship were in getting him through his PhD.
"Any kind of support you can give a Black student or someone coming from a foreign country helps," he said. "People you can rely on are important."
Currently, the award fund is currently sitting $5,000 with Kariuki donating $3,500. The dean of Augustana Demetres Tryphonopoulos contributed $500 and the fund also received an anonymous $1,000 donation from a local Camrose resident. While this is enough to grant the award to five students for five years, Kariuki hopes more donations will keep the award going past that.
Those interested in donating to the award can do so on the Augustana Giving Page by clicking on "other" and searching for the Professor James Keffa Kariuki Award.
Kariuki hopes that by making chemistry and overall academia more accessible to Black students, his efforts will eventually snowball as Black representation increases.
"The goal is for [Black students] to be inspired so that they may do this for others. I hope that when they see me do this, they became selfless and do this for others as well so that we are all uplifting each other. If I can inspire one person, hopefully that opens the doors for many other people."