Campus Life
Institutional
News
New Black youth mentorship program empowers students to aim high
The program connects high school students with University of Alberta professors and undergraduates to inspire Black youth to see themselves succeeding in what they're passionate about.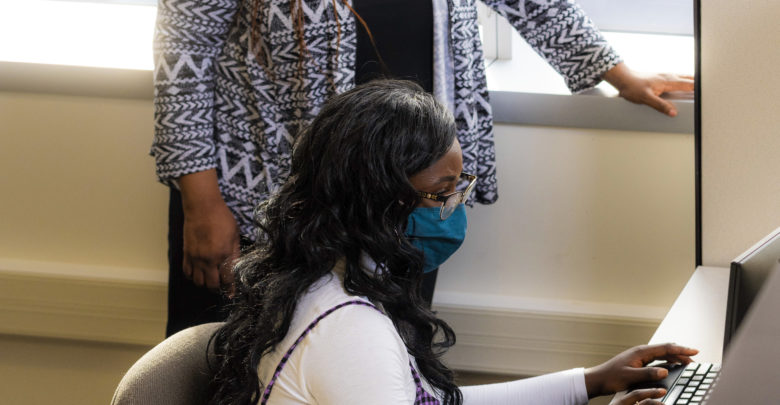 A new University of Alberta program is providing Black youths with university mentorship connections to empower their future academic and career choices. 
Students are mentored by both Black undergraduate students and Black professors. The program has two streams: the first, where students meet online and work in groups to produce a paper alongside an undergraduate student mentor. The second stream gives students the opportunity to work as research assistants for professors, completing 18 hours of work per week. Both streams allow students to attend workshops and career panels.
Currently, there are 35 student students in the program from grades ten to 12. The students were selected based on their grades, their prior experience, and a written essay.
While the program was designed to happen over the summer, because of COVID-19, it took place in the fall.
Bukola Oladunni Salami, a nursing associate professor, started the program after being inspired by her own experiences attending a Black youth mentorship program at the University of Toronto.
"I've always carried that with me, and thought about how I can also help other Black youths. It was a commitment that I wanted to make," she said.
Salami has done similar work before, for example leading a Participatory Action Research Project to Promote the Mental Health of African, Black, and Caribbean Youth.
She highlighted her past research on the challenges Black youths face within the educational system as additional inspiration for the Black youth mentorship project. Her research has shown that Black youth often face poor outcomes because they lack role models and teacher encouragement. However, when Black youth have Black mentors and teachers, they're more likely to succeed, she said.
Students say program addresses lack of access to Black mentorship
Sohaib Omar, a grade 12 student in the research assistant stream, is working with health law Professor Ubaka Ogbogu.
"I've never had a Black teacher, mentor, or anything beyond my parents," said Omar. "It seems very welcoming for the first time to be able to work with someone who's Black."
Omar highlighted how having predominantly white teachers often feels like a barrier to him.
Though Omar initially joined the program on impulse after hearing about it on Instagram, his experience in the program has begun to feel more and more important to him.
"I'll be honest, I was interested but at first it wasn't really anything deep," he said. "Now looking back on it, [joining the program] is a big part of Black empowerment … It teaches you to become not only an adult but a functional adult who is Black in the academic field, where Black people are underrepresented."
Similarly, Benita Malaba, a grade 12 student mentee interested in engineering, said the program has helped to address a gap she feels between her and her teachers.
"I felt a disconnection with my teachers because I couldn't relate to them in the way that my peers could," she said.
She shared that one of the most memorable experiences of the program was the chance to attend a mental health workshop with other Black youth.
"We were really able to connect with each other and understand that we had the same experiences growing up in Canada as a minority group," she said.
Malaba said that she feels more prepared for the future now.
"If we were to grow up [without this experience], we might be surprised by all these things when they come up later, but they're getting us ready in advance," she said.
It's time to centre strength in Black youth communities, said Salami
While funding is only guaranteed for this first year of the program, Salami shared she is hopeful that the program will be able to continue in the years to come, adding that since its inception the program has gained a lot of attention from both applicants and professors interested in mentoring students.
"I sent an email to all the Black faculty members that I know to make this a reality for Black youth," she said. "A lot of them are really really committed, and interested in shaping the well-being of these students, and they've been very engaged in terms of creating and ensuring the sustainable outcomes for the program."
For her, the program is especially important because of its strength-based approach.
"We need to focus more on the strengths of the Black youth communities," she said. "A lot of times when people think of Black youth they think of poor youth, but we have a lot of strong youth out there that are very savvy."
Ultimately, Salami said that representation is a key component of ensuring these qualities can develop and grow.
"They just need an opportunity and they need someone that will support them and encourage them," she said. "They also need to know that Black people are out there achieving, so that they're looking at other people and thinking, 'if that person can, and that person has my background, then I should also be able to do that.'"