Institutional
News
'No excuse' for timing and severity of proposed tuition hikes, U of A student reps say
Student representatives from the University of Alberta gathered outside the Students' Union Building (SUB) on April 14 to voice concerns about proposed tuition increases targeting specific departments.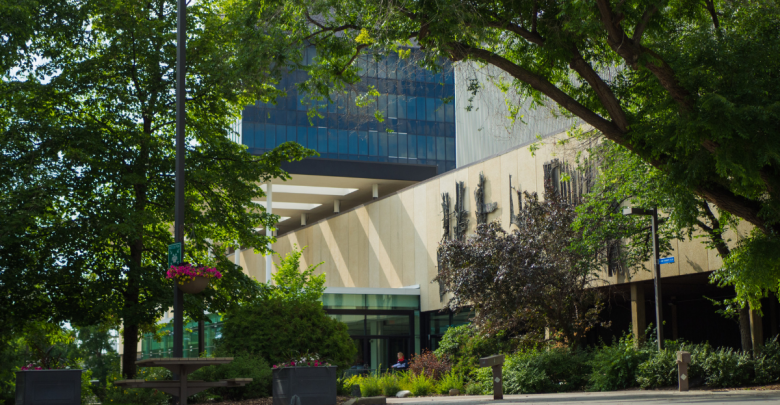 University of Alberta student representatives are speaking out against exceptional tuition hikes proposed to begin September 2022. 
The University of Alberta Students' Union and the Graduate Students' Association discussed the proposed raises at an event outside the Students' Union Building (SUB) at 11 a.m. on April 14. If implemented, the proposed hikes would affect both graduate and undergraduate professional degrees, and include increases ranging from 22 to 104 per cent. Some affected programs, such as law and pharmacy, are slated for a 45 and 44 per cent increase respectively.
Joel Agarwal, Students' Union president, said the union is "disturbed" to hear about the proposed increases, claiming the U of A was one of the "last bastions of affordable, high quality professional programs" in Canada.
"Many individuals have tried to justify [the increases] on the basis of comparable institutions having lower tuition, but this misses some of the key differences," Agarwal said. "Alberta has arguably the worst student aid system in Canada, offering less grants to students in need than any other province in the country."
Mia Bottos, incoming president of the Law Students' Association, said that law students are "deeply concerned" about how this potential hike could impact the "culture of legal practice in Alberta."
"This will absolutely impose a significant barrier on low income students who disproportionately hail from racialized, queer, disabled, and other marginalized communities," Bottos said. "If we claim to be interested in achieving access to justice for marginalized communities, the bare minimum is having legal practice itself be accessible for everyone."
Rowan Ley, Students' Union vice-president (external), noted that cuts to the Alberta Campus Grant announced in the 2021 budget were only 1 per cent greater than the university had anticipated.
"These increases go far beyond what would be needed to compensate for the government cuts in the last budget," Ley said. "If the university had to make these increases to compensate for budget cuts … there's no excuse for why students are only being informed now."
Instead, Ley said the timing of the proposed hikes is a "huge concern" for students.
"We understand that the university is in financial trouble, but dropping a bomb like this on us … during final exams and with only one and a half months of notice, it's impossible to have a meaningful, effective, or fair consultation."
University releases statement on reasoning for proposed tuition raises
Steven Dew, the U of A's provost and vice-president (academic), commented on the program specific tuition proposals in a statement sent out in the evening of April 13. 
"Over the last decade, professional programs across Canada have been shifting to offer more customized, intensive experiential-focused approaches … accompanied by corresponding increases in tuition to fund these program changes," Dew said. "Because tuition has been frozen for most of the last decade in Alberta, we have not been able to keep up with this trend."
Dew said that while some increases are "quite substantial," they will bring the U of A "back into line" with peer Canadian institutions.
"To ensure financial means is not a barrier in these programs, a key part of any exceptional increase would be a significant expansion of financial assistance opportunities for students who enroll in them," he said in the statement.
Dew concluded by saying that "no decisions will be made until student and other stakeholder feedback is received and considered."
At the student representative meeting outside SUB, Ley responded to Dew's statement, saying that while hopes the consultation Dew outlined will occur, he is dubious of the "standard" and "quality" of the consultation itself.
"We don't necessarily believe that the … consultation we need and expect is going to happen in only one and a half months in the busiest time of the year in a global pandemic," Ley said. "It's never the time for tuition increase, and now is especially not the time."
Ley finished addressing the public at SUB by saying that the tuition hikes are not a done deal.
"It's important that everyone knows that this is not over," he said. "Minister of Advanced Education, Demetrios Nicolaides does have the authority to veto these tuition increases, and we're appealing to him to do the right thing and help keep professional programs in Alberta affordable."
U of A provost fields questions about tuition hikes in April 14 press conference 
In a press conference held at 12:30 p.m. on April 14 held shortly after the 11:00 a.m. held by the Students' Union, Dew was asked how he would respond to criticism that the proposed hikes run counter to the university's Equity, Diversity, and Inclusion (EDI) mandate. 
"That's certainly something the university is very interested in trying to address and respond to," Dew said. "[With increased tuition], we can take some of the tuition and reserve it … for those who are traditionally underrepresented and [who] find challenges in the barriers that cost creates."
Dew was questioned about critiques from law students, who have noted that in their faculty, bursaries are not administered until November and December, after tuition has been paid in full at the start of the fall semester.
"Our office of students financial aid is working to make sure that those funding decisions are made at a timely manner so that when students are looking at the option of accepting a position at the U of A, they also fully understand their financial opportunities to support that," Dew said.
One question posed to Dew asked about whether the university was concerned about "brain drain" should talented students decide to seek education at other institutions.
"What would keep students in the province versus going elsewhere to more prestigious universities?" they asked.
"As a top university in the country, I think we do hold our own compared to our peers," Dew said. "I'm not worried about reputation being a reason that students wouldn't come here. What I would worry is if they felt that they were not getting the value [and] quality of the education that they would seek that they would feel as appropriate and necessary."
"That is the key thing that we want to ensure is in place," he said.