Campus Life
COVID-19
News
Pandemic supports and CSJ: Minister Karina Gould answers student questions about federal budget
Hosted by the Political Science Undergraduate Association (PSUA), the event featured federal Minister of International Development, Karina Gould, who answered questions about student support amidst provincial budget cuts and proposed university tuition hikes.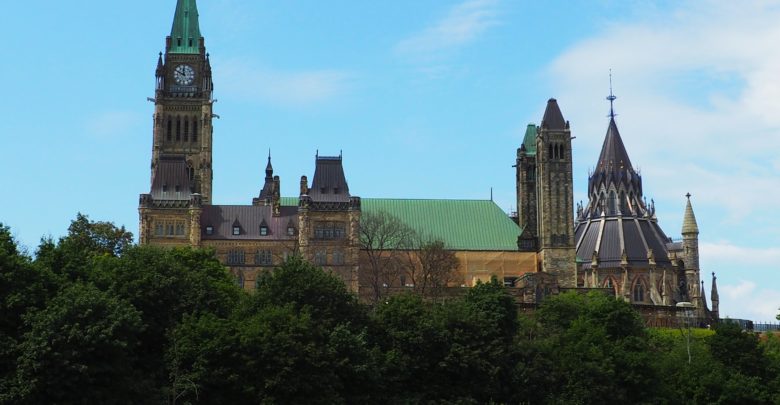 University of Alberta students had an opportunity to ask questions about the federal budget and highlight issues they care about in a small April 28 event.
Hosted by the Political Science Undergraduate Association (PSUA), the event featured Karina Gould, the federal Minister of International Development. In addition to members of the PSUA, undergraduate Students' Union representatives, students from Campus Saint-Jean, and Aboriginal Students Council (ASC) members were also in attendance. The event began with a brief presentation from Minister Gould, followed by a 45-minute question period open to all attendees.
The federal budget was announced on April 19, and will double the Canada Student Grant program for two years and waive interest on student loans until March 31, 2023. The budget also includes new benefits for students with temporary disabilities, and enhanced repayment assistance for student debt.
Harnoor Kochar, incoming PSUA president and fourth-year honours political science student, began the question period by highlighting the university's exceptional proposed tuition increases for certain programs like law and business.
"What is the Government of Canada doing to support post-secondary students, not only in this budget, but also at large when it comes to increasing tuition rates at a time when post-secondary education is more important than ever for post-pandemic recovery?" Kochar asked.
Gould said that she thinks the proposed tuition increases are "a really unfortunate decision," noting that she has also heard about cuts to Campus-Saint Jean (CSJ) as well.
"From my perspective, I would prefer that post-secondary education would be more affordable so students wouldn't have to carry such a high debt load," Gould said. "What we're trying to do at the federal level … is help ease some of those costs, where we have the jurisdiction to do that."
She highlighted aspects of the budget like waiving interest for student loans, and increasing the Canada Student Grant, as some ways she believes the federal government is helping students.
Ahdithya Visweswaran, a second-year bachelor of secondary education student at CSJ, said that the "many, many budget cuts" to his campus would weaken minority language speaking communities. He noted that while the federal government has announced some protections towards preserving official language minority education, ultimately, decisions at the provincial level are still of concern.
"Given that post-secondary education is a provincial jurisdiction, how will the federal government encourage the provincial government to do their part when it comes to protecting our communities?" Visweswaran asked. 
Gould said that the cuts are "disappointing to see," and drew a connection between CSJ and Laurentian University in Ontario, which has recently seen unprecedented cuts to its budget. She added that Mélanie Joly, theMinister of Official Languages, is "actively engaging" with her counterparts in Ontario and Alberta to promote the importance of minority official languages.
"I think that we have to keep having these important conversations and standing up for minority official language communities around the country because nous avons un pays bilingue (we are a bilingual country) ," Gould said.
Student highlights need for frontline worker supports
Chloe Dizon, PSUA vice-president (academic), a full time student and worker in a long-term care centre, asked if there is any room in the budget to "thank students" for contributions they made during the pandemic as frontline workers.
"Last summer, the government attempted to provide scholarships for students that were volunteering for organizations during the pandemic," Dizon said. "However, there was no notice of [scholarships] for students who are frontline workers like me, who have had to work full time during the pandemic and are going out and having to deal with the virus in their everyday lives."
After thanking Dizon for her work "on the front lines," Gould noted that the federal government has increased the Canada Student Grant, in addition to providing $4 billion to provinces and territories in 2020 to top up wages for personal support and frontline workers.
Dizon said that she didn't get "any of the funding whatsoever."
"That's disappointing, but also important for me to hear," Gould said. "We rely on the provinces and territories to [distribute funding] but we don't actually have a lever to make them do what we've intended with the funding."
The Minister added that it was "too bad" that members of parliament from Alberta and other members of the federal Liberal caucus were not at the talk to provide more insight about "what was happening in the province" of Alberta.
PSUA president asks about protections and safety for racialized communities
Abigail Isaac, a third-year political science student and the current president of the PSUA, asked about an increase in violence against Black Muslim women "in addition to existing systemic barriers … that already exist in our province and country broadly."
"We've seen that racialized communities — and young people within them — have been disproportionately affected by the pandemic," she said. "In what ways does the budget reflect concern for these communities and their safety?"
Gould said that it has been "shocking" to see the increased attacks.
"I think it has been a formal wake up call for those that weren't thinking about racism before and hopefully are now," she said.
Gould said that in 2009, the federal government launched a $40 million anti-racism strategy across Canada, and that she herself participated in the consultations "leading up to that strategy." Gould added that now the federal government is looking at the judicial system and "how [they] can ensure an anti-racist approach within it."
"I have instructed my officials that it's not enough to not be racist, we have to be anti-racist in the work that we do," Gould said.
"That work is happening at the federal level, but it's something that should have been done a long time ago."