Institutional
News
Lawsuit to resolve Campus Saint-Jean funding issues reveals tensions
The official opposition in Alberta called the cuts to CSJ "wrong" as post-secondary students beyond Alberta watch the lawsuit closely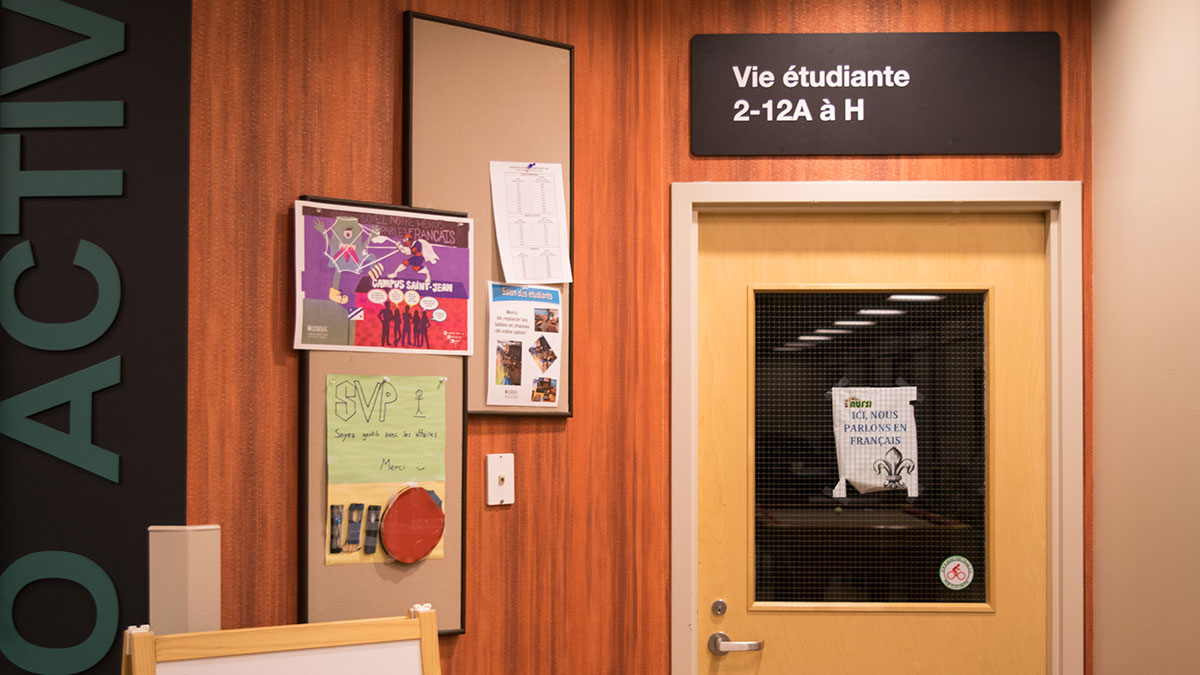 The provincial government remained silent about its response to being named as part of a lawsuit by a Francophone advocacy group, while others welcomed the suit as part of a move to help the campus survive.
The Association canadienne-française de l'Alberta (ACFA) declared it would pursue legal action against the University of Alberta and provincial government on August 17 as it feels the two institutions are not meeting financial obligations to support Campus Saint-Jean (CSJ) — the French campus of the U of A and lone French-only post-secondary institution in Western Canada.
In May, the ACFA launched a political action campaign in order to highlight the funding shortfall CSJ faced. A 13.3 per cent budget decrease since December 2019 through the province's Budget 2019 forced the French campus to decrease their course delivery by 44 per cent —translating to the termination of 108 of the 409 courses currently offered by the campus. As of publication time, 77 courses have been discontinued.
Laurie Chandler, press secretary for the Minister of Advanced Education Demetrios Nicolaides, provided a statement saying the government would not be commenting on the lawsuit.
"We will not be commenting on items related to the legal proceedings initiated by the ACFA," Chandler said. "We will be discussing any actions or responses with our legal advisors."
Official opposition call UCP to revert funding cuts to post-secondary for the sake of preserving French education and identity
The Alberta New Democratic Party (NDP) Caucus issued a statement in support of the ACFA. It is calling on the province to reverse its funding cuts to post-secondary which are forcing the U of A to cut funding to Campus Saint-Jean.
Marie Renaud, NDP critic for Francophone issues, described the cuts as "wrong" and said in a statement the United Conservative Party's (UCP) actions jeopardize the future of French education in Alberta and Francophone identity.
"The UCP is putting the future of Francophone education in Alberta at risk, and now they are going to spend money on lawyers to defend it in court," Renaud said.
"Once again, I call on Jason Kenney and Demetrios Nicolaides to start acting in good faith, stop their attacks on Francophone education, and start living up to their legal responsibilities."
University of Alberta hopes for amenable solution outside of courts
Bill Flanagan, U of A president, said in a statement the university is aware of the lawsuit and will remain in support of post-secondary French education opportunities at the U of A.
"French education is an integral part of the University of Alberta and we are proud that Campus Saint-Jean's program occupies such an important space and history in Alberta's francophone community," he said.
Flanagan added the university's "longstanding commitment" to supporting French education has never wavered.
"We remain fully committed to continuing to offer an immersive French language educational experience at the University of Alberta."
"We value the input of the communities that we serve, including ACFA, and are confident that as long time partners, we will be able to work together to develop a sustainable approach to the delivery of French-language post-secondary education in Alberta."
Ultimately, Flanagan said he recognizes the funding challenges ongoing at Campus Saint-Jean and resolved to find a path forward for "sustainable" delivery of French language programming.
"We recognize the ongoing funding challenges facing Campus Saint-Jean and we are fully committed to exploring all options that can help secure a sustainable and thriving future for its French language programs," Flanagan said. "With this goal always in mind, we look forward to continuing to work closely with the ACFA, recognizing the ACFA's central role in stewarding Campus Saint-Jean."
Students' Union remains committed to fight for Campus Saint-Jean students
University of Alberta Students' Union president Joel Agarwal said in a statement to The Gateway they would not be commenting about the lawsuit at this time.
"The Students' Union cannot comment on the ACFA lawsuit at this time as we have not been made aware of the specifics of the case," Agarwal said.
He added that the Students' Union "firmly" believes in the role the French campus plays in Alberta, and committed to advocate to stakeholders to ensure a viable funding arrangement for Campus Saint-Jean.
"We firmly believe in and support the critical role that Campus Saint-Jean plays in enabling students to access French-language post-secondary education here in Alberta. We have and will continue to advocate that all stakeholders, including the provincial and federal governments, must come together to secure a sustainable, long-term funding arrangement for Campus Saint-Jean."
Francophone students beyond Alberta are "watching" Campus Saint-Jean issue closely
Gavin Furrey, a masters student in political science at University of Montreal who recently submitted an academic article to the Institute of Research in Public Policy about the Campus Saint-Jean issue, said the lawsuit represents a "valiant" fight to protect Francophone post-secondary education in Alberta."
"Losing Campus Saint-Jean, or even the courses it had to cut due to financial pressure is incredibly significant," he said. "If Campus Saint-Jean closes, this could be the end of vibrant French culture in Alberta."
Furrey's area of study includes Indigenous social movements, federalism, neoliberal economic models, and Canadian politics. The Arizona native said he moved especially to Montreal in order to pursue his post-secondary studies in French.
"Out west there aren't really that many opportunities to learn at a post-secondary in an all French environment," he added. "The loss of Campus Saint-Jean would mean the end of so many Francophone opportunities out in western Canada."
For Furrey, the cuts made to post-secondary institutions by the Alberta government have especially unequal impacts on the small French campus. He described the cuts made by the UCP as "Jason Kenney handing out life-preservers" to people on a sinking ship.
"[He] is assuming that everyone can swim the same and so these one-size fits all life-preservers are being handed out saying, 'everything will be fine.' But some people can't swim or the life-preserver doesn't even fit them. So it is a neutral rescue mission but some people are actually sinking because the life-preserver doesn't fit them right."
"That's what those cuts to Campus Saint-Jean are doing," he added. "Cuts handed to them will affect them much differently than any other post-secondary institution."
"I use that analogy to describe why applying cuts to a sector like that through neoliberal economic policies and why they are problematic for protecting minority language speakers."
Furrey said from an interprovincial perspective, many people are watching what is occurring at Campus Saint-Jean. If the cuts go through, many students may not consider the French campus as a viable option for study.
"To me, the cuts [from the province] seem blatantly disrespectful towards Alberta's Francophone community, prospective Francophone students from other nearby provinces who rely on Campus Saint-Jean, and the students from abroad who come to study there."
"I will definitely be watching how this unfolds and plays out."