Campus Life
Institutional
News
Students and instructors petition to end U of A police liaison officer program
The 'No Cops on Campus' collective has released an open letter to end the police liaison officer program, a joint venture of the Edmonton Police Service and the University of Alberta Protective Services.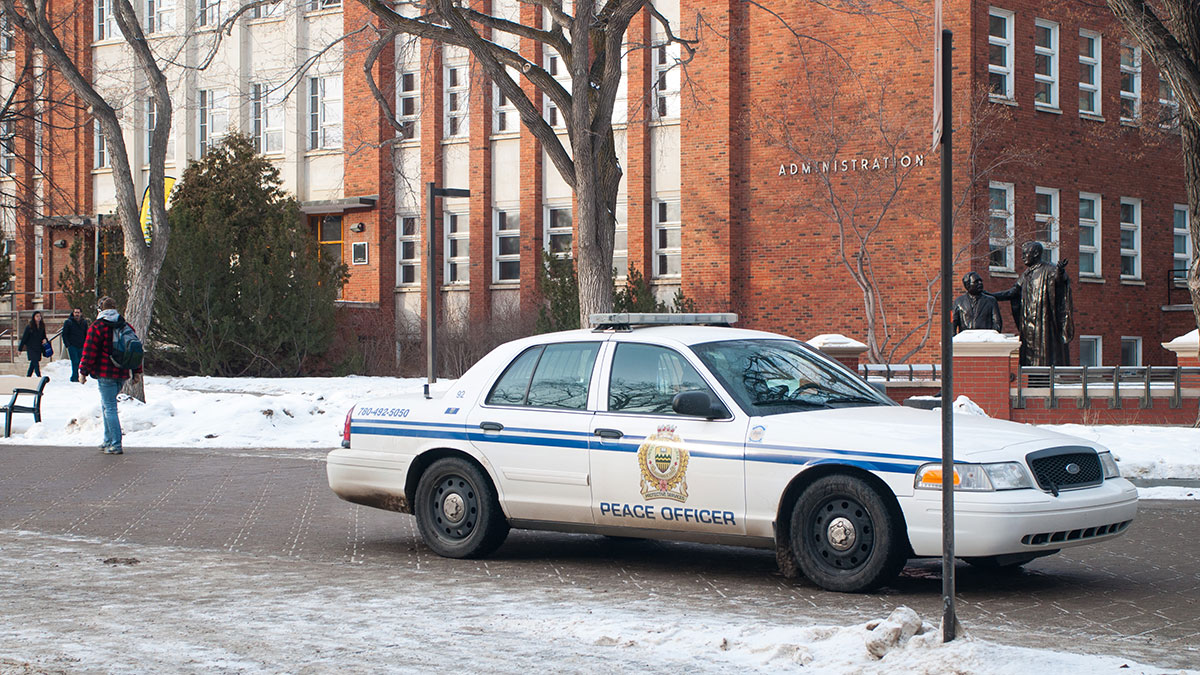 As students and staff wait to return to campus, organizers at the University of Alberta are pushing to change how justice is approached at the university.
The 'No Cops on Campus' collective — a group of students, instructors, and researchers at the U of A — have released an open letter to end the police liaison officer program, which partners the Edmonton Police Service (EPS) and University of Alberta Protective Services (UAPS) to share intelligence and collaborate in their approach to campus security. Other groups like the Sexual Assault Centre (SAC) have joined the collective, arguing that police presence does not increase student safety.
Shima Robinson, a master of arts and community engagement student and member of the collective, described the police liaison officer program as "inappropriate" for a university that promotes inclusivity, arguing the program disproportionately affects Black, Indigenous, LGBTQ2S+, and unhoused people.
"The officialized relationship between the university and EPS is inconsistent with the claims the university has made to being an institution that uplifts the whole people," she said.
Robinson also highlighted how the U of A is an institution built on stolen land.
"It becomes a matter of carceral forces policing people's access to land that isn't the property of those carceral forces or the institutions they represent in the first place," she said.
Acknowledging the local harms of police at the U of A
Rob Jackson — an english and film studies PhD student and member of the collective — seconded Robinson, highlighting how the university does not exist "outside the rest of the world."
"I think people living in Canada still have a tendency to displace the anti-Blackness of police violence to other places, primarily to the United States," he said. "I think it's important to remind ourselves and readers that the U of A is inseparable from the historical and material forces of settler-colonialism, heteronormativity and anti-Blackness."
"The police are not just a problem in the inner-city, or Minneapolis or St. Louis, they're a problem [here] as well."
Robinson acknowledged that while removing cops from campus will not instantly fix issues like racism and colonialism, for her, actions like disbanding the police liaison officer program are a crucial first step towards new systems of justice that place equity front and centre.
"It would leave a window for the instantiation of care culture, or the instantiation of cultures of community responsibility," she said.
Both Robinson and Jackson highlighted how historically, marginalized groups have had to care for each other instead of turning to police due to the violence police have inflicted. They said this grassroots model of addressing safety can inspire how justice could look if the carceral component was rethought.
"This work is made possible by all the work that people are doing in communities, specifically Black communities, Indigenous communities, and trans and queer communities, to take care for each other when police fail to do so," Jackson said.
Ultimately, Jackson acknowledged that dismantling the police presence on campus is going to be difficult.
"Exercising an abolitionist imaginary is really hard work," he said. "It's really hard to think about and imagine alternatives, and it's even harder to put those alternatives in place."
Jackson noted that the collective invites those who are new to the concept of abolishing the police to  have conversations and learn more about "alternatives that exist" within their own context and situation. 
"The counter report, proposal, and open letters is really, I hope, an invitation for people to contact us, and start having these conversations and thinking with each other about what other alternatives already exist, and how to build on that."
SAC shows solidarity with 'No Cops on Campus' collective
Robinson highlighted how a key concern for safety on university campuses are protections against sexual violence, but said that the police do not excel in this area.
"The facts are the cops don't do a good job of handling reports of sexual assaults," she said. "They don't do a good job of addressing, comforting, and providing resources to victims of sexual assaults."
Recently, the SAC came out with a statement of solidarity with the "No Cops on Campus" collective for sexual violence awareness week which took place on February 1-5.
In their statement, the SAC communicated their focus on the issue of policing and "how it intersects with sexual violence." 
"It is our goal to highlight the racist origin of contemporary policing practice, engage the community further … and help promote the values of community care and accountability to highlight our capacity to actually keep our community safe," they said in their statement.
University responds to calls to end police liaison officer program
Wendy Rodgers, the deputy provost, and James Allen, the chair of the U of A Safety and Security Committee responded to the collective's calls to end the police liaison officer program in a statement to The Gateway. 
"Our University of Alberta community values the equality and dignity of all persons," they said. "We welcome visitors to our campuses, but are committed to supporting an environment that allows our community – especially those who call our campuses home – to feel safe and secure at all times."
Rodgers and Allen named the UAPS/EPS Liaison Officer Program, U of A Safety and Security Committee, and opportunities to provide day-to-day assistance, as examples of how the university is working to "make sure" community members feel "safe and secure."
"Working together and embracing learning opportunities around bias awareness, trauma awareness, and anti-racism make us better at this," they said. "We know that there is a need to build trust; to earn trust."
"We will create ways to effectively engage with and hear from our community about how to achieve safety, support, and inclusivity. We especially want to hear from those passionate about and deeply immersed in these issues. We appreciate hearing from those who have already reached out. We take these issues and experiences very seriously and strive to do better."