Institutional
News
Research
Students' Union
Reactions to Budget 2021: "strategic investment" to some, tragic cuts to others
Some saw Budget 2021 as making "strategic investments" in key areas, while others believed it was a blow to post-secondary in Alberta.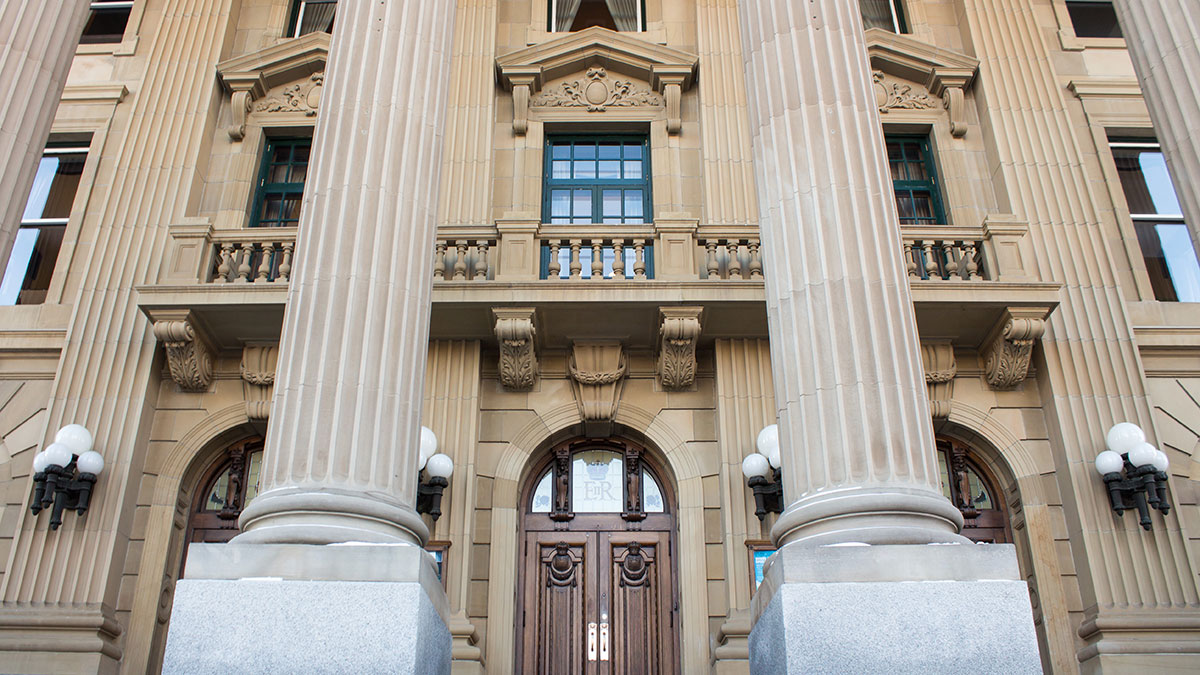 Budget 2021, the third budget unveiled by the United Conservative Party (UCP) was met with mixed reactions from stakeholders.
Some saw the budget as making "strategic investments" in key areas, while others like the University of Alberta Students' Union, staff unions, and the official opposition believed it was a blow to post-secondary education in Alberta.
Budget 2021 is about "strategic investments;" will help students gain work experience and skills
For the minister of advanced education, Budget 2021 represents "strategic investments" for the post-secondary sector that will help increase student skills and work experience.
In a statement from the Minister of Advanced Education Demetrios Nicolaides to The Gateway, the investments chosen were made to help target employability and the needs of Alberta's labour market.
"Budget 2021 is making strategic investments in areas that are going to help our students gain the skills and knowledge they need to meet the needs of the labour market today, and tomorrow," Nicolaides said.
Nicolaides reinforced that the funding to the Mitacs Internship will ensure 1,300 students get research experience and funding towards the CAREERS: The Next Generation program would help high-school students participate in the Registered Apprenticeship Program. Additionally, he highlighted funding being provided to Women Building Futures "to help open the door for more women to enter skilled trades professions."
In terms of performance-based funding, Nicolaides said the province recognizes the challenges COVID-19 is placing on post-secondary institutions and so its implementation will be gradual.
"We will be moving forward with performance-based funding for the 2021/22 academic year," he said. "However, because of the lasting implication of COVID-19, we're considering a different approach to implementing it, possibly with just one or two metrics to start."
Minister of finance says budget is not about cost-cutting but finding efficiencies; Budget 2021 investments help strengthen pharmaceutical sector in AB
During a press conference on budget day, Finance Minister Travis Toews said in response to a question about cuts made within the budget that this latest provincial budget is about guaranteeing value for Alberta taxpayers.
"We are not on a path of cost-cutting," Toews said. "We are on a path of delivering government services most efficiently."
"I believe every government should be constantly evaluating programs and service-delivery methodology to ensure that we are providing taxpayers with the best value."
The minister added that Budget 2021 helps strengthen Alberta's pharmaceutical sector and domestic vaccine development capacity through its Alberta COVID-19 response and economic recovery program. The Li Ka Shing Applied Virology Institute at the University of Alberta will receive $20 million in government funding over the next four years.
He said the funding would help future vaccine development in Alberta and is part of a developing pharmaceutical and health sciences sector strategy.
"We really believe Alberta has a competitive advantage in that space and so stay tuned for the whole rollout of that strategy," Toews said.
Students' Union at U of A "disappointed" by Budget 2021
For University of Alberta Students' Union president Joel Agarwal, the latest provincial budget represents a "complete disappointment."
Agarwal said he is particularly worried about the lack of support being offered to students attending post-secondaries, especially as the pandemic has raised challenges with online learning.
"The government hasn't given any relief to students despite the ongoing challenges of this pandemic, tuition hikes haven't been lowered, and there isn't additional funding put forward for scholarships or grants."
"Students are struggling already, this is just going to exacerbate those difficulties."
He added that Alberta post-secondary institutions are key to the province's economic recovery from the pandemic but the sector is not being treated accordingly.
"At the end of the day, what we will be seeing is that students will be paying more for a lower quality education," Agarwal said. "That is unacceptable and we will be pushing against that in any way we can."
Agarwal said that if students do not receive supports for rising tuition — like interest-free student loans, up-front non-repayable grants, or more work-integrated learning opportunities — Alberta's students will leave the province post-graduation or seek post-secondary education elsewhere in Canada.
"I am apprehensive as to what will come next," Agarwal added. "I am concerned students will leave and retention rates will decline significantly."
Official opposition says budget emphasizes overhauls to post-sec operating grant funding when it should be exploring student affordability
Official opposition member and shadow critic for advanced education David Eggen said Budget 2021 marks the third UCP budget in a row that cuts advanced education funding "significantly."
He noted that the budget address given in the legislature on February 25 did not mention advanced education or post-secondary at all.
"At the very time [the UCP] want to talk about jobs, the economy, and economic diversification, they go after the very best asset to do so: our colleges and universities. I find it astounding and tone-deaf."
With regards to performance-based funding, Eggen said the model misunderstands the entire purpose underlying advanced education.
"We want to produce jobs, but we also want to produce careers and citizens. If you are penalizing [an institution] for not producing jobs and you take away funding, then its almost like a self-serving prophecy. Of course, [that institution] will do worse next year."
Rather than overhauling the system by which post-secondary institutions receive operating grant funding from the province, Eggen said the UCP should be spending time reforming student aid grants, scholarships, and awards to help reduce barriers of access to advanced education — especially during a time of economic downturn.
"At a time when Alberta students are assuming the most student loan debt… if we do not make post-secondary more affordable we will lose our young people to other jurisdictions."
Staff unions at U of A call Budget 2021 "tragic"
Ricardo Acuña — president of the Association of Academic Staff at the U of A (AASUA), the union representing 4,000 professors and teaching staff — said he is "incredibly concerned" that the new provincial budget will produce lasting negative impacts not only on the University of Alberta but all post-secondaries in the province.
"This is a gut-wrenching budget," he said. "It is horrible to watch what is being done to post-secondary in general but to the U of A in particular."
"It is tragic to me in so many ways."
"My biggest concern is what is left?" Acuña asked. "We've already seen 1,000 frontline jobs lost, we are down 200 fewer contract instructors from last year, and those are just the top line figures. We have lost all sorts of temporary staff who were on short-term contracts that were simply not renewed."
Acuña said that the UCP cuts to the U of A "guarantee" higher tuition for the next few years, more fees, and fewer instructors at the institution.
Quinn Benders, vice-president of the Non-Academic Staff Association (NASA) at the U of A, said the budget is promoting anxiety among members about whether they will have jobs.
"The disproportionate cut the University of Alberta is facing, once again through this budget cycle, is… extremely disappointing. The U of A is going to be shouldering the biggest burden of the cuts to post-secondary in the entire province."
"If cuts are going to happen, then they should be proportional to the size of the institution."
Benders said that one-sixth of NASA's membership has already been lost through attrition and job losses in response to previous budget cycle cuts. Now with further cuts, performance-based funding, and universities being expected to shoulder more operating costs themselves at an accelerated pace there is a "triple threat" facing the U of A.
"This is going to impact the university in so many ways… like research support and capacity, cleanliness of the university, and necessary background support services. That will all impact the university adversely."
"We've already absorbed so much of the post-secondary cuts from previous budget cycles under the UCP. This isn't fair to the staff and students, who will have higher workloads and will be paying more tuition and non-academic fees, respectively."
CAUS prepared for these cuts, happy it was not "worse"
The Council of Alberta University Students (CAUS), the student advocacy that lobbies post-secondary student interests to the provincial government, said while they "expected" these cuts, it could have been "worse."
"This is basically what we had expected," CAUS chair Rowan Ley and U of A Students' Union vice-president (external) said. "While this is extremely disappointing, it could have been worse."
Ley said the cuts are "disappointing" not just for the students of post-secondary in Alberta, but for all Albertans since post-secondary would remain inaccessible, less funding would be going towards the maintenance of infrastructure, and universities would be forced to continue raising tuition.
"Needless to say this is incredibly disappointing for students across Alberta. But it's not just disappointing for students. This is disappointing to parents who thought they would be able to send their kids to world-class institutions in Alberta. And their children will now have to go to BC or Ontario to get that education they once could've gotten here."
— With files from Pia Co