Institutional
News
U of A Board of Governors approves 2020-21 budget
The budget will include academic restructuring and an expectation from U of A administrators that the rank it holds will slide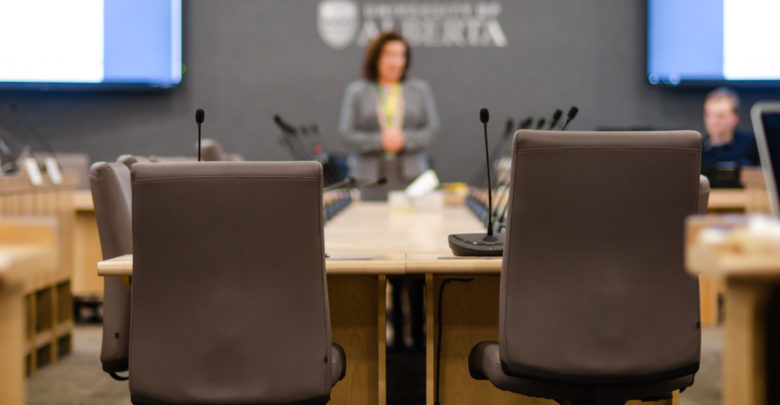 The highest decision-making body at the University of Alberta approved the 2020-21 budget.
The Board of Governors met on March 26 and approved the budget. Tuition will increase in 2020-21 for undergraduate students by seven per cent and four per cent for international students. Residence rates will increase and rental agreements will transition from an 11 to eight month lease. Additionally, cost saving measures like academic program restructuring, over 1,000 jobs lost, the closure of one library, and a hiring freeze will be implemented.
The budget will now need to be approved by the Ministry of Advanced Education.
Of the 21 voting members, only four voted against the overall budget which included Students' Union President Akanksha Bhatnagar, undergraduate Board of Governors representative Rowan Ley, Graduate Students' Association President Fahed Elian, and Non-Academic Staff Representative Matthew Barnett.
For the tuition increases, only three voted against. This included Bhatnagar, Ley, and Donna Wilson, Academic Staff Representative.
Ley said the increases threatened students' accessibility to post-secondary and will further negatively impact students because of the COVID-19 global pandemic.
"Many students will have to suspend their studies, leave university, or not consider post-secondary education at all as a result of this budget," he said.
The budget allots a 15 per cent holdover of tuition dollars to be redirected toward student financial aid for domestic students year-after-year for the next three years. Intentional students will also receive increased student financial aid.
"The new student financial aid being given is not sufficient," Ley added.
U of A expects decline in international ranking because of budget cuts
Katherine Binhammer, an academic staff representative, said the board meeting of passing a budget is one where students and community members often mobilize to vocalize their concerns. She asked the board, which met online due to COVID-19 precautions, to remember that fact as they voted on measures which would impact students, staff, and the U of A community.
"We are in incredibly odd circumstances, unprecedented," she said. "The moment at which the board is passing a budget that takes account of the largest cut to a university in the history of the country, is also the moment at which we are not allowed to congregate in groups."
"To take a 1,000 people away from an organization — that is seven per cent of our workforce — in such a swift and speedy moment seems like it is going to affect the university," Binhammer said. "I am wondering… what this is going to do the ranking of the University of Alberta."
David Turpin, president of the U of A, said the institution is expecting a decline in international rankings because of the cuts it is being forced to implement due to the province's post-secondary cuts.
"Major academic restructuring" ahead, says provost Steve Dew
The budget passed by the Board of Governors on March 26 was a revised version of the original 2020-21 budget. The U of A was forced to revise its internal consolidated budget after receiving higher than projected and expected cuts to funding from the United Conservative Party-led provincial government in Budget 2020.
Steve Dew, provost and vice-president (academic) of the U of A, said part of the budget will have to include academic program restructuring. This will include the closure of low enrolment programs and revising how many students are required per section of a course in order for it to run.
The U of A currently has 18 faculties and 65 departments. Dew said the university will have to consider restructuring and closures.
"Many of [the departments and faculties] have long traditions and histories going back 100 years, but may not be the right structure to position the university for success going forward," he said.
"We will likely undertake consolidation, having larger and fewer faculties, and being able to achieve some economies of scale from that," Dew added.