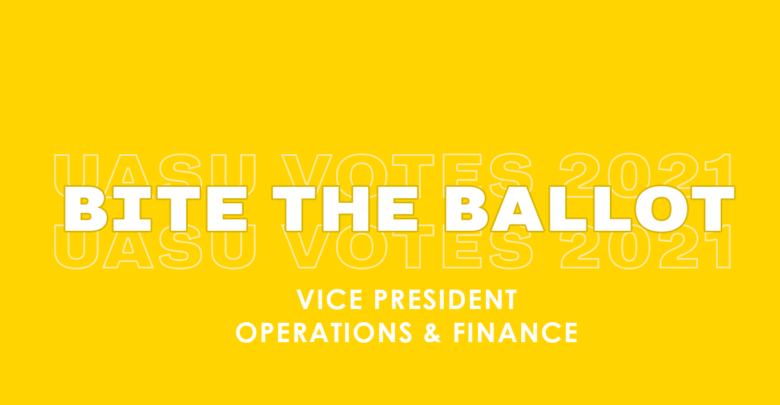 The Vice-President Operations & Finance (also known as the "VP Ops Fi") oversees the SU's $11 million annual budget, and is responsible for the strategy and operations at the SU's many businesses, including Dewey's, Room at the Top, the Daily Grind, SUBprint and more. This position also oversees the operation of the Students' Union Building, including tenancy agreements, and sits on a variety of committees and boards related to the dispersal of Dedicated Fee Units.
---
This year mental health supports, accessibility and more external funding sources have been at the forefront of the vice-president (operations and finance) race. The candidates present similar plans for the position with differences in a few key areas.
Julia Villoso
Villoso is a second-year arts student and currently serves on Students' Council. This is her first-year on council and in this position she has served on the audit committee, Sustainability and Capital Fund committee, and the International Student Association Refugee Committee. Her platform centres around creating accessibility for SU services through an online shift and looking for external revenue sources.
To foster accessibility, Villoso wants to conduct a massive shift to online services. She promises to create an online student handbook so students can find everything they can get involved in on campus in one place. Second, she wants to create a Students' Union job, volunteer and scholarship registry. Inclusivity is also an important part of her platform with a plan to create directories for BIPOC, International and Francophone students on the UASU Cares website.
Her plan to shift services like the Peer Support Centre online and to create specific UASU Cares directories would certainly benefit all students, especially those with less access to services right now like international students or students at Campus Saint Jean (CSJ) and Augustana. However, this plan to shift online seemed to come at the expense of any other specific policies for those UAlberta minority groups in her platform.
Her second major focus is building revenue from a variety of avenues for the SU and moving away from their reliance on student fees. First, she wants to expand existing IT projects at the SU like SUTV and UASU Perks and second, she wants to look for sponsorship, donation and fundraising opportunities. This was an area of strength for Villoso and I think she really recognized a priority for students right now by focusing on finding external funding rather than student fees.
Villoso says she made it a priority to be realistic in her platform and she wants to end the tradition of broken promises at the SU. Sadly, this led her to present a platform that lacks detail compared to her opponent. Villoso performed better at the forums but it was with answers and promises that are often nowhere to be seen on her platform.
Emily Kimani
Kimani is a fourth-year student studying immunology and infection. She serves on Students' Council, the General Faculties Council, and sat on the Sustainability and Capital Fund Committee. Her platform is different from Villoso's in that she is not afraid to make more directed promises.
The strengths of Kimani's platform lie in the details with promises that are tangible and appealing. She promises to bring Black History month to the SU, a bulk foods section to SUBMart, create a space in SUB for international students, and provide free menstrual products on all campuses. Her platform also has a strong focus on mental health and wellness, with a promise to renew Empower Me, a mental health resource covered by the Students Union health and dental plan.
Her platform does not shy away from addressing the tough topics like sustainability and campus-specific issues at CSJ and Augustana. While both candidates mentioned these issues at forums, Kimani has it in writing on her platform. She promises to meet with leaders at Augustana and CSJ once a month and seeks to provide the services that these campuses lack. It is refreshing to see Kimani promise these meetings ahead of any forum performances, as Villoso does not explicitly include these committments in her platform. She also looks to further French translation at the SU and expand services offered in French.
While her platform is strong, it resembles closely that of her predecessor Alana Krahn. It also makes a point of listing the Myer Horowitz Theatre renovation as a source of revenue, despite the fact that it will not be completed during her term. And some of her ideas, like catering as a source of revenue, don't always feel in tune with the climate of the pandemic and the gradual restart to normal.
Apart from her platform itself, Kimani didn't perform as well as I thought she would at the forums. She has a strong vision for the Students' Union but it often didn't come through at forums. However, her ideas about advocacy are there and she is not afraid to be ambitious even during these times which is admirable.
Who will win, and who should win?
Overall, these candidates presented similar positions on many issues but my best estimation is that Villoso will win. Looking at her social media, she seems to have more active support, as seen through the high number of endorsements she has garnered. She also performed better in the forums and her main focus on decreasing the SU's reliance on students fees is one that will likely resonate with students. In the current climate many students are financially strained and everyone's eyes are on affordability.
I will be casting my vote for Kimani. I believe she is ultimately the better choice based on her more extensive, detailed platform and stronger vision for the future of the SU. While her forum performance was good, Julia didn't put enough into her platform. Her priorities for me, just were not in the right place, neglecting some key issues during this time. She tried an underpromise, overdeliver approach to be realistic but she just didn't convince me that she would advocate for students better than Kimani would.
The Gateway as an apolitical organization does not endorse candidates. Authors who write "Bite the Ballot" pieces follow the races or referendums that they write about with the expectation they attend or watch every forum and read all relevant campaign materials in their entirety. The views expressed in this piece reflect the author's best informed judgment.