Elections 2020
News
News
Q&A
SU Elections 2020 Q&A: Vice-President (Operations and Finance)
This year two candidates are vying for your vote to become vice-president (operations and finance)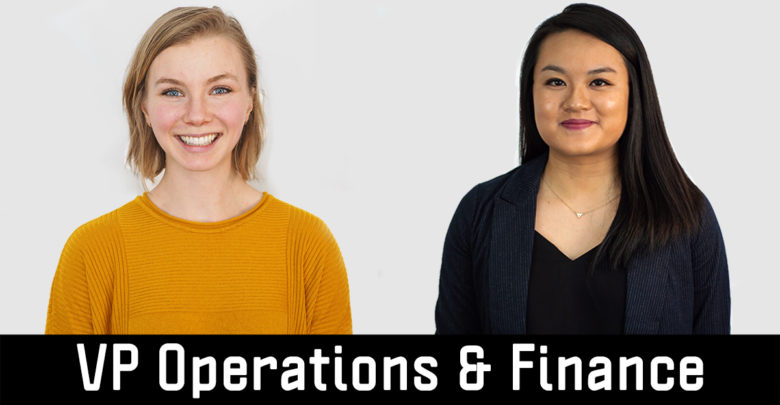 The vice-president (operations and finance) is in charge of the Students' Union's finances and its over-$10 million budget. It falls onto them to make sure the organization's finances are sound, and that the money raised through dedicated fee units, fees collected by student groups, are properly handled.
Additionally, the vice-president (operations and finance) manages the Students' Union's business operations, including SUBmart and the two campus bars: Dewey's and Room at the Top.
This year, two candidates are running for the position: Samantha Tse — third-year student in secondary education, Students' Council audit committee chair, and education councillor for Students' Council — and Alana Krahn, fourth-year business economics and law student.
Follow the links to view their candidate's pitch: Samantha Tse, Alana Krahn
The following interviews have been condensed and simplified for clarity.
---
In one minute, can you tell us why you are running for Students' Union vice-president (operations and finance)?
Alana Krahn: I believe that student priorities should be centred in the way that the Students' Union does business and serves students, especially through the vice-president (operations and finance) role because it deals with the everyday experience of students. My platform is focused around advocating for improved mental health resources, increasing sustainability social, economic, and environmental-wise, and making life easier for student groups so that students can be served better by the niche communities they want to be in, while also increasing access to information for students.
Samantha Tse: I am running because I see that the Students' Union is not communicating the value of the organization to students. For example, volunteer, job, and funding opportunities need to be communicated way better. So funding options for students provided by the SU need to be centralized. Who wants to scroll through millions of awards on the Students' Union website when you can just search for them like you can on Bear Tracks? I want it to be easy for students to find funding. I know the university is looking to centralizing funding, so I want the Students' Union to lead in that aspect and the university to see that.
Can you concisely explain your platform?
Krahn: My platform centres on four key priorities. The first is mental health. I would like to look at increased coverage under the Students' Union Health and Dental Plan and look at prioritizing mental health in the way that the Students' Union building is run.
I am also looking at sustainability. Specifically, decreasing reliance on student fees and increasing low-waste food options in SUB, as well as securing sustainable funding for important social initiatives like the free menstrual product program.
Thirdly, I am looking at community empowerment and reconciliation. Specifically by helping student groups overcome some administrative barriers they face, implementing Aboriginal Relations and Reconciliation Committee (ARRC) recommendations, and looking at increasing gender diversity in the Students' Union elections through the STRIDE program.
Fourthly, I'm looking at increasing access to information and opportunities for students by re-vamping the Students' Union's Job and Housing Registry, making improvements to the Students' Union website, and through using the Students' Union Perks initiative to engage students in the best way possible.
Tse: I have three main points. The first is connecting students back to the Students' Union. I want to centralize funding opportunities for students, create a job directory, redevelop the volunteer registry, because right now it is showing opportunities to go to Costa Rica and volunteer when a lot of students just want to find one here and not have to buy a plane ticket for. I want to redesign the website to better communicate the services offered by the Students' Union in a more efficient and clear way. Plus, this will show the breadth of services we offer better than InfoLink could.
I want to strengthen the alumni network as well. A couple of years ago, former vice-president (operations and finance) Emma Ripka highlighted the U of A's Switchboard application. This highlights opportunities to students. It's exterior to the Students' Union, but it is still valuable and I want it showcased better.
Additionally, I want to cultivate student businesses. With this, I would like to rebrand SUBMart. This coming year SUBMart is getting renovated. Money has already been allocated towards that. RATT, Dewey's, and The Daily Grind already have undergone renovations in the past few years and now it's SUBMart's turn. With that, I would like to incorporate a dollar section. I want essentials that students need — like pencils, deodorant, or bandaids — to be more accessible. For example, you run to your final and find you forgot a pencil or pen. Now you can go grab one quickly at SUBMart for simply a dollar.
Lastly, I want to continue increasing inclusivity and accessibility at the Students' Union. This means working on the ARRC recommendations and ensuring SUB remains an accessible space for all — like ensuring SUB is entirely wheelchair-accessible.
For the past three Students' Union elections, the Students' Union has tried to pass a levy which would charge students a fee to address deferred maintenance in the Students' Union Building (SUB). What do you believe is the most pressing concern with regards to deferred maintenance in SUB specifically?
Krahn: I think there are a lot of issues. Everything from the elevators to the HVAC system, to the food court and the fact that it is inaccessible for a lot of students. Something I am particularly looking at in my platform is the possibility of creating a mental wellness space within SUB. I have read through a lot of surveys and have talked to a lot of students and it is generally seen that SUB does not prioritize mental health and the need for a calm, stress-free environment on campus. I would really like to see that happen.
Also, we should be looking at other ways we can address not only the deferred maintenance issue per se, but how we can do it in the best way possible for folks far away in the future, as well as for the students attending here right now. It's about taking a sustainability lens and making sure it's prioritizing students' mental health.
Tse: I really hope the Sustainability and Capital Fund fee passes the referendum. The most pressing part of deferred maintenance in SUB are the elevators. They still work, but are very slow and do not look appealing to use at all. Sadly, those are funded by the university so I don't know what we could do about that. However, that is definitely a problem.
Do you plan to make any changes to Room at the Top and Dewey's?
Krahn: It's not really within my platform. I understand they serve a really important function within the student community and I think they serve as wonderful places for students to meet and engage with each other.
However, something I think we really need to focus on at this time of economic uncertainty is putting our focus on businesses that can grow outside of the student wallet. For example, Horowitz Catering and events are things I will be focusing more on as a way to decrease reliance on student fees. There is an opportunity to make money for student services outside of students needing to spend more money.
I don't have many plans for the bars right now, but of course, I am open to listening to what students have to say and getting some popular beers on the happy hour menu.
Tse: For the two bars, past vice-president (operations and finance) have been looking at making them go from class C to class A liquor licenses so that alumni or friends of students who don't have a OneCard are not turned away. I don't want to change anything physically about the bars. I want to continue the business advisory group that the current VP ops-fi did this year to get more feedback. This will help maintain engagement with students to see what student groups or students themselves like about those spaces.
Is there anything you would have done differently from this year's vice-president (operations and finance)?
Krahn: I think that vice-president (operations and finance) Luke Statt has done an excellent job of taking a focus on sustainability and at increasing the access fund.
One thing I have noticed is he put in the breakfast sandwich option at the Daily Grind without consideration for students who have alternative dietary needs, such as myself because I am lactose intolerant, or students who are vegan or vegetarian. It's important to be able to, with all initiatives, take more of a holistic lens of the needs of more students, rather than what one person imagines what students need.
Tse: I think the current vice-president (operations and finance) has done a really great job. Anything that is different in my platform than what was in his or what he did, is what I would do differently. I would actually follow in a lot of his steps.
For the past two years, the Students' Union has struggled to ensure its own audit is presented and approved by Students' Council in a timely fashion. How will you try to address this concern?
Krahn: That is disappointing. I think to do anything in a timely matter requires planning and forethought, which are two of my favourite things. I definitely see making sure this is prioritized because as we have seen with other students' unions, it's very important to make the books transparent and to make sure the audit is getting approved by elected student representatives, such as Students' Council.
I think I will make sure that it is a priority and to take the time to think it through enough beforehand as to get it approved on time. That way we can have that transparency and promote the value of openness and quality education.
Tse: This year as the chair of audit, I really focused in on the auditing process for student representative associations. I did not think it was good to have emails of receipts and documents. We centralized everything on eClass and set a new timeline. In the past, we got receipts in when the old VPs were leaving and new ones were transitioning in. That isn't a good time. The old one can just leave all responsibility once they hand in their report. That is a huge problem. I wish I had known the best timeline at the start. Sadly I didn't but I had to learn from scratch. It won't be like that anymore and I will write a really good transition report. If elected, I would support the chair of audit.
Joke: If you could start one new campus Students' Union run business, what would it be?
Krahn: I would love to see a bulk store. I try to do zero-waste shopping, so I would love to see a Students' Union Bulk Barn move in and be shining and bright. I could bring all my jars and do all my shopping.
Tse: I would start a travel agency or subsidized group travel agency to help students travel the world. Or they could organize mission trips, like getting students to help people in third-world countries. That would be amazing.