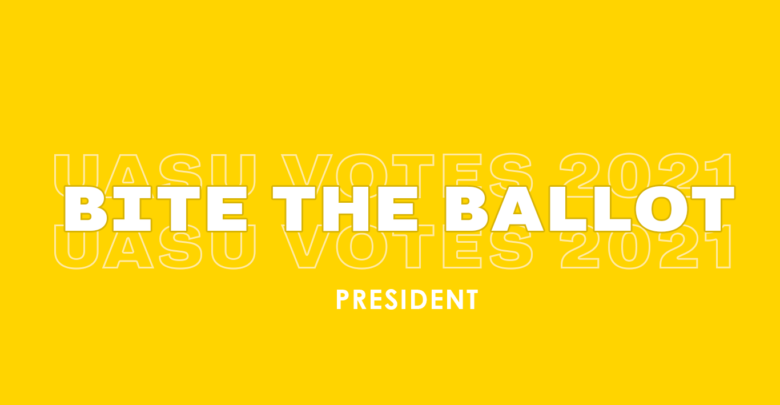 The Students' Union president is the primary spokesperson o the Students' Union. This position oversees all the other executives, as well as the organization's strategy, operations, employees, advocacy and more. This wide-ranging position is responsible for an enormous range of tasks, including heading major initiatives, working with the Board of Governors and the General Faculties Council and advocating on behalf of students to university administration and all levels of government.
---
As the first uncontested presidential race since 2011, there was sparse attention paid to this campaign. However, the president remains the most important role within the SU and the sole candidate offers a variety of ideas for voters to consider when casting their ballots.
Rowan Ley
Rowan Ley, a fifth-year history student and current Students' Union vice-president (external), is the only candidate for this year's presidential race. Without a competitor to give Ley a run for his money, he could have ran on an ambivalent or vague platform this year if we wished. After all, unless none of the above wins, Ley is likely to walk away the victor in this race.
However, I'm happy to say that Ley's platform is ambitious, full of bold promises he didn't move away from.
The biggest idea Ley promises is advocating for a compassionate grading system. Taking inspiration from other universities in Canada, he proposes the creation of an opt-in pass/fail system. With this, students could choose to receive a simple pass/fail grade for a limited number of courses, rather than receiving the university's typical letter grade. By giving students this option, Ley says he hopes to alleviate the stress students feel over their courses.
Overall, this is a great promise — even without COVID-19, students must burden an unhealthy and unfair amount of stress over our academics. While I'm proud to attend a university that sets high expectations, I'm concerned about the effects academic burnout can have on our mental health. The most recent National College Health Assessment (NCHA) for Alberta demonstrates how poor our mental health was prior to COVID-19 and I imagine that spending an entire year isolated from our loved ones didn't help the situation. An opt-in pass/fail system would make a real difference in the lives of many students.
I question if Ley can realistically accomplish this promise. The implementation of a compassionate grading system requires buy-in from university administration and, given the amount of pushback students received over addressing problems with online learning, I'm unconvinced they're a sympathetic ear.
Ley needs a better plan than simply going to administration and attempting to get them on board early. He also needs to do it quickly. Thanks to COVID-19, compassionate grading is a hot topic on everyone's lips. When the pandemic passes though, it seems likely an opt-in pass/fail system will be a harder sell. From day one, Ley needs a plan for real advocacy — not merely discussions.
On Ley's other big promise, childcare, I have similar reservations. His platform outlines a plan to work towards the creation of a revenue-neutral, student-friendly childcare facility on campus within three years. Students who parent are often left behind by SU candidates, so it was refreshing to see Ley commit to a real solution for them.
Yet, I remain skeptical if Ley can realistically accomplish this plan. It's a massive promise to complete, even in the best of times. With ongoing budget cuts and the implementation of performance-based funding, I worry bigger projects like this may fall on the back burner.
As the current vice-president (external), I also expected more from Ley when it came to ideas for advocacy. His track record shows he can be inventive when it comes to protesting but I can't help feeling disappointed that Ley doesn't dive into more detail on what advocacy next year will look like. Penguin protests are fine but there needs to be better and more radical ways for students to oppose government cuts, even in a pandemic.
Overall, Ley's candidacy comes with a variety of daring promises which should catch the attention of many students. However, there are numerous points where Ley could have provided more details on how he plans to turn these promises into reality. He'll have to work hard on these issues if he doesn't want his tenure to become full of unfulfilled or partially-kept promises.
Still, as an uncontested candidate, it would've been easy for Ley to avoid taking any strong positions or offering anything new to students. Looking at his core promises, no one could accuse him of this and I'm thankful he didn't take this easy way out — both Ley and this race are better as a result.
Who will win, and who should win?
Let's be clear — Ley will absolutely win this race.
With no competitors, he only has to beat none of the above (NOTA) at the ballot box. Students are in no mood to have the presidency of our SU sit vacant as tuition continues to increase and the provincial government continues to attack students with budget cuts. Ley would've had to seriously misstep during the campaign for NOTA to be an option.
Looking at some of the other uncontested candidates running this year, there are certainly races where students are better off with an empty seat. Fortunately, Ley is not one of these campaigns and, if I were him, I'd already be chilling a bottle of champagne to pop open on election day.
All things considered, Ley should win as well. While I'm concerned about how he will implement his plans, Ley brought good ideas to the campaign showing he clearly understands the needs of students. Unlike some uncontested candidates, he's done his homework and deserves the job. Who knows, if his promises end up materializing, he could be a great SU president — or even if he sets the groundwork for a successor to implement them fully. For those reasons, Ley has my vote.