Elections 2021
News
Students' Union
SU Elections 2021: Residence Forum Recap
While candidates touched on mental health, sexual violence, and open-education resources at this residence forum, they also got candid on why students should trust them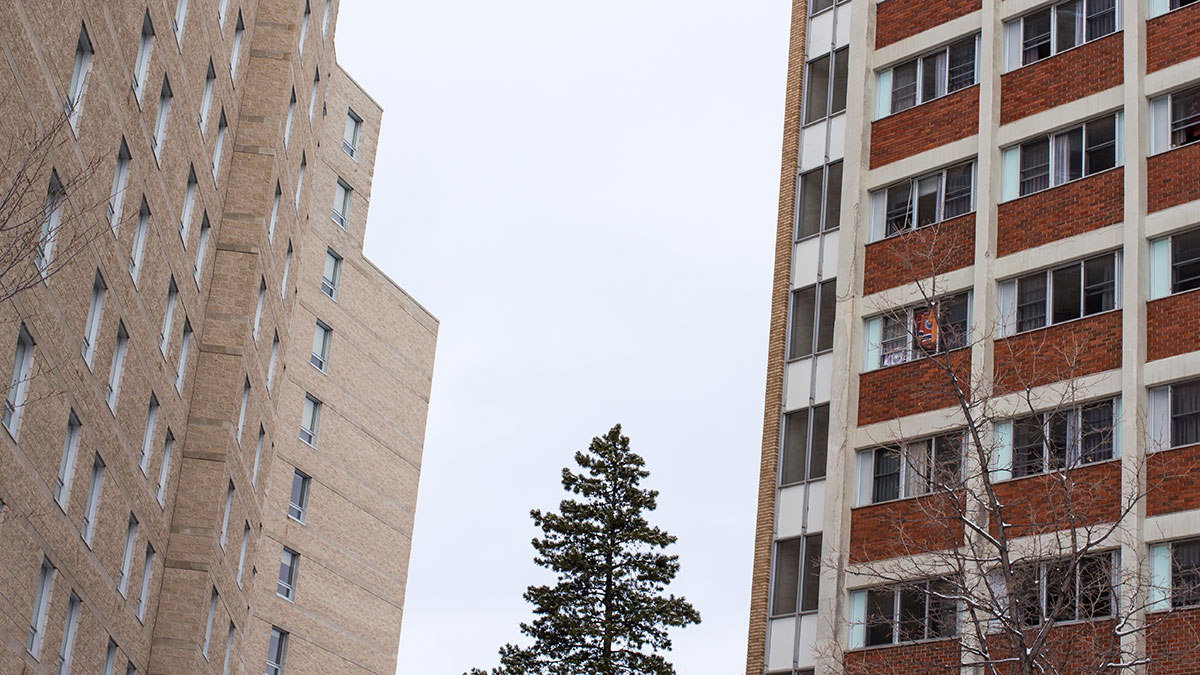 The residence forum acted as the second forum of the University of Alberta's Students' Union Elections 2021.
Candidates addressed residence specific issues in their opening statements and discussed the Students' Union's relationship with the students they aim to represent.
Here's the TL;DR version of the residence 2021 forum:
President: connecting students to campus remotely or in-person
Vice-president (operations and finance): future use of the sustainability and Capital Fund.
vice-president (student life): mental health and sexual violence on campus
Vice-president (academic): affordability of textbooks and resources
Vice-president (external): provincial mental health funding
Board of Governors representative: representing Black Students' Associations to the board
U-Pass: if the university subsidy will return
Golden Bears: nothing new in this forum
Connecting campus: presidential candidate asked about student experience
Rowan Ley, a fifth-year history student and current Students' Union vice-president (executive), was asked how he would improve the student experience, whether classes are online or in-person.
Ley said if classes resume in-person, a lot of work is needed to "ramp up" the services the Students' Union previously had.
"We have had to put a significant amount of staff on furlough, [and] we have delayed significant investments," he said. "If things are online, then we are going to have to apply the experience we got this year in running online events like clubs fair … and there were a significant number of lessons learned."
When asked what he would do differently from his predecessor, Ley highlighted an area where believes the Students' Union executive can improve "as a team."
"It is no secret that our relationship with the staff and academic staff unions on campus has not been what we would like it to be," he said. "When we don't have a strong collaborative relationship, it damages our ability to work together, and we waste energy fighting each other instead of working on common problems."
— Rachel Narvey
VP OpsFi candidates tackle the Sustainability Capital Fund and student groups
Emily Kimani, a fourth-year immunology and infections students and current Students' Council science councillor, spoke about her plans for the Sustainability Capital Fund (SCF) to reflect the values of Indigenous people.
"I will ensure the SCF, specifically SCF Green Fund Projects approved by the Sustainability and Capital Fund Committee, reflects the values of Indigenous cultures and ensures that any project that aims to appropriate Indigenous cultures does not receive funding," Kimani said.
Julia Villoso, a second-year psychology student and current Students' Council arts councillor, said she wants the fund "focus on student projects."
"I want to follow the vision students have for a sustainable SU," Villoso said.
Armann Deol asked the candidates how they would support student groups.
Kimani spoke about her plans to make the Myer Horowitz theatre a place that students can "truly use and enjoy."
Villoso emphasized her platform goal of providing student groups with places they can turn to for financial support through creating a handbook containing all resources student groups can make use of.
"It has been a difficult year for all student groups to keep afloat, especially with everything shifting online," she said. "It's really hard to have engagement with more students on campus and online platforms."
— Remi Hou
Sexual assault measures, mental health resources main topic for VP SL race
Talia Dixon, a fourth-year political science and women's and gender studies double major and current Students' Council arts councillor, discussed the training given to Resident Assistants (RAs) to respond to sexual assault.
"RAs are often expected to be the first responder to sexual assaults, yet the training they are given is extremely inadequate," Dixon said. "As vice-president (student life), I will assure all RAs have the first responder to sexual response and abuse training, so that they can provide the support that survivors need."
Dixon also hopes to develop a pilot program for mental health alongside the Peer Support Centre (PSC) to provide their services in residence, and advocate to end the evictions following suicides and self harm attempts.
Daniela Carbajal, third-year psychology student and current Students' Council Augustana councillor covered similar topics in her opening statement.
"Too many times," Carbajal said. "That is the number of times I've known students who are living in residence have been sexually assaulted … As your vice-president (student life), I will work with various groups on campus to create legal support systems through representation for students who wish to move forward in their case."
When speaking on mental health, Carbajal said she will ensure every student, staff, and resident is trained with applied suicide intervention training.
— Areeha Mahal
"We genuinely do care:" VP external candidate questioned about funding for mental health support
Vice-president (external) candidate Christian Fotang, third-year biological sciences student and current Students' Council science councillor, was asked how he plans to advocate for renewed campus mental health funding given provincial government budget cuts to post-secondary education.
Fotang said he would work with local mental health organizations as well as the vice-president (operations and finance) and vice-president (student life) to finance mental health support.
"The government is being very steadfast in their approach to their cuts to the budget," he said. "I still think we may have some pushback, but it's also [about] reaching out to local organizations that deal with mental health within Edmonton to help out."
— Paige Miller
Swapping open wallets for open resources: VPA disucsses student affordability
Abner Monteiro, a fifth-year kinesiology student and current Students' Union kinesiology, sport, and recreation councillor, said he plans to address affordability for students in residence face by raising awareness of open educational resources (OERs), which are external supports, such as textbooks, with no extra cost.
He also plans to create systems that allow students to make informed decisions for class registration based on potential additional costs for required textbooks or class materials.
"Residence is expensive and the last thing we want is for students to be paying for unplanned fees when they are signing up for classes," Monterio said.
Monteiro also brought attention to the Charter of Student Rights and Responsibilities, which was created by the Graduate Student's Association (GSA) and Student's Union, outlining the rights and protections of students on campus. He plans to make the charter available across eClass and course syllabi.
"This document is so important as many students do not know if they are being treated fairly, especially first-year students and international students who are new to our campus community," Monteiro explained.
— Disha Hazra
BoG rep candidate highlights combating systemic racism as "key priority"
Dave Konrad, a third-year environmental and conservation sciences student and current Board of Governors (BoG) representative.
During the forum's opening remarks, Dave Konrad, a third-year environmental and conservation sciences student and current Board of Governors (BoG) representative, spoke about system racism, highlighting how "many people in minority communities distrust" the U of A.
"I will advocate that U of A collects well-differentiated demographic information for their student census as a first step to developing metrics around systemic racism," he said.
Konrad said Equity, Diversity, and Inclusion (EDI) will be his "key priority" in relation to academic restructuring and spoke directly to racialized students.
"I'm here for you when you don't feel safe or [are] hurt because of your ethnicity or race as a student of this institution," he said.
In response to a question regarding how Konrad plans to address unresolved issues from his current term if he is re-elected, Konrad said his platform last year was "too large."
"Some things are advocacy based and will take years to work on and maybe even several BoG representatives to get through," he said.
He mentioned that in the meantime, he has decreased his course load to have "more time" for the role.
— Amanda Dang
Resume candy and broken trust: authenticity of candidates questioned
In a general question period, an audience member asked all candidates how they would re-build student trust in the Students' Union.
"There's a lot of mistrust form students towards the [Students' Union] for a myriad of reasons," they said. "How do you intend to let students know you're not just running to fill up your resume?"
Ley, the presidential candidate, said that one big reason there is distrust of the Students' Union is that the work done by student representatives is largely "invisible."
"It involves preventing bad things from happening, but then [students] don't really notice any change in [their] day to day lives from that," he said. "In order to earn students' trust, we need to have big tangible wins that materially change students' lives."
Ley gave the example of introducing a limited pass/fail grading system, where students could choose a few courses throughout their degree where they would not get a letter grade but just a pass/fail. He argued such a change could "make a huge difference to the mental health and academic career of tens of thousands of students" and reinvigorate student support in the Students' Union.
Monteiro mentioned developing systems that have "tangible benefits" and are at the forefront of the academic experience, such as a pass/fail system for select classes. This, he believes, will show the student body those changes are actively being made.
Dixon mentioned that she has been "critical" of the Students' Union in the past, bringing up how she was "outspoken" last year when the executive did not attend the climate protests. Carbajal noted how resume padding was far from her goals, noting that governance "is more than just a side project" after seven years in student governance.
Villoso said she believes social media will be a great asset in repairing the Students' Union's relationship with the student body. Kimani emphasized the need for the building of relationships, especially with Augustana and Campus Saint-Jean.
For Konrad, student involvement was key.
"Encouraging people to get involved on the grounds of bringing positive change is really good too," Konrad said. "People can trust you but if that's your advocacy point, I think that holds some weight"
Fotang said he understood student concerns with accessibility and slow responses to student needs.
He went on to lament the virtual campaign period.
"You don't have that face to face interaction to help convince people that we genuinely do care."
— Rachel Narvey, Areeha Mahal, Paige Miller, Remi Hou, Disha Hazra, and Amanda Dang
U-Pass subsidy remains up in the air
U-Pass representative and current Students' Union vice-president (student life) Katie Kidd, described how she used her U-Pass frequently while living in residence for two years.
"When most people think of a U-Pass they traditionally focus on using it to get to school from home and then back again," she said. "As residents, you might not think this applies to you. But your U-Pass is so much more than that, and that's because your life is so much more than that."
Previously the university provided a U-Pass subsidy of $20 a semester per student, but Kidd explained the subsidy has been lost due to the loss of parking revenue during COVID-19.
When asked whether the subsidy will return in the future, Kidd said she was unsure, but was confident that the U-Pass has now become more affordable for students.
"We fought for that subsidy and when we realized it was not going anywhere, we turned our attention and our effort to Edmonton Transit Service (ETS)," she said. "We were able to save students $5 million from talking them down from their original position."
 — Doha Hameid
The Gateway plebiscite
A representative of The Gateway's plebiscite was present at the forum. Due to a conflict of interest, The Gateway will not comment on this further.