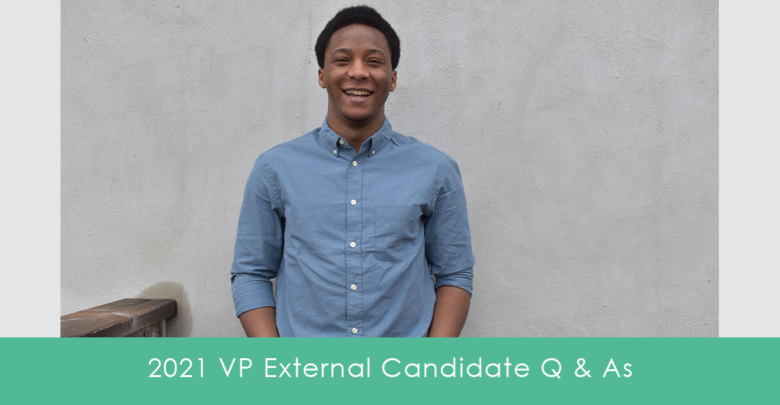 Representing the undergraduate student body to the outside community falls onto the Students' Union's vice-president (external). It's their job to engage with governments, provincially and federally, meet with politicians, and represent the Students' Union within larger student advocacy bodies like the Council of Alberta University Students (CAUS) and the Canadian Alliance of Student Associations (CASA).
This year, there is only one unopposed candidate hoping to become the next vice-president (external): Christian Fotang, a third-year biological science student and current science councillor on Students' Council.
Follow this link to watch Fotang's candidate pitch video.
The following interviews have been condensed and simplified for clarity.
---
In one minute or less, can you tell us why you are running for the position of Students' Union vice-president (external)?
Christian Fotang: The reason I'm running for this position is simply because I care about the issues — I care about the problems students are facing. In my time as a councillor, I've gone to learn things about governance. I decided that either I could just stand by and probably complain about it and do nothing, or just give it a shot. I've read the policy recommendations, I have seen the solutions that are out there to the problems facing students are facing such as tuition increasing and lack of financial aid, and I just thought 'how can I contribute to implementing these solutions'. Simply put, that is why I am running for vice-president (external).
Can you briefly and concisely describe your platform?
Fotang: The gist of my platform is to support measures that improve post-secondary affordability with a focus on tuition and financial aid, to support a healthy and safe campus environment for students on and off-campus and to improve participation in our Student' Union, university, and governance.
Currently the Minister of Advanced Education is creating Alberta 2030, a ten-year plan to increase the commercialization, financial stability, and internationalization of post-secondary education. How will you try to ensure student needs are reflected in this plan?
Fotang: The biggest thing is to make sure that students' needs are reflected in the Alberta 2030 plan and that there is consistent student engagement on this topic. That means not only just talking to faculty and residence associations, but talking to student group leaders and people involved in not just governance environments. It's about ensuring that we have a diverse breadth of student advice, but also that consultation is done creatively and efficiently.
Right now, one of the biggest things I've learned from my time on Students' Council is that there's a challenge to get students out there to listen and to engage the interest in student needs but you have to do something. In my capacity as vice-president (external), my hope is that I will work with staff and other executives to come up with a strategy and framework that can better reach students.
As part of Alberta 2030, the Minister of Advanced Education has talked about the possibility of some form of tuition deregulation. If this does happen, what would you do?
Fotang: The first thing is, you need to have is a clear standpoint on the position of student leaders across the province that tuition should be kept at the rate of inflation. One of the biggest concerns regarding Alberta 2030 is a performance-based funding model and that's causing a lot of concerns for students. The first thing I would do is gather all provincial student union leaders to meet and discuss a clear strategy about how we want to go attacking this.
Right now we have great campaigns such as the stop the PSE campaign, as well as the Penguins for Post-Secondary Education campaign, but all that is still going to require more than just us and our advocacy points. It's going to require the engagement and involvement of students in our university community and within Alberta. It'll also require us to reach out to more allies, to people who are invested in students — students' success, students' prosperity, and affordable education.
Alberta Budget 2021 will be unveiled within the campaign period for Students' Union elections. What will this mean for you as a candidate, and how will you respond?
Fotang: To be completely honest with you, it is already bad enough that I'm stuck here in Texas with no running water. So, most likely, I'll have a volunteer to probably read up on that and give me the information that most impacts and is relevant to students. But, it is important that with every budget release we're not only having a reactive process to it, but also a proactive one.
I believe that my predecessor Rowan Ley has worked hard in ensuring that our needs and our concerns are heard before the implementation of this budget. I also want the provincial government to realize that we're trying to come out of a pandemic, we're trying to come out of an economic downturn and so, it's important that this budget emphasizes enabling students to keep more of their money so they can participate in the local economy. That's what I will continue to push for and in my role as vice-president (external).
Currently, the Students' Union has worked with the Council of Alberta University Students (CAUS) to support campaigns like Stop PSE Cuts and the Penguins for PSE campaign. If elected, would you continue to support advocacy through CAUS? Why or why not?
Fotang: Absolutely, I would continue to support advocacy through CAUS. Advocacy is not a one-man job — no individual can undertake the needs and concerns of students and even though I'd like to believe in my advocacy skills, even I don't think I'm capable of doing that. You need to have a breadth of partners, people and teams. Every student is facing their own distinct issues and it's important that we're collaborating together to have a direct message to the provincial government that these are our concerns, these are our needs. It's worked in the past and I don't see a reason why it shouldn't continue to work in the future.
Recently the Students' Union revealed through a survey that 33 per cent of U of A students want to leave Alberta after graduating, 51 per cent of students are facing food insecurity, and 54 per cent of LGBTQIA+ students want to leave after graduating. What do you make of these statistics in terms of post-secondary education in Alberta?
Fotang: It's a sign of the times. It's the sign of these government cuts. It's a sign of this government's lack of financial aid, and it's also a sign that more investment has to take place into students' education. I will be taking all this data and I'll be bringing it forward to all elected officials at every level of government to show them that if you want to more prosperous Alberta and if you want an Alberta that has smart and hard-working students, we have to do better to decrease these numbers.
The provincial government talks a lot of talk about wanting to have the labour market ready for students and some of the goals of Alberta 2030 is to gear students towards labour market training. We need to start letting the provincial government put their money where their mouth is, and that means investing in students' concerns, investing in student financial aid and also improving the conditions of our mental, mental and health services.
Fun Question: If you could create your own version of the penguin campaign, what animal would you use?
I probably use a meerkat. I don't know why I like meerkats, but they're survivors. They do their best in worse conditions and I think that's what we students do. So, I'm not calling students meerkats. and I hope they don't take that the wrong way, but, that's the best animal I would come up with. But I'm also more than just happy with the penguins too.