Institutional
News
U of A research lab closure extended, earliest possible return January 25
While labs at the University of Alberta had planned to reopen at 15 per cent capacity on January 11, they will instead remain closed until January 25, when the university will reevaluate the decision.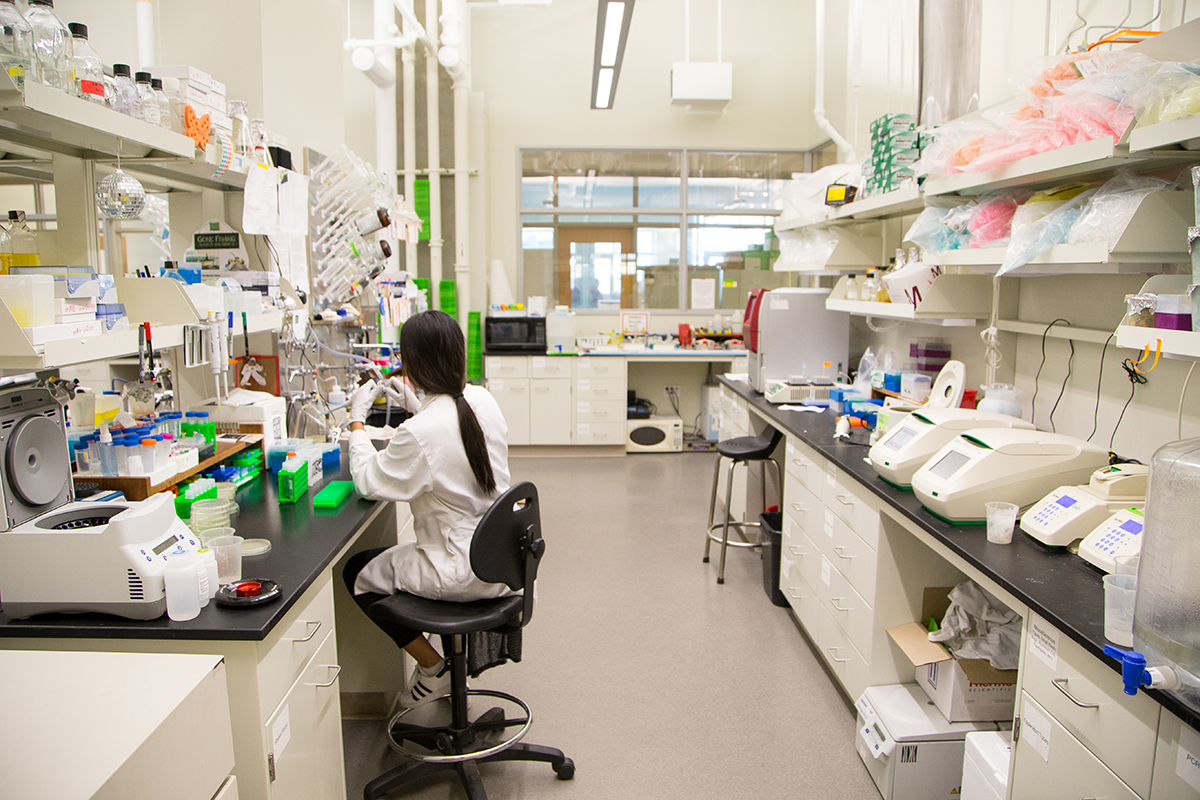 The University of Alberta will be shutting down research labs for a few weeks after a decision made by the U of A Public Health Response Team (PHRT).  
The decision was circulated by Paul Myers, the co-associate dean of research, in an email sent out on January 7. While labs had operated at 30 per cent capacity for the majority of the fall, this number reduced to 15 per cent after new provincial restrictions were implemented on November 27. Labs shut down on December 14 and were expected to return to 15 per cent capacity on January 11, but will now remain closed until at least January 25, with plans to reassess the measures on January 18.
Lab closure a "difficult" decision, said university
Andrew Sharman, vice-president (facilities and operations) and executive lead of the PHRT, and Walter Dixon, interim vice-president (research and innovation), provided a statement to The Gateway explaining the rationale for their decision.
"As of this week, the situation that drove the enhanced safety measures has not improved," they said.
The statement highlighted the extended provincial restrictions announced on January 7 as the guideline for the extension of the closure. It noted that an exception process is in place to help graduate students and postdoctoral fellows to meet their program requirements, with 335 researchers and 437 projects approved for continued operations.
"This decision is a difficult one," Sharman said in the statement. "We understand these measures are frustrating, but they are necessary to help ensure the health and safety of our community and campuses as best we can."
Professor shared concern about effect of closure on graduate students
Jillian Buriak, a chemistry professor and head of the Buriak Research Group, highlighted what she saw as a disconnect between current provincial guidelines and the lab closure.
"The graduate students can't do their work, but they are free to go to the West Edmonton Mall," she said. "Why are [the labs] worse than the mall?"
While Buriak shared that the impact on research is concerning, she said she is most worried about the effect this decision will have on graduate students.
"This is affecting the people who came here to do research to get their degrees," she said. "The research is stagnating and we have time limitations … This is highly stressful. In terms of mental health, most people are okay, but it's getting harder."
Buriak's lab focuses on renewable energy generation and storage, research she notes is extremely hands-on.
"There's only so much writing [graduate students] can do before they have to finish their project," she said. "How much do the conditions have to change for us to allow our graduate students to get back in the lab?"
Buriak described the conditions of the labs, noting their high ventilation, in addition to the careful protocols and scheduling researchers had been following throughout the fall semester. Buriak said she sees a disconnect between the university's decision to close the labs and the provincial government's choice to leave retail locations open at 15 per cent capacity.
She emphasized the fact that the university did not release any information about whether there had been any spread of COVID-19 at any U of A labs.
More uncertainty in an unpredictable year
Ashley Zubkowski is a fourth-year undergraduate physiology student completing her thesis project on placental microvilli physiology — how placenta cell membranes work — in physiology professor Meghan Riddel's laboratory. Zubkowski said that she has been mentally preparing herself in the event that labs remained closed.
"It can be frustrating when these things happen, but I think all of COVID-19 has been frustrating," she said.
She noted that one thing that has made this year more possible has been support and understanding from professors.
"Professors have been really accommodating to try and get us to do as much as we can," she said. "We're becoming a more flexible university and there will likely be some plan in place if we can't go into the lab."
Due to the lab closures Zubkowski's project results might be less accurate, as the tissues she looks at to gather her data degrade over time. While this aspect of the closure disappoints her, she ultimately feels that strict guidelines could be the best measure.
"I think something that's been a common trend this past year is that the U of A has had stricter guidelines than the province has," She said. "They seem to take whatever the province says and do an extra step more, and I don't necessarily think that's a bad thing."
A previous version of this article stated that "all research labs" had shut down "fully" from December 14 and on. Though the majority of labs remain closed, certain exceptions have been made for time sensitive research at discretion of the university. The error was updated on 12 January at 12:10 p.m. The Gateway regrets the error.