News
Students' Union
Alberta Legislature demolishes snow penguin "army"
The penguin display was meant to protest budget cuts to post-secondary institutions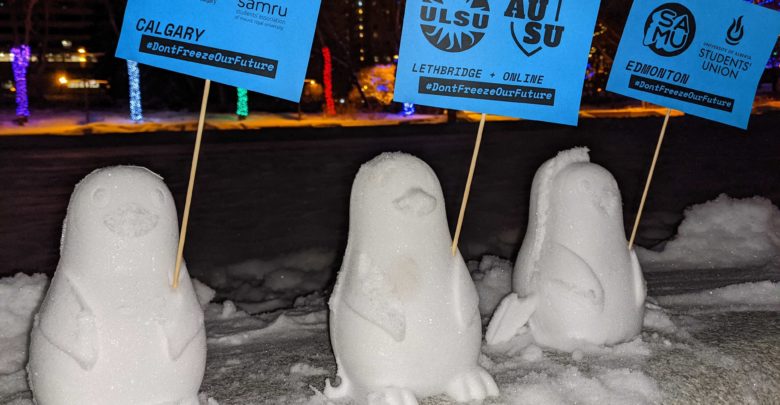 An art display created by Students' Union representatives in protest of provincial post-secondary budget cuts to institutions was demolished Friday morning.
Student leaders from the University of Alberta and MacEwan University gathered at the Alberta Legislature legislature on the evening of January 28 to construct an art display protesting provincial budget cuts to post-secondary education. The display consisted of a penguin snow sculpture "army" holding signs that read "#Don'tFreezeOurFuture." With COVID-19 restrictions in mind, a socially distanced art protest was supposed to take place at 11 a.m. on January 29.
However, before the event could take place, the majority of the penguins were demolished along with the protest signs they were holding.
Students' Union vice-president (external) Roway Ley estimates there were around 800 penguins when the display was completed. The penguins were clustered around the pool closest to the legislature to ensure that the pathways remained clear.
"There were more penguins at this protest than there are people at most protests at the legislature," Ley said. "We had a clean-up crew that was going to come and pick all the [toothpick signs] up early this afternoon. I guess the government decided that wasn't quite fast enough for them."
As of the morning of January 29, there appeared to be less than 200 penguins left.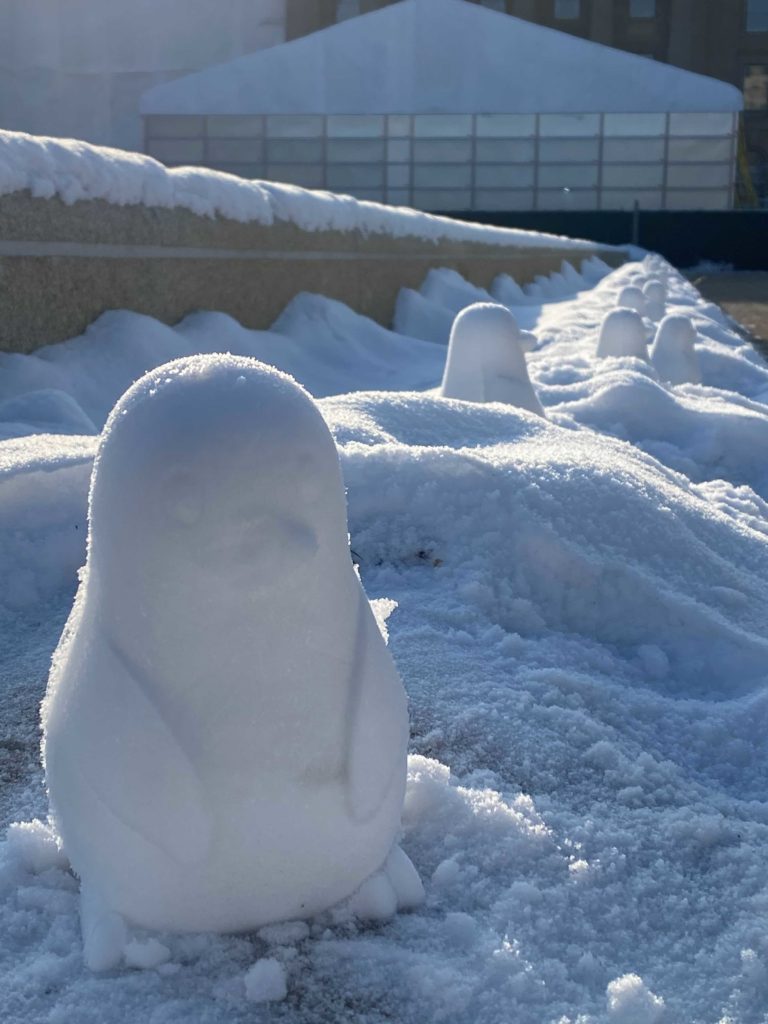 The penguin display aimed to bring awareness to the "brutal" budget cuts Alberta post-secondaries have experienced within the last two years. Although most of the original display was taken down, Ley is optimistic that it accomplished "exactly what it was intended to accomplish."
"We figured, what would be a more creative way of grabbing attention than a penguin protest army at the legislature?" Ley explained. "And I will say it worked."
It is unclear at this point who is responsible for taking down the sculptures, though external advocacy advisor Robert Nelson said the display was removed by the Alberta Sheriffs Branch in an email to The Gateway. The student leaders were also not given a clear reason as to why the display was taken down.
"Last night, we were out building those things for about two hours and nobody complained," Ley said. "So, I'm a little surprised that they decided now that they were upset, but it is what it is."
The office of the Ministry of Justice and Solicitor General and the office of the Ministry of Advanced Education did not respond to a request for comment from The Gateway.
As for how the idea of snow penguins came up, Ley credits Students' Union vice-president (academic) David Draper, who had been making snow penguins for fun. They opted for non-permanent snow sculptures as a "silly" and creative way to garner attention.
"I think if they decided that snow sculptures were too threatening and had to be removed immediately, they would not have reacted kindly to something more permanent," Ley said. "But if anyone has fun ideas, then I'm all yours."
Although the penguin army was defeated, Ley promises students that the Students' Union has more plans to "fight back" against cuts in the upcoming budget.
"This is just the first and smallest of many projects that we've got in the works," Ley said. "It's disappointing that the penguins got snow ploughed, but we all got outside and had a good time. So, no regrets."