Campus Life
News
U of A's Intersections of Gender to host webinar on teaching 2SLGBTQ+ content
Organizers hope the lecture will improve the campus life of 2SLGBTQ+ students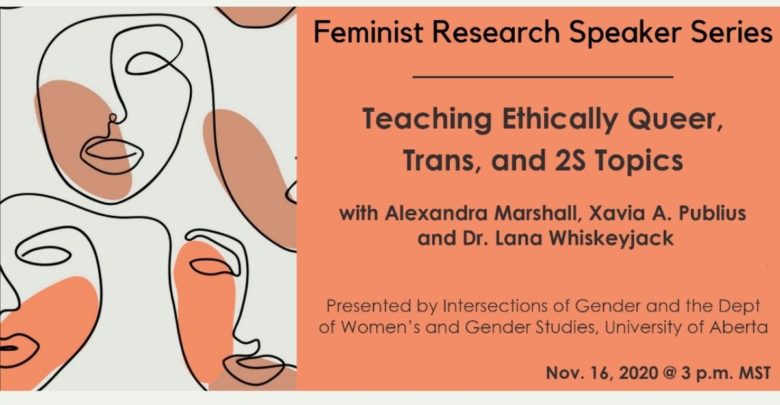 An online lecture hosted by the University of Alberta is hoping to address student concerns regarding ethically teaching 2SLGBTQ+ material. 
The online lecture, "Teaching Ethically Queer, Trans, and 2S Topics", to be held on November 16 at 3 p.m. was created in response to student and professor concerns on teaching queer, transgender, and Two-spirit topics. The lecture is being hosted by the university's signature area of research Intersections of Gender.
Simone Pfleger, assistant professor of women's and gender studies (WGS) and modern languages and cultural studies, will be moderating the online lecture. The panel includes Alexandra Marshall, a rural education coordinator for the Institute for Sexual Minority Studies and Services (ISMSS), Xavia A. Publius, a PhD student studying performance studies at the U of A, and Lana Whiskeyjack, a multidisciplinary treaty nêhiyaw scholar and an assistant professor in the department of WGS at the U of A.
The panel was assembled in hopes of creating a diverse discussion about teaching 2SLGBTQ+content.
"I think that was something that was really important to me — to have a broad range of experiences," Pfleger said.
According to Pfleger it was brought to the attention of Susanne Luhmann, the director of Intersections of Gender, that anti-2SLGBTQ+ content was potentially being taught on campus.
"[There was] an articulation of frustration or worry that certain content that is being taught on campus is anti-trans, anti-queer, or anti-two spirited and that's a problem in terms of representation of the diverse people that are on campus and that are part of the student body," Pfleger said.
The webinar's focus on teaching aims to address these students concerns, as well as support professors who inquired about resources and who want to learn more about teaching queer, transgender, and Two-spirit topics.
"I think it's important if students articulate their concerns around the ways in which topics are being taught on campus," Pfleger said. " I think it's also important to listen and say we hear you. The same goes for faculty members if they expressed the desire to learn more about certain topics."
Pfleger explained this event is an attempt to improve campus life for 2SLGBTQ+ students and to acknowledge the bodies of queer, transgender, and Two-spirit students at the U of A.
"My hope is that the panellists address the stakes of being in that group," Pfleger said. "But also, the stakes of being on a campus and functioning in a larger community that is populated for the most part by non-trans, non-two spirited and non-queer folks."
The webinar, set for next Monday, has already over 150 registrations. Pfleger hopes that the lecture will engage individuals from both the U of A campus and beyond.
"It seems to be really popular with folks beyond the U of A and folks who are organizing communities in Alberta," Pfleger said, "[People] who are doing community engagement work who are non-academics."
Pfleger stated that though the online lecture may not hold all the answers to teaching queer, transgender, and Two-spirit topics, it is a step in the right direction to understanding, representing, and respecting 2SLGBTQ+ communities.
"It is at least a first step to show that we are listening to the different communities on campus."