Institutional
News
Student calls out university's consultation process, met with laughter from president
At a University of Alberta for Tomorrow town hall, a student critiqued the consultation process for ignoring community voices and being vague, only to be met with laughter from administration.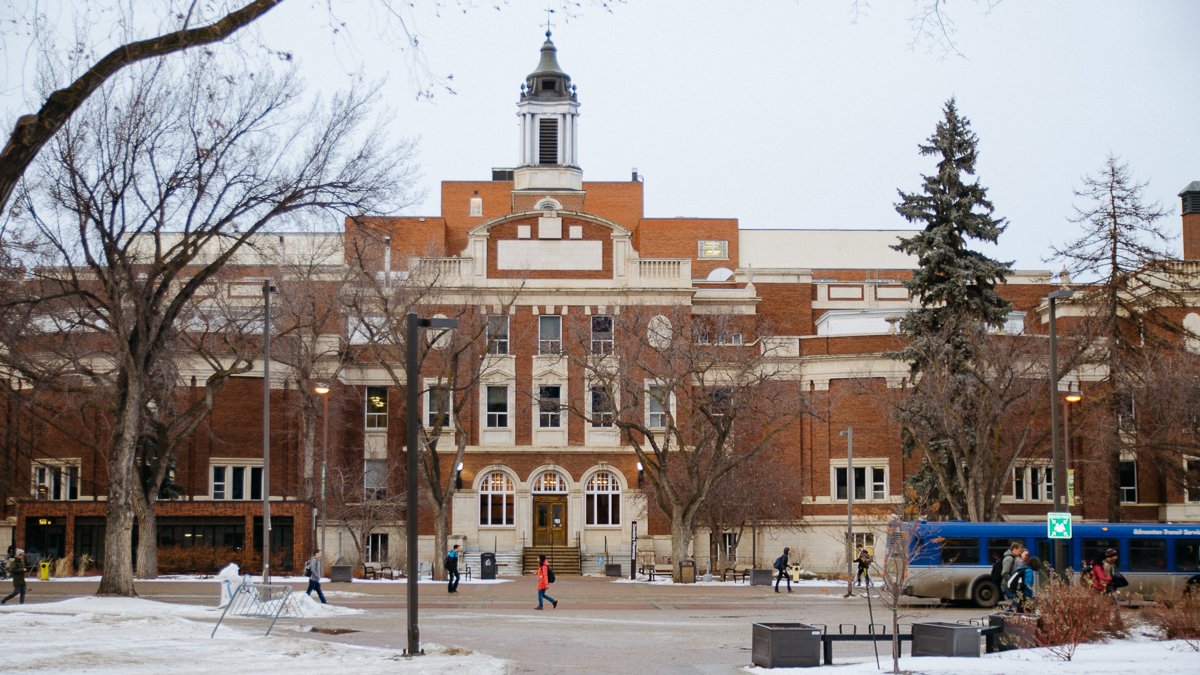 After openly critiquing the university's consultation process at a town hall attended by over a thousand viewers, a student's concern over a lack of transparency was met with a surprising reaction.
Second-year electrical engineering student Adrian Wattamaniuk expressed his criticisms of the process of academic restructuring towards the university administration during their town hall on November 19. His comments, however, the U of A president "chuckled" before responding to Wattamaniuk.
At 9:33 a.m. this morning, Wattamaniuk received an invitation from the university to join a panel off pre-selected community members at a University for Tomorrow town hall regarding academic and administrative restructuring.
With just shy of an hour and a half to put together his comments before the town hall was scheduled to begin, Wattamaniuk jumped out of bed and hurried to his computer to to type out his thoughts.
Wattamaniuk, who has already been involved with multiple engineering roundtables regarding academic restructuring, chose to focus in on an issue he's observed throughout the consultation process: a lack of true consultation with the U of A's community.
He began his comments at the town hall by defining what he perceived a true consultation process to look like. Wattamaniuk then contrasted this with what the university has been doing instead.
"In a consultation process, especially with a large group of people, it makes perfect sense to start out with a small group of people developing a basic proposal," he said. "However, what we then saw was this document being brought to the larger community with thousands of concerns raised throughout the town halls and nothing has really changed."
"In my opinion, this ignores the opinions of thousands of great minds invested in the functioning of this university for their careers, their research, and their futures."
Wattamaniuk went on to critique the proposals for being vague, lacking true structure, and over-estimating cost-savings. He concluded by urging members of General Faculties Council, the highest academic governing body, to not approve any of the proposals.
University of Alberta president Bill Flanagan and provost and vice-president (academic) Steven Dew both left the screen of the livestream during Wattamaniuk's speech.
When they returned, Bill Flanagan was laughing as he responded.
"Thank you, Adrian," Flanagan chuckled. "That was an impassioned speech. We will, of course, continue our consultations and I look forward to an engaged discussion at GFC… I think we're doing the best we can in the constraints of time, a large community, and of course COVID."
"I do appreciate your thoughts," he added.
Wattamaniuk not happy with laughter, but also not surprised
In an interview with The Gateway, Wattamaniuk said laughter from the university's president was the last thing he expected in response to his speech.
"I was not happy with that," he said. "I just didn't expect a response at all — I expected them to move on."
Alongside a bit of anger, the laughter also left Wattamaniuk with many questions.
"I don't what he was thinking — what his take is. It would've been good to hear [his thoughts] instead of giving a chuckle and then moving on."
When Wattamaniuk learned that both Flanagan and Dew left the screen during his speech, he was far from surprised — this wasn't the first time he had felt ignored by university hosted consultation.
"That sounds about right," he said. "I'm starting to get a little unenthused with the process."
"I asked a question at one of the roundtables and I had ten professors back me up in the chat. They glossed over [my question] without giving an answer, so I've grew to expect it from them."
Wattamaniuk understands that he may have put Flanagan in a tough place as the deadline for deciding on a proposal falls on December 7.
"I realize I put him in a tough position because you can't go back and start the process again, I completely understand that," he said.
However, instead of laughter from the university's president, all Wattamaniuk wanted was clarification to the concerns he presented.
"I think [I wanted] some sort of comment on why they took the consultation process they took or why they didn't consider some of the other proposals that were presented," he explained.
"Some explanation for why they took the approach they did, even if it was a [public relations like] response, would've been better than a chuckle."
Wattamaniuk was also taken back by the laughter, because he has always ensured to be respectful at previous consultation roundtables he attended.
Despite the confusing response he received from Flanagan, Wattamaniuk doesn't regret speaking out. Rather, he thought the critique was necessary after watching so many voices being ignored.
"At this point, I'm disenchanted," he emphasized. "I've seen lots of good engagement from people across the community, I've seen people ask really good questions — I'm just kind of fed up with everything."
When it comes to the future of academic restructuring, Wattamaniuk reiterates the points Flanagan laughed at this afternoon.
"At this point, the only the way I see anything changing is if GFC votes down whichever proposal is presented. The best thing to happen would be to defeat the motion …. if it is passed, I really doubt we're going to see any real consultation in the implementation stage where things get critical."
Flanagan said reaction was misunderstood
In a provided statement received at 4:57 p.m. Flanagan said he believes his reaction was misunderstood and apologized to Wattamaniuk.
"I was impressed by Adrian's comment, which was a thoughtful and well-delivered critique, and I thank him for speaking up," he said.
"Student engagement is important to the development of U of A for Tomorrow and I encourage all students to get involved in this process."
Information provided to The Gateway from Hallie Brodie, Issues and Strategic Communications Officer for the University of Alberta said that Flanagan and Dew did not mute their videos, but rather were "bumped" onto a participant screen not visual to the live stream and remained present.
Flanagan also reached out to Wattamaniuk through email at 4:52 p.m. to apologize.
Adrian however, believes the laughter can only be taken one way.
"Frankly I think a laugh as a response to a serious concern brought up by an undergraduate student can only be interpreted in one way, and it's that the opinion was shrugged off," he said. "It has come to my understanding that this response has caused some problems for President Flanagan with the broader community, and that's because it is quite telling of the nature of this 'consultation process', and his approach to Academic Restructuring overall."
"I appreciate President Flanagan's apology, but still believe that the underlying sentiment that the student opinion is not truly being considered is present, and is obviously extremely disheartening."
— With files from Pia Co
Update: At 12:40 p.m. on November 20, 2020, the article was updated to include additional information received from Hallie Brodie.