News
Students' Union
Notes from council: 2021-25 U-Pass potential increase and U of A website for survivors of sexual violence
Catch this recap of council on November 17 to learn more about the future of the U-Pass, a new website resource for sexual assault survivors, and the heated debate at council's close.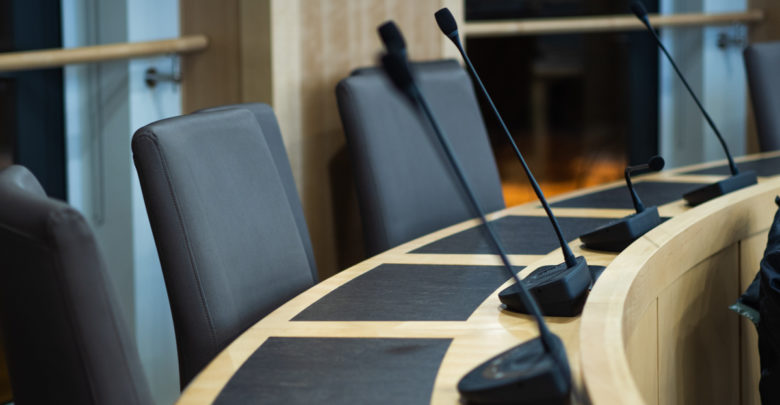 "Notes from Council" is The Gateway's ongoing series of recaps of noteworthy items from Students' Council meetings.
---
After a hiatus to observe the American election on November 3, council returned on November 17 to announce updates to the U-Pass, a website for sexual assault survivors, and to enter into a heated debate about how council should run.
The initial stages of a 2021-25 U-Pass contract with Edmonton Transit Service (ETS) was shared by Students' Union vice-president (operations and finance) Alana Krahn. The pass would cost $180 per semester, a $27 rise from the 2019-2020 charge.
"I would like to say that this is historic," Krahn said. "We've never had a contract where the fee hasn't increased over four years."
In the previous 2012-2021 contract, the U-Pass fee was set to increase from $145 in 2017-18 to a projected $158 in 2020-21, had the contract not been suspended due to COVID-19.
Krahn explained that the contract with ETS will also include a bursary program where the Students' Union will be allocated between $26,000 and $30,000 in financial aid for low-income students.
Additionally, the contract will include new exemptions for students over the age of 64, students who are on Assured Income for the Severely Handicapped (AISH) and for students whose primary residence is beyond the transit service areas of those outlined by U-Pass.
Ana Oliveira, an arts councillor, congratulated Krahn on her work during the meeting.
"I'm very impressed," she said. "I think it's amazing."
While the U-Pass contract is for 2021-25, due to COVID-19, it will not be available for the Winter 2021 semester. Instead, as in Fall 2020, students will be able to purchase a monthly youth pass.
Update on website for survivors of sexual violence
Students' Union vice-president (student life) Katie Kidd provided an update on a website the university is creating to better support survivors of sexual violence. The site was created in response to critique of the inadequate resources previously in place.
"This new website will be so much more helpful and informative for survivors," Kidd said. "Our advocacy on this topic came directly from survivors and I am pleased we were able to get this changed for them and future students."
Kidd detailed that the website will feature information on how to file a report, as well as resources about consent, sexual harassment, and sexual violence, where survivors can you go to get help, and resources for people in their lives looking to support them.
When asked about the timeline for when the website will launch, Kidd said that the date remains uncertain.
"The timeline is a little unpredictable just because the Students' Union isn't the one making the changes," she said. "This is the university's website, so I can't really guarantee an outcome … but I do expect if it does take longer, it's because they are responding directly to the feedback that they've gotten from survivors."
Council breaks order, debates the importance of rules
After council voted on the International Students' Association's (ISA's) motion to become a Student Representative Association (SRA) — a motion that passed 23 to four — council fell into disorder.
Before the vote, engineering councillor Dhir Bid called for division, an action that would mean each councilor's vote would be made public. Council speaker Jared Larsen rejected the call for division, arguing that privacy would allow the councillors to vote on their own terms, and not give in to what he called "group think."
Karl Buchanan, a law councillor, called a point of order after the vote, asking for clarification from Larsen on his reasoning for the decision.
"For people who might have voted no, the magnitude for the potential ramifications of that just wasn't worth it," Larsen said. "Within council standing order, the speaker does have discretion not to enable a call for division if the subject matter is deemed to be heightened in tension."
When Buchanan asked for Larsen to be specific on which section of the standing order he was referring to, Kidd broke order to interject, expressing anger towards Buchanan for taking up time towards the end of council, which typically runs from 6 to 9 p.m.
"I think this is a bit disrespectful that we're talking about this when it's been very clear that [Larsen] has the right to do this," she said. "We are pushing councillors who won't be able to attend past 9 p.m. out of a discussion that I cannot stress enough is extremely important."
Kidd continued to break order, elaborating on her frustration with Buchanan's decision.
"I'm begging you," she said. "Next time something like this happens, speak up at the proper moment, because this is inappropriate, and it's actually harming council and my ability to do my job. I'm shaking with anger at the moment."
Talia Dixon, an arts councillor, joined Kidd in her dissent against the point of order.
"I understand the frustration that might be present, but it does still stand that the vote already passed," she said. "It happened, we're all good, and now we've got to move on to more sensitive information. I think everyone should take a moment to consider implications rather than rules."
Council was scheduled to move in camera after the vote on the ISA motion, meaning that they would speak in private and members of the public would have to leave.
Before council officially moved in camera, Buchanan made one additional statement.
"While we're still on the record, I would just like to say that I voted [in favour of the ISA becoming an SRA] and am 100 per cent for it," he said. "But I think [following standing order] is respectful of the process and our rules, we can't just change them willy-nilly."