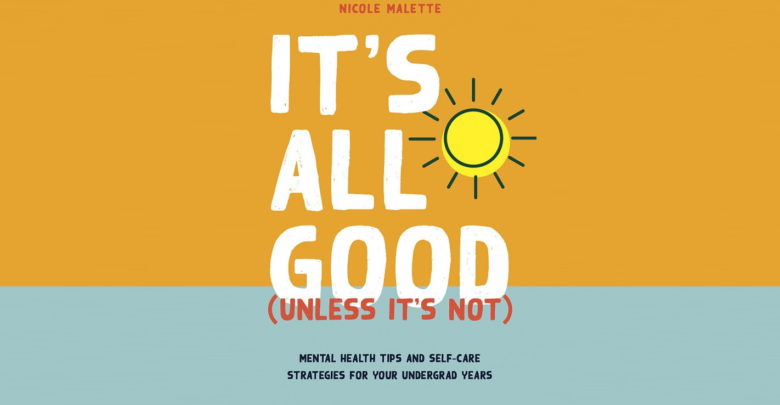 Let's face it, university can be a whirlwind of emotions and problems when it first begins. Deadlines, professors, and finding your place in the crowd can be tough sometimes, and this is something Nicole Malette not only knows well, but wants to have a conversation about.
As a PhD candidate in one of the most prestigious social sciences programs in the country at the University of British Columbia, Malette wrote her first book, It's All Good Unless It's Not: Mental Health Tips and Self-Care Strategies for Your Undergrad Years, a guide for students navigating the confusions of university. The book is available for purchase and free download through the University of British Columbia Press.
I was able to speak with Nicole about her upcoming book and get her thoughts on the struggles she experienced as a student, as well as how she wishes to make post-secondary education easier through an open dialogue between students and the institutions they attend.
Responses were edited for brevity and clarity.
The Gateway: As a member of such a highly-ranked PhD program, and just as someone who has a passion for students' academic success, what were your reasons for choosing academia as a career?
When I was in undergrad, I had some really great teaching assistants that helped me out, and I was really inspired by the way they taught. I thought it would be a great career to be able to affect students the way that they did, but I didn't really know if I was able to do that. So I took two years off in-between my undergraduate and master's degree. I worked at a hospital in Ontario, where I did research in their mental health labs collecting data on kids and their families regarding mental health problems and self-injurious behaviour in kids. That gave me a research background that made me more interested in pursuing academia.
I also took an additional year and went and taught in Korea, and that gave me my background in teaching. That really confirmed for me that I like both research and teaching.
That's a really relatable story.
I think it is really important for students to try and get experience everywhere that they can because at the end of the day, it's not so much of finding out what you want to do, it's finding out what doesn't fit for you. If you take on a job or a course and think, I don't like this, that's great! It means that you aren't going to get stuck in that later on in life, and you're good to keep going.
It's not so much of finding out what you want to do, it's finding out what doesn't fit for you.

Nicole Malette
Right, and that's really what your book is about. It's very honest and very unfiltered. How do you think you were able to convey all of those confusing, anxiety-driven feelings?
I think because I've been working with students for a very long time, and I've been talking to counsellors from undergrad through to my PhD, I've gotten really used to being able to talk about mental illness and everyday challenges and just making those human. I think that the biggest struggle in terms of mental illness is that we don't have compassion for other people, and understanding that those day-to-day problems are things we all share and can widely affect people.
In the book, you mention that you had anxiety about correctly portraying the undergraduate experience while writing the book. What do you think was the most important point you wanted to convey?
It was difficult for me to sit down and write, just like it was difficult to see myself apply to graduate school and continue in academia. I've always had such thoughts — along the lines of imposter syndrome — that I couldn't do it.
I come from a family where I'm one of the first to go off to go to graduate school, so I didn't have much background knowledge to fall back on. The one thing that's allowed me to overcome this is knowing those teaching assistants that helped me back then. It was them sharing their personal experiences that made me see that it was possible to do things. And so, if them sharing their story made it possible for me to see myself moving forward, then maybe I could give that back to other students so they could see themselves going forward too.
What would you say is a good way universities can support their students more going forward?
Having more dialogue in multiple faculties about support for students is really important. This is something we talk about frequently in the social sciences, but it may get overlooked in some other disciplines.
Thinking about how we can branch out and support the needs of students in different programs. Also students coming from different backgrounds can have different needs. If we can start making progress and recognizing the needs of different students, that's really the most effective way of moving forward.
Perfect! Just to end off on a high note, the thing that struck me personally as most compelling about your book was that on the first page, in a big bright font, you dedicated this book to your students. Do you have any last words for a student who may be struggling?
For any student that's struggling, reach out. Reach out sooner than you think. For so many students, they don't think that there's anybody there that wants to help. We all want to help. Your instructors, your teaching assistants, we all want to see you succeed academically. There's also counselling and student services providers on campus that want to see you thrive in terms of your well-being and in terms of your health.
If you do reach out and unfortunately have a bad experience, keep reaching out because you're bound to find someone. That's the only way you're going to get through and know that there's people there that really want to help.