Campus Life
COVID-19
News
Students' Union hosts Angela Davis and online concert
The events aim to connect students with the Students' Union in a virtual way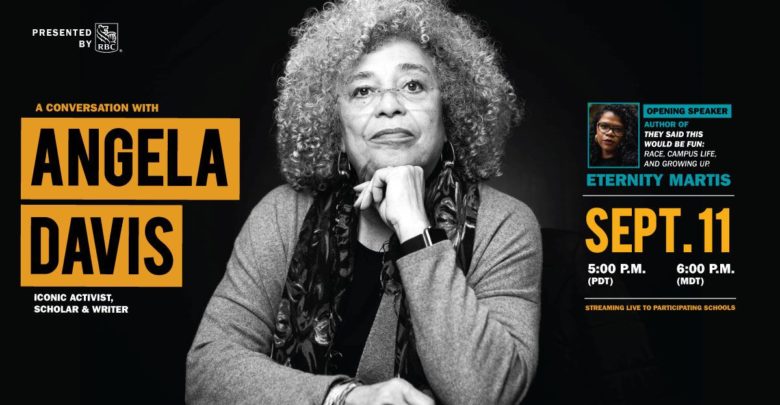 Though the beer garden, RezFest, and usual assortment of Week Of Welcome events were cancelled due to COVID-19, students can still experience the spirit of these events from home.
The Students' Union will be hosting two free events for students this week: a Campus Concert Kickoff and A Conversation with Angela Davis. The concert will take place September 10 from six to nine p.m. and the talk with Angela Davis will take place September 11 from six to seven-thirty p.m.
Both events will be streamed live-streamed from the Students' Union's Facebook and Youtube pages. Students can also view livestreams of both events in-person at Dewey's.
The events were organized in partnership with Students' Unions from MacEwan University, University of British Columbia, University of Regina, University of Lethbridge, and the University of Fraser Valley.
Angela Davis first speaker in SU EDI Speaker Series
Angela Davis, American political activist and educator, marks the first talk in the Students' Union's newly established Equity, Diversity, Inclusion (EDI) Speaker Series.
To incorporate a Canadian university perspective, Eternity Martis, Canadian journalist, will open for Angela Davis. Martis is the author of They Said This Would Be Fun: Race, Campus Life, and Growing Up, a book detailing her experiences with racism and sexual misconduct at Western University.
Katie Kidd, Students' Union vice-president (student life), said the series began when various Black Lives Matter protests occurred across the country prompting the Students' Union to reflect on themselves.
"Every organization that is socially responsible and represents a group of diverse students needs to look at itself critically," she said. "One of the things [we reflected on] was EDI."
Alongside creating a new EDI taskforce, Kidd believes organizing this talk with Angela Davis is representative of the SU's commitment to action.
"It's great to have a task force, but what else can we be doing?" she said.
"Taking this opportunity to bring in someone like Angela Davis…. allows students to hear about her experiences and to hear about racism in a way they maybe haven't hear before."
The Speaker Series is set to return in January, with details to be announced at a later date.
Concert will feature various Canadian artists and Drag Race alum
For students missing going out to concerts or the club, the Campus Concert Kickoff poses a socially-distant way to satisfy that craving.
Featuring various Canadian artists, the line up includes Lennon Stella, Pink Sweat$, Roy Woods, A Tribe Called Red, Tyson Ritter, and the Reklaws.
The whole event will be hosted by Nina West, a contestant on Season 11 of Rupual's Drag Race.
This particular event is in lieu of the MainStage at the beer gardens and RezFest, a Lister music festival that planned to make a comeback after being cancelled last year due to a Listeria outbreak.
According to Kidd, partnering with other Students' Unions allowed them to recruit not only big names, but also a diversity in artists.
"This event would not have been possible without collaboration with all of these other schools," she said. "We've been able to get a pretty impressive line-up, but we also tried to get a very mixed line-up so everyone has at least one artist they know."
Kidd hopes the event still fosters a sense of community while still capturing fun environment of Week of Welcome.
"We really want to be able to have students still feel connected to campus and still feel like they are able to engage with their Students' Union and have fun," she said.
"For me personally, I always loved going to see the MainStage during Week of Welcome. I'm really excited that we are able to create a similar experience for students."