Campus Life
News
Fighting for your rights: Black students reflect on their experiences at Black Lives Matter protest
From relating the protest to pilgrimage to calling for the university to step-up their solidarity, Black U of A students share their diverse experiences at Friday's protest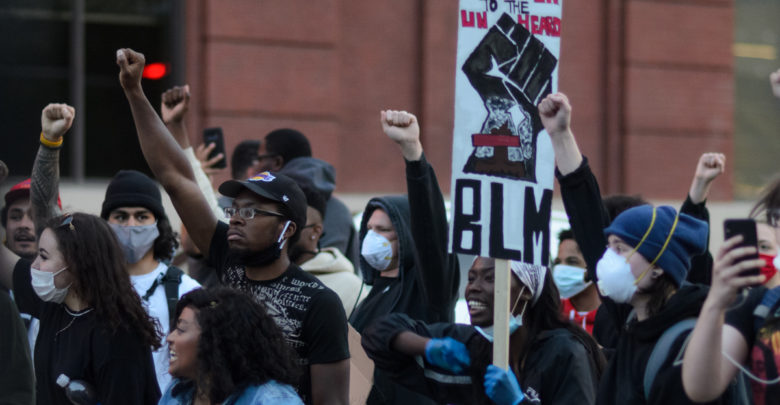 Led by Black Edmonton activists and artists, thousands gathered at Friday's Black Lives Matter protest to debunk the idea racism and police brutality doesn't exist in Canada.
On June 5, over ten thousand Edmontonians gathered on Alberta Legislature Grounds to peacefully protest against police brutality and overall systemic racism facing the Black community. The peaceful protest was organized by activist groups Equity For All and Black Lives Matter (BLM) YEG. The rally came at a time where protests in solidarity with Black communities were being held across the world.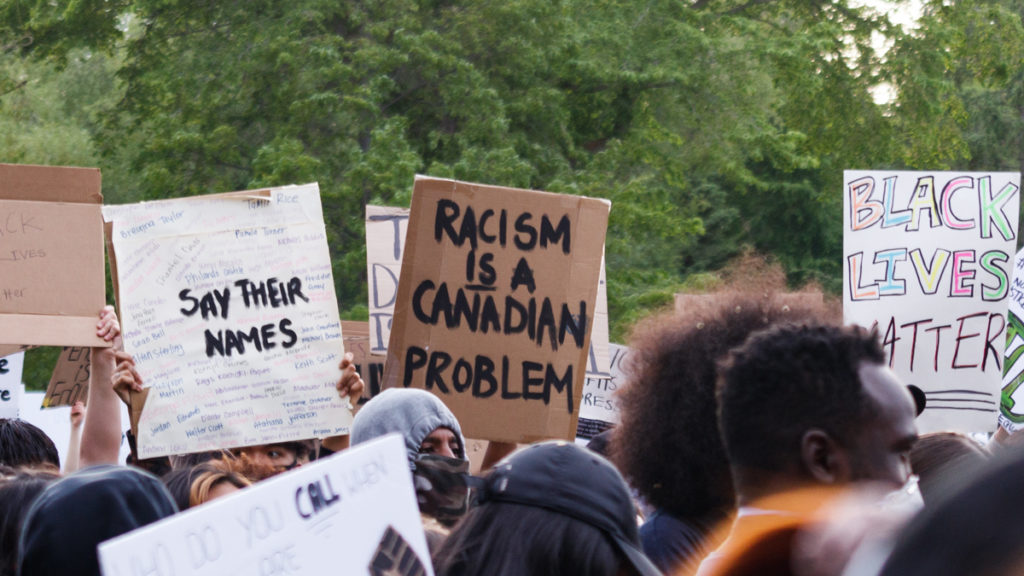 Amongst the various speakers, Friday's rally featured rap artist Muta, R&B/Soul artist Sierra Jamerson, high-school teacher Andrew Parker, and BLM YEG members Deeqa and Shima Robinson.
The Gateway interviewed three Black University of Alberta students to capture their experiences at the protest and to discuss where they see the university falling short in its Black solidarity.
Black Lives Matter protest fosters belonging, but also highlights further work needed, says Black Students' Association President
For one U of A student, the protest was both inspiring and a reminder of the work still required to address racism within and outside of the institution.
Céline Caruso Dixon, third-year political science student and Black Students' Association president (BSA), was among the thousands of protestors gathered at the legislature.
Watching the protest amongst fellow Black university students, Caruso Dixon noticed how the flood of supporters helped affirm a not-always-obvious fact: Black students are welcomed members of the Edmonton community.
"[The protest] was absolutely phenomenal, I'm not gonna lie," she said. "Having 15,000 people come out to support Black Lives Matter, to protest against racism was so powerful."
"It helped a lot of the Black students and [younger generation] Black people feel like they belong, which I think is important to have in the city, especially during a time like this."
Though she observed many U of A students attending the protest, Caruso Dixon said she also noticed a lack of professors and staff — a university population her and fellow students were hoping to see in solidarity at the protest.
"We didn't see lots of professors from the U of A here and [we were wondering] if there was a reason for that," she said. "A lot of us from the U of A were having those conversations during the protest, saying it would have been nice if U of A professors or staff were here to really solidify that the U of A is for Black Lives Matter."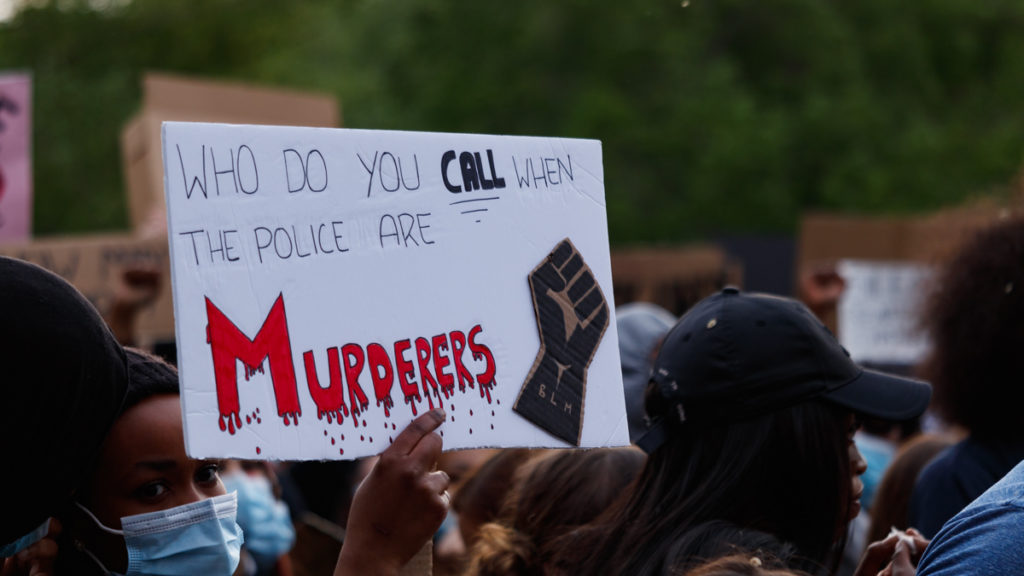 The protest also reminded Caruso Dixon of the amount of work still needed to combat institutional racism on campus. According to Caruso Dixon, this ranges from tackling the micro-aggressions Black students face every day on campus, all the way to making sure Blackness is reflected in higher-level staff.
"We have 39,000 students on campus and to only have a handful of Black professors with a large Black student population on campus is horrendous," she said.
Coming away from the protest, Caruso Dixon laid out many ways U of A students can continue the fight against racism. This includes signing petitions, continuing to educate yourself on systemic racism, and supporting fellow Black students through times particularly hard for the Black community, such as right now.
"The one thing people have to realize is the protest is only the beginning," she said. "This doesn't end at the protest… This is an ongoing fight and it doesn't just stop here. We need to keep educating and keep fighting against racism. We need to be anti-racist in the entirety of our views and the way we work within our systems and society."
Fighting for your life unlike any other protest, Somali Students Association vice-president says
Having participated in various protests such as the climate strike last year, one student described attending Friday's protest as a completely different experience.
For Asha Mohamed, third-year sociology student and Somali Students Association vice-president (marketing), Friday's protest marked the first time she took to the streets to fight for her own personal rights. This new perspective on protesting left Mohamed struggling to describe her novel feelings.
"It's a different vibe," she said. "If you go to environmental protests, you're fighting for the environment. But, when you're fighting for your life and people hear you and support you, its a cool feeling — I don't know how to describe it."
Like Caurso Dixon, Mohamed was also taken aback by how many non-black individuals showed up in solidarity, especially since she saw so many negative responses to George Floyd's death online.
"There was so much negativity the week right after George Floyd's death, I was not expecting that many Edmontonians to be in support of Black Lives Matter."
"A lot of my friends were saying [the protest] was therapeutic because there was so much support…. it was very peaceful and very happy."
Despite its positive effect, the protest reminded Mohamed she had only one Black professor in her three years at the university. Calling him the best professor she ever had, Mohamed insists it's not simply because he was Black, but because of how his Blackness informed his approach to teaching.
"He cared — a lot of professors at the U of A want you to come to class, get your work done, and get your mark," she said. "He was focused on relationships and I feel like if we had more professors of colour I would experience that more."
Last week the U of A released a statement standing in solidarity with the Black community and against anti-black racism. However, Mohamed believes the university doesn't actively work to show solidarity with Black students on campus. Rather, the university depends on Black labour to raise awareness around Black issues.
"For example, during Pride week, the libraries are completely changed and there are so many signs around the school," she explained."But [when it comes to] Black history month and Black lives matter, it's up to students or there is minimal work done by staff. It feels like they expect Black students to do all the leg work."
"If they are standing in solidarity with us, we shouldn't have to wait till February to learn about Black history. They should be aiding us more, not just expecting us to do all the work."
Black Graduate Students Association President found Black Lives Matter protest a spiritual experience
For Prof Collins Ifeonu, a second-year sociology PhD student and president of the Black Graduate Students Association (BGSA), attending the protest almost seemed like a spiritual experience.
"One word comes to mind: surreal," he said. "I've never been on pilgrimage before, but I imagine what happened on Friday is something close to it. I walked to the protest…. and as soon as I left my house I saw people walking beside me, people had signs…. It felt like everybody was walking with a purpose."
Witnessing the protest with fellow BGSA members, Collins Ifeonu was "in shock" by the "passion and frenzied atmosphere" of the protest. Watching protestors "let themselves go," cheering from their cars and dancing in the street, he was reminded of the Black community's ability to transform hate.
"We should never forget what this was about — protesting state violence against Black bodies," Collins Ifeonu said. "But, we also have to acknowledge that Black people have always taken hate and turned it into love. You look back at Dr. King or read some Toni Morrison — the endpoint has always been love."
"It's a conditional love, though. It's a love that can only be sustained when Black life is valued at the same extent as any other person's life. That is what we are fighting for."
Reflecting on Friday, a day that will "stick with him" for the "rest of his life," Collins Ifeonu doubts that even the most uneducated of protestors left without a changed perspective.
"Even if you were there and didn't know anything about [BLM], now you do," he said. " You heard Black Lives Matter, you saw the signs, you saw the passion, you saw the collective catharsis. I think it would take something extraordinary for someone to not be impacted by that in some way."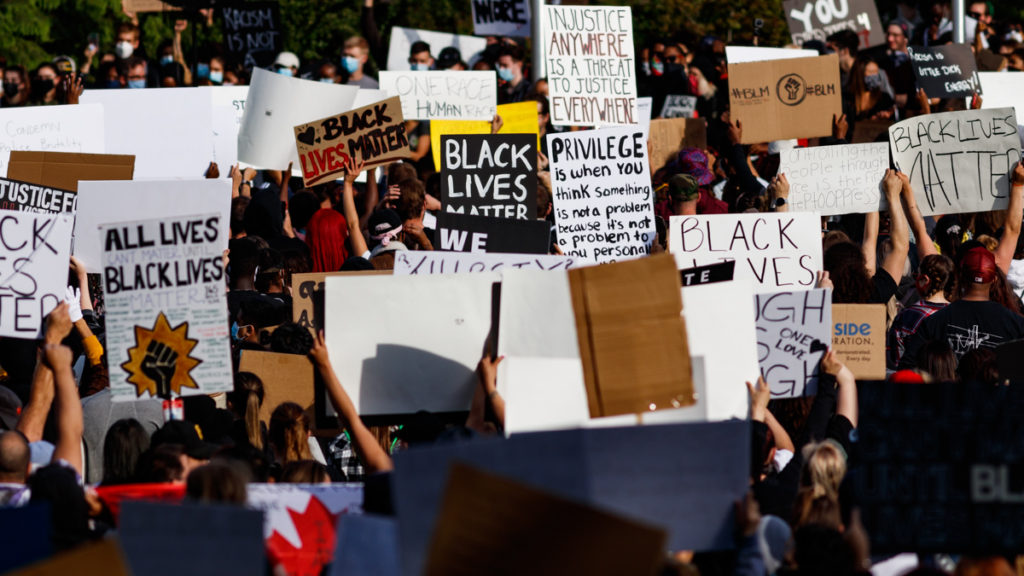 Taking a moment to relate back to his experiences as a Nigerian international student, Collins Ifeonu was reminded of how fellow Black international students systemically struggle to integrate into the structures of the university. Specifically, he sees a gap in the information needed to be successful as a graduate student, such as grant writing or access to publishing work.
"The graduate student experience is, in no small way, tied to the amount and quality of the information in one's hand," he explained. "There are bits and pieces of information that students of colour, particularly international students, don't have access to. We don't know how to write an effective scholarship application."
"Students like us are not in the spaces to get that information — these crucial bits and bobs of information elude us."
Collins Ifeonu emphasized that this issue goes beyond a student's personal effort to learn these skills — it's a systemic problem.
"The issue isn't tied to a person, it's tied to a system," he said. This is a system that has not properly integrated Black students into the best positions to succeed and compete at the same level as counterparts in the racial majority."
For Collins Ifeonu, taking activism beyond the protest starts with acknowledging Canada's historic race relations, especially with the Indigenous and Black communities.
"People need to know about Indigenous history — that should be the foremost priority," he said. "People need to understand that we are on Indigenous land and I'm telling you that as an international student. I wasn't taught those things when I came here."
"There's also Canada's history with anti-blackness and the eugenics program here in Alberta — these are things people need to know. We need to have some uncomfortable, difficult conversations. That's the only way we can move forward… There's too much white fragility around these issues."