Institutional
News
Bill Flanagan installed as 14th president of the U of A
The new president of the U of A affirmed the importance of reconciliation throughout his administration and that the U of A for Tomorrow plan would achieve financial stability for the future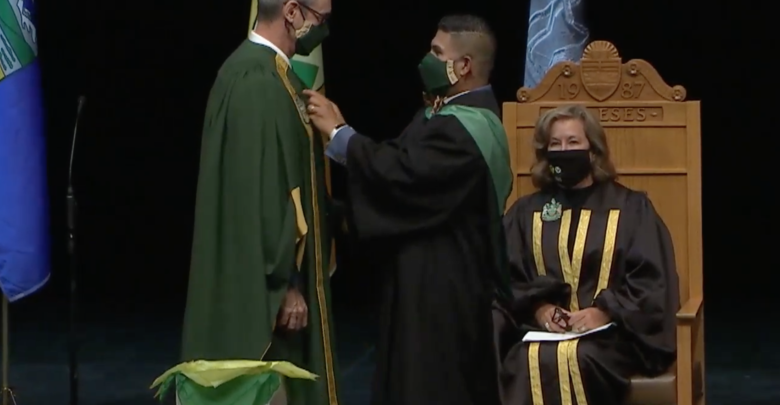 Bill Flanagan was officially installed as the University of Alberta's 14th president and vice-chancellor at the Northern Alberta Jubilee Auditorium on September 16.
The installation ceremony was scaled down from previous iterations due to the COVID-19 pandemic and streamed online. Over 800 people watched the online livestream. Only a limited number of people could attend in-person while wearing masks and socially distancing.
Kate Chisholm, U of A Board of Governors chair, confirmed Bill Flanagan's nomination and Lieutenant Governor of Alberta Salma Lakhani presented the oath of office to Flanagan. Peggy Garritty, chancellor of the U of A, officially installed Flanagan as president and conferred the robes of office upon him.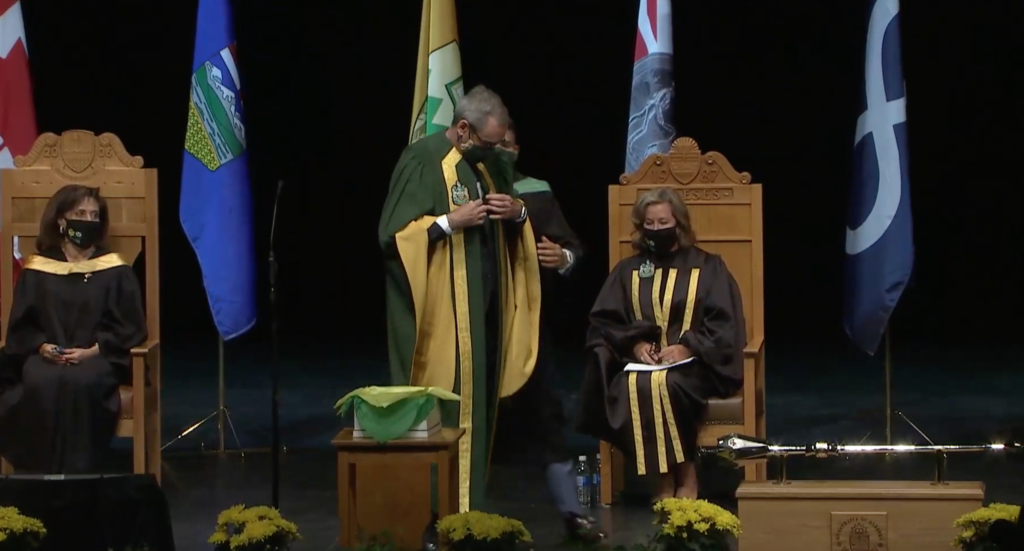 For the first time in the U of A's history, the Métis and Treaty Six flags were displayed onstage alongside the Canadian and Alberta flags. In his installation address, Flanagan said this was done to recognize their sovereignty and nationhood of these First Peoples.
Flanagan and his husband, Saffron Sri, were gifted a pair of moccasins made by faculty of native studies members Janet Delorme and Lana R. Sinclair.
Delorme took the lead on beading the moccasins with a bear and bear paw design to pay homage to the U of A. The design also incorporated the Pride flag to honour President Flanagan's work in support of HIV/AIDS research and initiatives. Sinclair assembled the moccasins. The two were present at the ceremony and described moccasins as symbolic gifts to mark the start of a new journey and to honour a person during an important event. They also hoped the gift would help Flanagan and Sri stay warm during cold Edmonton winters.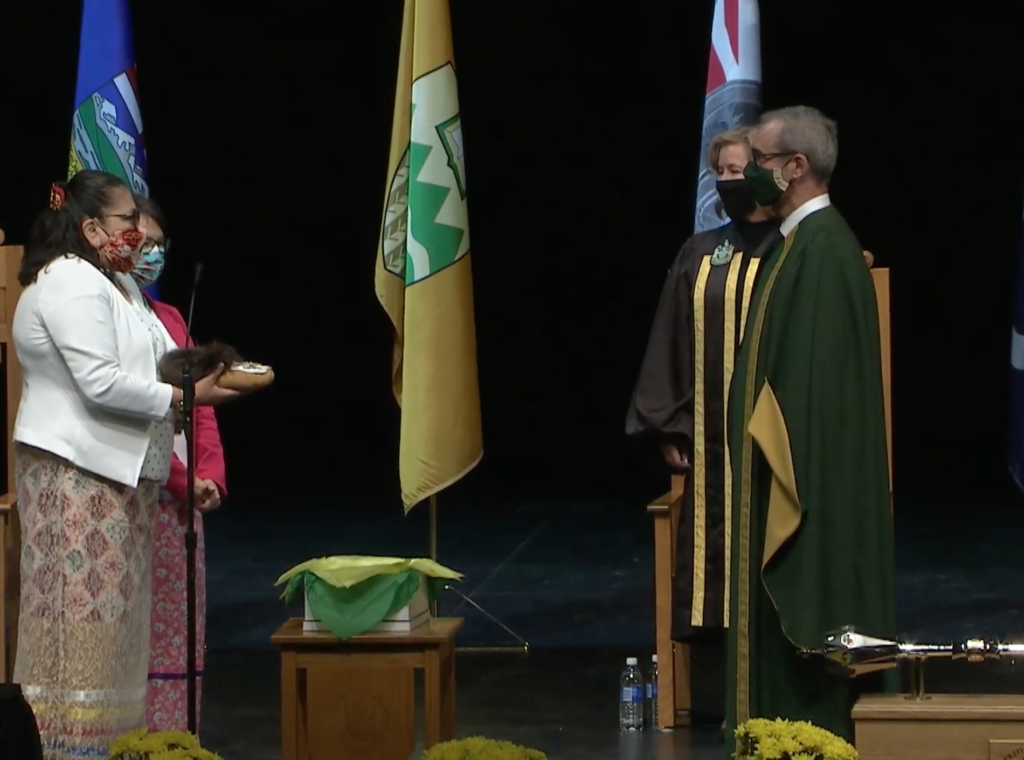 Within his address, Flanagan emphasized the central role reconciliation would have within his administration.
"With these moccasins I am embarking on a new journey here at the University of Alberta, a journey I will endeavour with all my ability to walk in a good way — to advance the best interests of the university and all of the diverse communities it serves."
He added that while he takes on the role of president at a "pivotal" moment — with the COVID-19 pandemic and financial pressures with cuts to the post-secondary sector — he would "steward" the university through while preserving the academic and research core.
"The university's core mission remains unchanged to this day," Flanagan said. "I do not doubt that the University of Alberta will rise to this great challenge, in a manner always consistent with its central mission: to uplift the whole people."
"With our students always top of mind, we will provide a learning experience that looks to the future."
Flanagan affirmed the role University of Alberta for Tomorrow — a $120 million cost-saving plan including academic restructuring — would play in achieving long-term financial stability for the institution. For him, the plan would result in a complete "strategic transformation" for the future.
"We will demonstrate that the U of A is not only a leader in innovation, entrepreneurship, teaching, and research. We are also a leader in thinking creatively and boldly about how to build the university of tomorrow."
He confirmed enrolment would grow at the institution and that recruiting more international students would remain paramount.
Despite the changes coming to the institution, he pledged the university would remain accessible to all — just as it was to his parents. He shared how his prairie parents, both alumni from the faculty of education at the U of A, had doors opened to them because of the education they received. Flanagan described how his father, born in Medicine Hat, grew up "in terrible poverty during the Great Depression" but managed to attend the U of A after receiving the financial support he needed.
"It transformed his life and as a teacher he went on to transform the lives of others," Flanagan said. "This is a University of Alberta story. One of opening doors and building opportunity for all the people of this province and beyond."
Prior to the rite of installation, Bill Flanagan's sister, Noreen Flanagan introduced him to the in-person and online crowd. Noreen is an alumna of the U of A, graduating with a degree in nursing in 1985. She described him as both a hard-worker and dreamer who never loses sight of a goal when he commits to one.
"Big dreams, big ideas, big ambitions, and big — huge — accomplishments: that is Bill," she said. "Its why he has had and having such a remarkable career, and it's why he has made such a difference in people's lives — especially my own."
U of A Students' Union President Joel Agarwal and Graduate Students' Association President Marc Waddingham offered the first speeches of welcome to Flanagan after he was officially installed.
Video remarks from Demetrios Nicolaides, Alberta minister of advanced education, followed. Nicolaides congratulated Flanagan on behalf of the premier, affirmed that he was the right choice for the position, and expressed excitement to work with him in the near future.
"I am certain that your personal mission of always seeking knowledge and learning will be embraced by the entire U of A community," Nicolaides said.
Edmonton Mayor Don Iveson offered congratulatory remarks through video as well. He said in a COVID-19 world innovation and creativity would be necessary to inspire lasting change in Edmonton and beyond.
"President Flanagan, we are thrilled to welcome you back to Edmonton today," Iveson said. "I am confident that under your leadership the U of A will continue to thrive as a centre for innovation, creativity, free expression and ingenuity."