Institutional
News
U of A townhall outlines path forward for $120 million cost-savings through restructuring
Flanagan's proposal to find $120 million in savings through academic restructuring and cost-savings was presented during a virtual townhall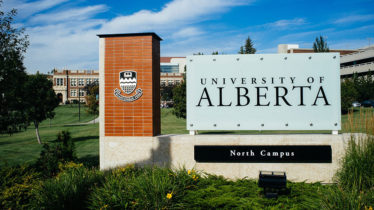 A University of Alberta vision on how to overcome its fiscal and operating challenges through restructuring was met with some level concern at a virtual townhall.
The U of A is considering undertaking organizational and academic restructuring in order to realize over $120 million in savings through streamlining senior administration, cutting administrative positions, and evaluating efficiency of program delivery. This could include a reduction of faculties, having faculty members in administrative positions return to full-time teaching and research, increasing undergraduate and graduate enrolment, and cutting under-utilized programming.
On June 2, Bill Flanagan, incoming U of A president, led a virtual townhall which included a presentation from him and a chance for questions from viewers. Many questions included hesitancy towards the speed of changes and how restructuring will proceed.
According to Flanagan, the plan titled "University of Alberta for Tomorrow" would realize changes over the next two years in order to make future gains, like increasing position in international rankings by 2025. He said all the changes proposed are "so important" to help the U of A moving forward.
The plan for a significant overhaul to the university comes on the heels of significant budget cuts from the provincial government, its $40.2 million operating deficit, and upcoming changes to how the province funds university activities through a new performance-based funding model.
Approximately 2,700 people watched the live-streamed townhall on YouTube including staff, students, faculty, and other community members.
The presentation lasted about 40 minutes with 10 minutes left for questions.
Flanagan said he recognizes it is unusual for an incoming president to make detailed presentations about "significant" university changes, but the "urgency" of the current situation required it.
"It is very unusual for a university president would be proposing something of this nature," he said. "I don't think we have the luxury of time. Urgency is really facing the university… It is a result of this urgency that I really feel necessary that I throw myself headlong into this as quickly as possible."
He outlined five reasons why the situation is "urgent" for changes to be made quickly:
government funding for U of A activities will be cut by 33 per cent over three years;
1,000 staff reduction in 2019-21 leading to an unsustainable load for staff remaining;
risk of the quality of student experience while attending the U of A declining significantly;
risk of retaining and attracting top students and faculty due to a "major" drop in international rankings;
and a "diminished" university with "significantly reduced ability" to contribute to Alberta's economy and the advancement of public good.
Despite the calls of urgency, Flanagan said he personally commits to ensuring all plans of restructuring go through the proper consultation and governance protocols.
"I want to assure all members of the university community that I am deeply committed to a process of ongoing consultation as we work toward some of the structural changes I think are so important."
Restructuring "must occur" at the U of A, says Flanagan
During the presentation, Flanagan said restructuring of academic units and faculties "must occur" for two reasons.
Firstly, the 1,000 staff reduction taking place is leaving employees with a workload that is untenable.
"We have not yet had the chance to think about how we restructure work on campus," Flanagan said. "Instead, what we are asking our staff to do is the same amount of work, in the same way, but with a 1,000 fewer staff members. This is simply an unsustainable load for our remaining staff."
The second reason given by Flanagan is based out of ranking and benchmarking data gathered from consulting firms. Some of these insights include:
"excessive management" at the U of A due to its 18 faculties when peer institutions have six to 10.
high administrative costs as compared to other universities diverting funds away from research and academic activity.
many small course with low enrolments leading to "poor margins."
292 faculty members in administration roles, translating to 15 per cent for the U of A as a whole, are not performing any research or teaching.
25 per cent of course sections offered at the U of A do not cover direct costs.
Flanagan reassured the downhill viewers that part of the reason he took the job as the next president was to ensure the U of A remained a viable and vibrant university.
"I want to assure you that I did not take this job to manage, as best I can, the decline of a great university," he said. "Instead, I think we do have an alternative [through] the University of Alberta tomorrow vision."
Questions posed at townhall show some concern towards the proposed plan
The majority of questions expressed hesitation and concern towards some of the changes proposed in University of Alberta for Tomorrow.
One question asked how Flanagan planned to cut the operating budget for the U of A by $100 million and increase enrolment of students by 10,000 without sacrificing the quality of education and research.
Flanagan responded by saying the U of A needs to strategically cut areas that are being duplicated or streamlining services, like administration, rather than having to "sprinkle" cuts across the institution. For him, strategic cuts and restructuring will not be as damaging.
"I actually think there is some extraordinary potential for us to engage in a strategic transformation that will stabilize the university's financial position and enable us to seize opportunities for growth."
"Increasing enrolment is an extraordinary opportunity for the university," he said. "This would mean new very significant revenue for the university. All of which we can reinvest into our core teaching and research mission."
CORRECTION: On June 4 at 12:28 p.m. the article was rectified to read that faculty in administrative positions would return to full-time teaching and research. A previous version of this article incorrectly stated university administrators would. The Gateway regrets the error.