Golden Bears
Institutional
News
Pandas
Sports
U of A athletics pulls out of Canada West due to budget constraints
U of A Athletics cites cuts to Campus Alberta Grant and lack of Athletics and Recreation student fee as reasons for decision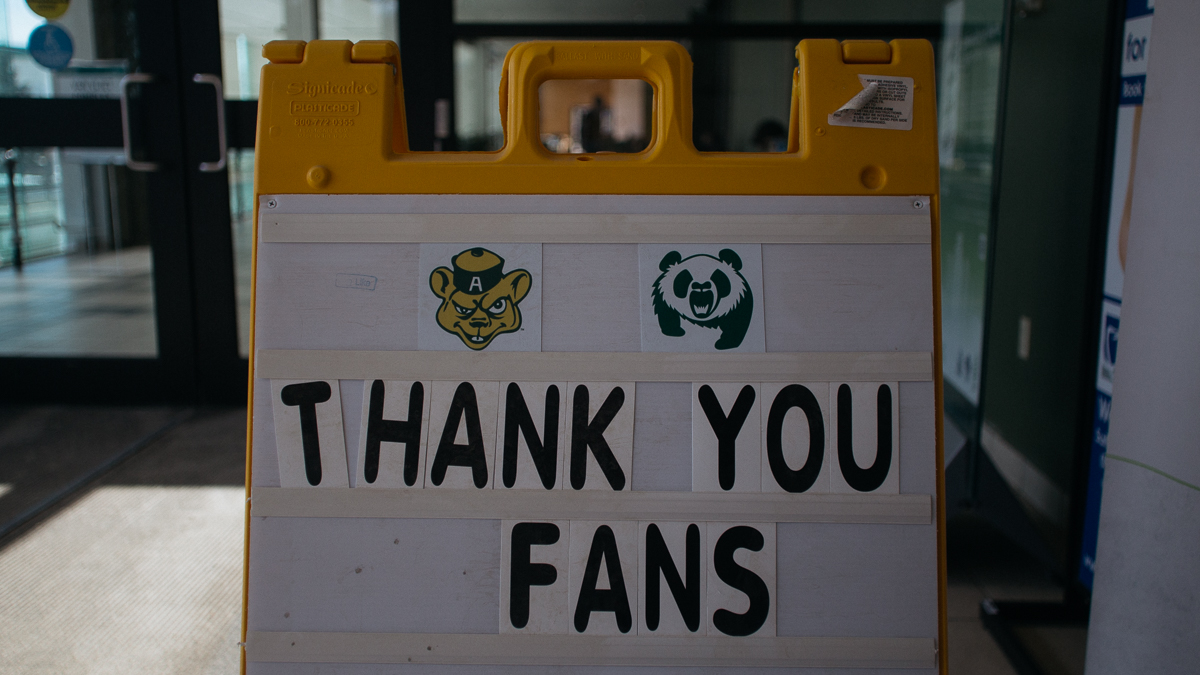 The University of Alberta will not be competing in some varsity-level sports due to budget cuts.
Athletics and the student-athlete experience at the University of Alberta will be different for the next academic year. Announced in a statement on June 17, the University of Alberta Golden Bears and Pandas will not be participating in several Canada West Universities Athletic Association team sports for the entirety of the 2020-2021 season.
The Bears and Pandas will not be participating in the following Canada West team sports for the 2020-2021 season:
Men and women's hockey
Men and women's basketball
Men and women's volleyball
Canada West has also cancelled the following team sports, meaning that the Bears and Pandas will not be participating in the following team sports:
Football
Men and women's soccer
Women's rugby fifteens
Women's field hockey
The Bears and Pandas will be announcing participation for the following team sports, pending final decisions by Canada West and U SPORTS:
Wrestling
Track and field
Rugby sevens
Curling
Swimming
The U of A Athletics decision came out days after Canada West announced its cancellation of several first term team competition sports for the 2020-2021 season.
In an interview with The Gateway, Ian Reade, Director of Athletics at the University of Alberta, said the decision was made due to the "financial reality". 

"[Canada West] is a league that we have been actively involved in as leaders for many years, 50 years probably," Reade said. "Our financial situation is such that we can't afford to travel this year and we can't commit to a competitive schedule in Canada West." 
"The Campus Alberta Grant reduction for us in October of 2019 was an in-year cut of roughly $100,000 dollars," Reade said. "The Campus Alberta Grant was cut another about $300,000 in February. Then, we had another about $300,000 dollar cut due to [Athletics and Recreation] spring and summer fees not being charged to students."
U of A Athletics will be enduring additional cuts from the ones already outlined in the formal academic year.
Although the fees are not yet formally in place, U of A Athletics is budgeting based on the expectation that Athletics and Recreational fees will be reduced by 70 per cent during the coming Fall term by the Students' Union due to expected reduction of access because of COVID-19.
"As you know, it is the Athletics and Recreation fee. For just Athletics, it'll cost us between $500,000 and $600,000 dollars depending on enrollment," Reade said. "It will also cost Campus Recreation $300,000 to $400,000 dollars."
U of A Athletics has also been unable to run its usual summer training camps due to COVID-19, reducing gross revenue.
"We've also lost about a million dollars in running our summer camps," Reade said. "We're anticipating several hundred thousands of dollars from not being able to run games — the financial hit has been pretty significant."
Totalling up the cuts to multiple streams of funding, Reade said he expects an estimated $1.2 million loss in "base funding".
Overall, Reade said that 30 per cent of internal funding was cut by reductions in the Campus Alberta Grant. U of A Athletic's budget from fees has been reduced by around 40 per cent.
Despite the potential cuts to the U of A Athletics budget through fees, Reade said he feels that the student body has treated Athletics "fairly" in the light of potential fee reductions for Fall.
"We're feeling we are actually very fortunate in many ways," Reade said. "The students have supported keeping at least a percentage of [the Athletics and Recreation] fee, because we will still be doing a lot of the programming that we normally do within that field. The only difference is we won't be playing with Canada West."
"Students are going to be studying very much online and campus is not particularly open right now," Reade continued. "I think that [the potential fee reduction] is a reasonable compromise."
Despite not participating in Canada West team sports, Reade said that U of A Athletics remains open to other avenues for competitive team sports.
"As things open up [from COVID-19] we plan on trying to find competition for [the student-athletes]," Reade said. "We'll be looking at if there's a way we can play with other colleges in Alberta, and if there are ways we can invite schools to come here and compete… we will get creative and get organized for them. It'll all depend on what's going to be allowed from a health perspective."
According to Reade, student-athletes have been and remain supportive of U of A Athletic decisions.
"Ninety per cent of student-athletes have already said that they're planning on being in Edmonton and training with their teams, and participating to the extent that they can," Reade said.
United Conservative Party-led provincial government disappointed over U of A athletics decision
In email correspondence with The Gateway, Laurie Chandler, press secretary for the Minister of Advanced Education expressed the provincial government's "disappointment" with U of A Athletics decision.
The provincial government acknowledged university sports and recreation has been negatively impacted by COVID-19, but disagrees with the U of A Athletics plan for the next year.
"Institutions must manage their priorities and funds between teaching, research, and recreational activities," Chandler said. "I have been clear with our institutions that they are to look first at administrative spending when finding cost-savings and efficiencies."
Furthermore, Chandler said the provincial government is not supportive of increasing taxes to support university sports at this time.
"While some might wish to see tax hikes – during extremely tough economic times – to fund university sports, this is not a position the Government shares," Chandler said.

U of A athletics remains optimistic over varsity sports despite programming cuts
The financial reality will change how athletics have traditionally looked like at the U of A, but Reade remains optimistic that these changes are not completely negative. According to the official statement from U of A Athletics, student-athletes who have written commitments will continue to receive their Athletic Financial Assistance.
"In some ways, it might be kind of cool to have a year when you can do more things with the student body and not be away every weekend," Reade said.
"Some student-athletes might not think 2020-2021 was such a bad year."