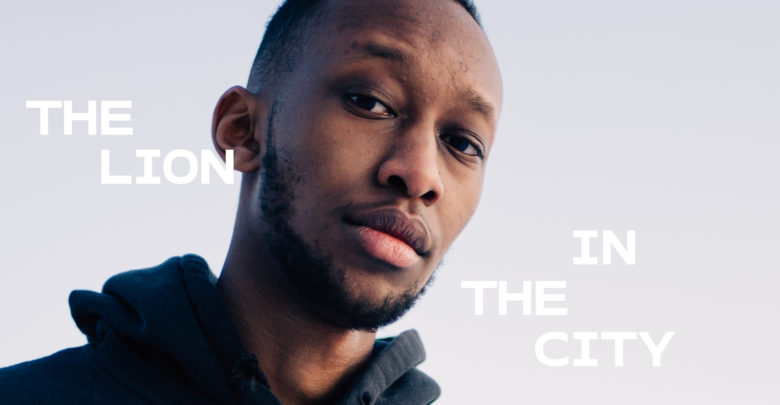 Like many young black children in the early 2000s, I grew up on 90s rap music and R&B. Jay-Z, The Notorious B.I.G., Tupac, Salt & Peppa, the list goes on and on. The Edmonton rap scene in the last couple of years has been a platform for a host of talented individuals who can "spit bars" and grew up off the same music as I did. With performances at the 2019 Fringe Festivals, the 25th Anniversary for the Rwandan Genocide, and his opening perfomance with WU-TANG legend GZA, University of Alberta student Ntwali Kayijaho is quickly making his name heard. The 23-year-old activist, rapper, and poet has a way of bringing a homey feel to everyone he meets, no matter the time or place.
Starting his rap career when he was 16, Ntwali (then Lil Simba) started rapping as a means to fit in, not knowing that it would soon be his passion in life.
"I wasn't playing any sports growing up," Ntwali explains. "I was 5'5" and like 110 [pounds] so I had no outlet to really dish out. My friends were playing basketball while I'm on the bench getting no girls and having no confidence, it was really dark days… no cap." He laughs as he recalls his time in high school. Seven years ago, it all began for him at a party.
"I'll never forget this," Ntwali says. "I went to Scona [Strathcona High], so a predominantly white school. I was at a party and [my peers] were like… 'you're black you can probably rap.' At the time you know, we all laughed but lowkey that's like subliminal racial shit but I ran with it…" From that moment, Ntwali's passion for music and for rapping began. The negative reaction from his peers laughing at him pushed him to start rapping everyday to prove a point. "The freedom of self expression, nobody can take that away from you," Ntwali says. "It was like euphoric like ecstasy, that freedom of speech."
From there Ntwali's passion for music exploded. His history with Jay-Z, 50 Cent's "Get rich or Die Trying", and BET when he was young helped influence his love for music. The history of his culture, being a black artist, and school are all key pieces that influence the way that Ntwali is now.
"For a long time growing up I wasn't really comfortable in my skin," Ntwali explains. "My surroundings were white people, like if that's all you see then you want to mimic your surroundings and that's just the way of life you know. So I didn't fully appreciate myself until I was in my teens."
There is more to being black and an artist for Ntwali than it seems. The politics and understanding of what those two together are helping him to not only understand his impact with his music but take a look into how they are impacting him as well.
"Being a black artist stems from being aware of my surroundings, being aware that we are on treaty land wherever we are. It's just facts." His love of reading about freedom fighters like Malcolm X and Martin Luther King greatly influences his music, and he expresses a desire to learn more about the Canadian context. "Canada forgets that we have our own dark history," he says, "and I want to read up on that."
For Ntwali, the importance of community and understanding his surroundings is clear. He wants to uplift and generate love for him and his people. "'A rising tide brings up all the ships,'" he says, paraphrasing John F. Kennedy. "I may just be a ship rising up but I may also be a tide rising other people with me, other ships."
His profound love for the freedom of others connects deeply with his upbringing. Ntwali's family were one of the millions of families that were in the Rwandan Genocide in 1994, from this his passion for betterment and love within the community stems. His upbringing was surrounded in understanding the love for other people.
"Growing up we would go to these memorials every year… I didn't really understand it because I was so young, but now looking back it's just all those lessons like the pain and the struggle." He was able to use those lessons to understand himself more. "By being Ntwali, that's my name. That's like my heritage, so anybody from back home can look me up and [see that] we have somebody representing us."
His upbringing not only showed him the understatement of love within community, but it also allowed for him to use that in the present through his music and poetry.
"Last year was the 25th memorial for the genocide and I [performed] a poem in front of my family and this whole crowd of survivors," Ntwali remembers, "I broke down into tears because I was so humbled by it. Out of all people, it was me." Ntwali's love for his community shows and his appreciation and humbleness is something that you do not come across often. "To be that face for my people and people coming up to me and they're still thanking me for that poem and its just so powerful."
Ntwali's deeply rooted respect for not only his culture but for black culture as a whole is present in his music. His love for learning, especially his appreciation for the many different communities at the U of A, and activism also plays a role in the way in which he looks at life and his music.
"One thing I really liked about the U of A was the amount of things it offered just outside of classrooms," Ntwali says, citing the amount of student support and diverse amount of communities and international students he found present at the U of A. "Rwandan people know the history of Rwanda, and to see me represent it and rep it like that it gives [international students] more of an identity within their own country." The confidence and strength it takes to represent one's own country within a changing society is what Ntwali sees in not only himself but the international student community as well.
His newest album, Vintage Simba, pays homage to not only his previous self but what he's learned from his culture, friends, school, and the world.
"Vintage Simba comes from two different places," Ntwali says. His love for thrift shopping and people calling him an 'old soul' are only some of the places that this title comes from. "It fits so well but also if you think about it, vintage simba, my first rap name was Little Simba so its like old school Ntwali like before I was Ntwali."
Ntwali wants people to understand the time, effort, and hard work that got him to the place he is today."Vintage Simba was a five-month process," Ntwali says. Not only was there making connections within the industry that went into the consistent working of these songs, Ntwali also had to make sure that he was on the right track and build himself up in the process as well. "Like how can I give [a] false advertisement? How can I give you this music [if] I'm not there personally?"
His determination both in his music and in life is a trait that defines Ntwali from the rest. With his performance at the 2019 Fringe Festivals and multiple performances at the University of Alberta's Black Students' Association events, Ntwali gives his audience something to talk about and stand to when he's performing. His love and passion for music and the Edmonton Arts scene is unparalleled.
Ntwali's upbringing, his culture, his love, and passion all play into his core philosophy, one that he reflects on daily and you can often catch him saying. "The energy you give you get back, so be aware of that make sure you love what you do and don't settle and don't quit… it's only up from here, you know."