Campus
Elections 2020
Opinion
Opinion
Vice-president (operations and finance) candidates focus on mental health resources
One candidate in particular demonstrated clear outlines to address mental health on campus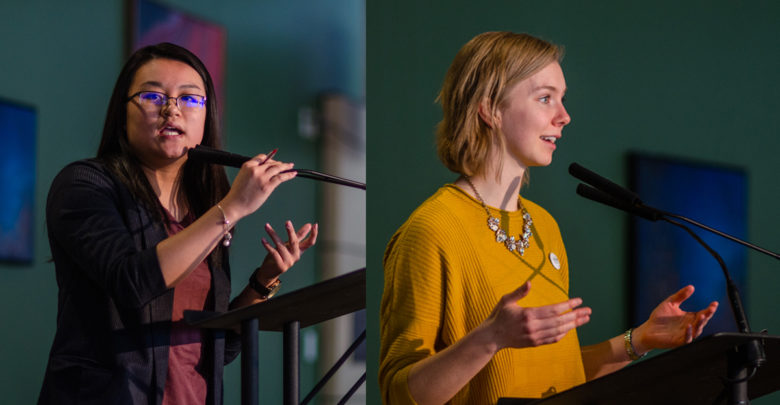 The vice-president (operations and finance) race was defined by issues around mental health and wellness during the second SUBStage forum, with candidates outlining two drastically different visions of how to address these issues on campus. While Samantha Tse discussed the importance of addressing accessibility issues on campus, Alana Krahn's promise to expand mental health and wellness services on campus is the vision that best works towards long-term solutions on campus.
While the SU currently offers or connects students to a few services that address mental health on campus, such as Counselling and Clinical Services or the Peer Support Centre, there are many issues regarding the scope and accessibility of these services. Specifically, these services have been criticized as inadequate by a variety of students, as Counselling and Clinical services only offers short-term therapy, and while the Peer Support Centre is a vital service, supportive listening is quite limited in substantively solving issues. Additionally, as pointed out by both candidates during the forum, many students are not aware of these services, and therefore cannot access them properly.
Beyond the limits of the SU's services, there are additionally many institutional issues around mental health on campus. Just last year, in a revolting decision by Residence Services, a student was evicted from campus residence after attempting suicide. Outrage over the issue led to a rally for mental health in SUB, where students shared their experiences with mental health on campus, with many mentioning the lack of mental health resources for those living in residence, and others stating that they were turned away by campus services because they were at capacity.
Overall, the current situation on campus is unjust to anyone facing mental health issues, and this should be an issue that candidates seriously address in their platform.
Both Krahn and Tse offered their ideas on how to address mental health concerns on campus; however, only one of them actually got at the heart of the issue. Throughout the debate, Tse continuously asserted that the biggest issue regarding mental health was accessibility and visibility around current services, promising to address this by revamping the current SU website to provide a "Health and Wellness" section if elected. She also critiqued Krahn's idea of creating a wellness space in SUB, saying the idea lacked tangible solutions, especially considering there are already quiet spaces on campus, as well as services that are meant to more substantively address mental health.
But accessibility is only one part of the issue regarding mental health on campus, as current services do not adequately cover students. Additionally, Tse's solution of having revamping the SU website is one promised by both candidates, and one that is only a surface level solution to a deeper problem. In terms of any long-term solutions, Tse doesn't offer any.
Krahn even mentioned this in the forum, stating that she was disappointed Tse didn't address mental health, something Tse refuted. Krahn's claim, however, is actually true: a quick text analysis of Tse's platform shows that she doesn't mention the term "mental health" once in her platform, and only mentions "wellness" in regards to revamping the SU website. As such, Krahn is right to call this a disappointment, as this gap in Tse's platform is unbecoming for someone who could be VP Ops-Fi next year.
By contrast, Krahn presented a vision for expanding the services currently in existence, one that offered long-term solutions. These proposed solutions include creating a wellness space in SUB and looking to expand the SU's current health care plan to more substantively address mental health concerns. While these plans are sparse in detail, they get at the core of mental health on campus, whose primary issue is that services not only need to be more accessible, but that they need to be improved and expanded if we are to see long-term results.
At the end of the forum, I couldn't help walking away with the feeling that Krahn was the only candidate prepared for the position, establishing her credibility on mental health and solidifying her place as a strong contender for VP Ops-Fi.