Elections 2020
News
Students' Union
SU Elections 2020 SUBStage Forum 2 Recap
The fourth forum of the election featured the second half of the races and some of the referendums/plebiscites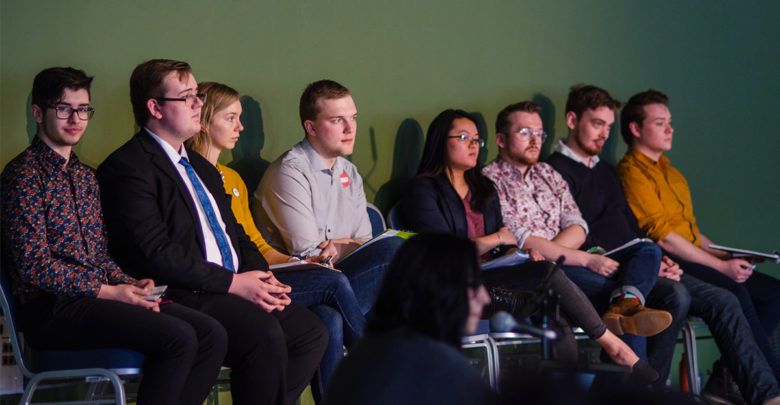 The fourth forum of the University of Alberta Students' Union 2020 election saw candidates answer questions from the audience, in addition, to challenging each other through debate.
Some of the highlights of what was discussed during the forum included:
Vice-president (operations and finance): addressing mental health and sustainability within the infrastructure of SUB
Vice-president (academic): the accessibility of opponents platforms and fixing academic advising
Vice-president (external): how best to advocate for students
Ops-Fi candidates discuss the future of mental health and sustainability in SUB
Mental health and sustainability took center stage during the vice-president (operations and finance) race.
During the debate, Samantha Tse, third-year student in secondary education and current Students' Council education councillor, questioned her opponent about her platform point regarding needing more quiet spaces to study and unwind on campus, especially since Tse believes there already are quiet spaces on campus.
Alana Krahn, fourth-year business economics and law student, believes that students having a peaceful place to engage in wellness activities is important.
"We need a space that prioritizes students' mental health," Krahn elaborated. "I believe especially with the Students' Union Building that is funded by your student fees that this space should be prioritizing what's very important to you, which is mental health."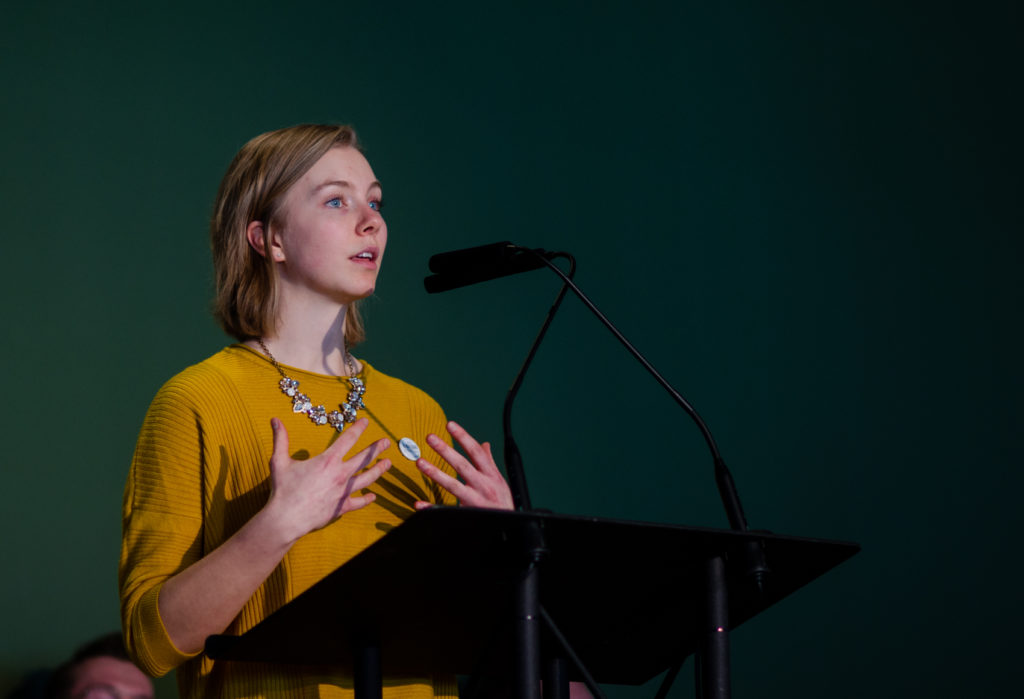 However, Tse still believes that Krahn only emphasized calmness and offered no tangible promises for what the space would look like.
"I'm not against having a wellness space, but I didn't get a response for further what you'd like to see in a wellness space," Tse said.
Krahn questioned Tse's neglect of mental health issues in her platform and wondered what Tse would do to address these issues.
Tse said she believes students just don't know about these services on campus and wants to make this knowledge more accessible to students.
From the audience, candidates were asked about their plans for if the Sustainability and Capital Fund falls through, considering that many of their future goals involve this fund passing.
Tse said that most of her platform does not depend on the Sustainability and Capital Fund, and that essentializing funding, creating a job directory and volunteer registry, strengthening the alumni network, revamping SUBmart, and supporting SU businesses are all still feasible.
"I can pretty much complete three-fourths of my platform without the sustainability fund, although I do hope it goes through," Tse said.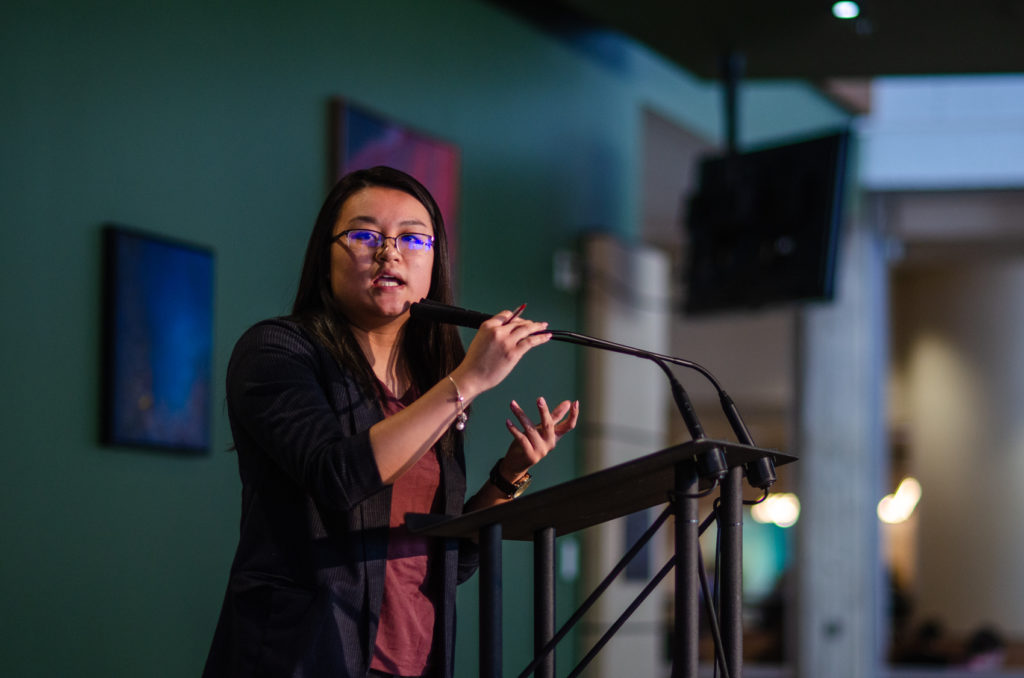 Krahn believes they can still reduce reliance on student fees by growing Students' Union businesses for economic sustainability. Krahn also wants a bulk food section in SUBmart and to revitalize the reusable dish program as a way to reduce waste for environmental sustainability. Krahn said they can receive sponsorships for sustainable menstrual products across all campuses. According to Krahn, this can all be accomplished without the Sustainability and Capital Fund.
— Ashlynn Chand
VPA race debates the accessibility of platforms
Questions around accessibility to platforms was a tense discussion point within the vice-president operations and finance) race.
During the debate portion, Eric Einarson, fourth-year chemistry student and president of the Campus Saint-Jean faculty association AUFSJ, asked his opponent what tangible steps he would take towards achieving his platform, which Einarson found inaccessible to the average student.
David Draper, third-year honour political science and sociology student, responded that the tangibility lies within his campaign points surrounding filling General Faculties Council (GFC), the highest academic governing body of the university, and Faculty Associations. Draper said using his already existing connections from his time on GFC and Students' Council, his platform is attainable.
In response, Einarson said that within talking about these higher-level academic bodies, Draper isn't speaking a language average students can understand.
"Insiders forget what it's like to be outsiders," Einarson said. "I remember in my first year… seeing the Students' Union [candidates] platforms referencing things I had no idea about… The things we are applying need to be accessible to the everyday student — that's what student governance is about."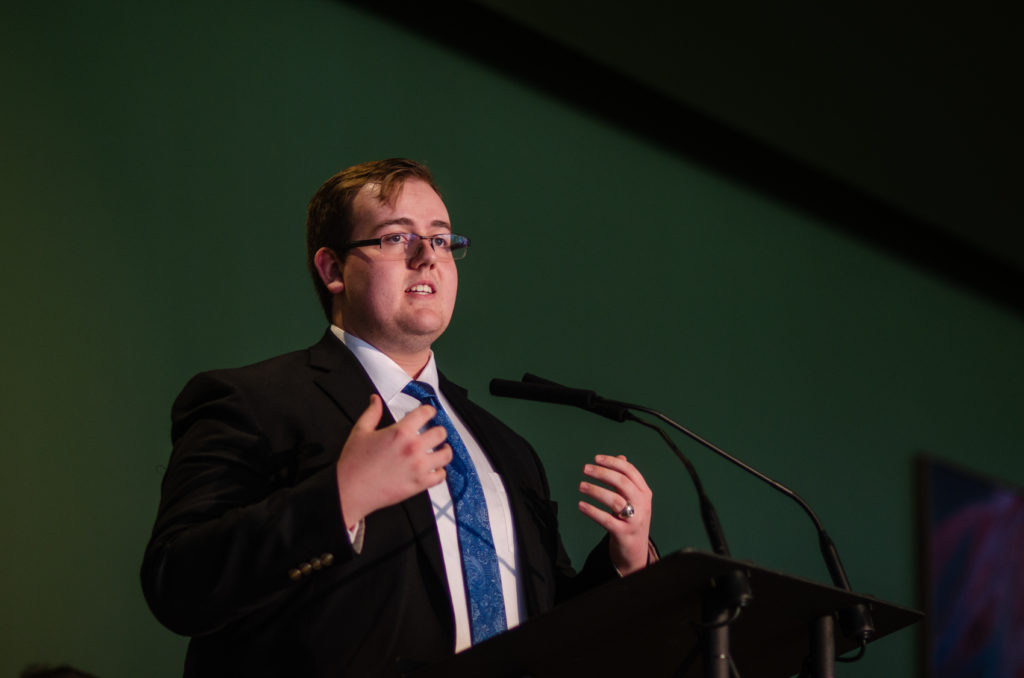 On the other hand, Draper asked Einarson how he would make sure student representation is upheld and knowledgeable in higher-level organizations, such as GFC.
Einarson said through being president of the Campus Saint-Jean faculty association AUFSJ and meeting with Students' Council's Campus Saint-Jean councillor, he has gained experience. He also said that there is a training period for executives and he plans to disseminate that knowledge to student representatives.
Draper countered that since he's already involved with governance, he is ready to start advocating for students as soon as he gets into the role.
"I've already gone through the largest period of that learning process and I'm ready to start, day one, advocating for needs," Draper said. "On day one, I can start building relationships with people like the new university president to make sure they keep student needs a priority."
On a similar note, candidates were asked how they would reduce the barriers to student governance.
Draper said he has already taken a step towards this by changing election bylaws to be more trans-inclusive. He also said he wants to create a similar program to STRIDE, but instead focused on supporting Indigenous and POC students.
For Einarson, reducing barriers can be done by better supporting the already existing programs like STRIDE. He also wants to push students to join faculty and department associations, as he believes this is a good first step for students looking to join governance.
Remedying disconnection with and under-representation of Faculty Associations
Candidates were asked if they had any plans to restructure the Council of Faculty Associations (COFA), a consultative body consisting of members from each Faculty Association the vice-president (academic) chairs, as many faculties feel unheard.
For Einarson, the solution lies within taking a new approach to COFA. He suggested taking the meetings "outside the board room," by going beyond monthly meetings and creating mixers for faculty representatives.
Draper said he is working on adding Aboriginal Student Council to COFA. He said when charing COFA, he would make sure people have "their voice heard first and foremost" while also making sure faculties have the support they need.
Beyond faculty associations feeling unheard, candidates were also asked how they would engage students who often feel disconnected from their faculty associations.
Because of the turnover of faculty associations, Einarson said they are unable to widely engage and serve students, especially since information tends to fall through the cracks. To remedy this, he said he would condense resources and put them in a centralized location so they are always accessible to new members.
If faculty associations are not amplifying student voices, Draper said he would take on the task himself. He said he would create more town halls and surveys to hear student voices, but would also work with faculty associations to better hear their students.
Addressing inefficient academic advising
Current Students' Union President Akanksha Bhatnagar asked candidates how they would make academic advising more efficient, as she often hears about students wasting money due to advice from academic advisors.
Draper suggested including information usually provided by academic advisors onto BearTracks so that students can plan out their degrees as they enrol.
"I don't think the university will be willing to fix, expand, or make [academic advising] better," Draper said. "I want to put the power back in students' hands and fix enrollment as a whole."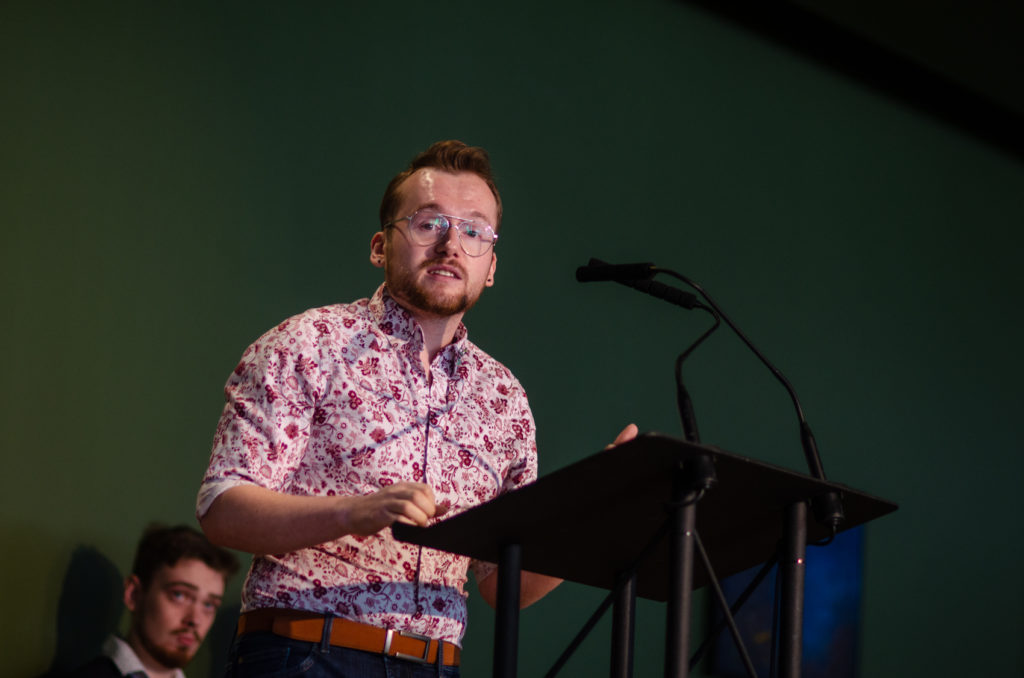 Einarson said he would push for creating an open academic advisor program that would allow students to see advisors in programs outside of their own. This, he emphasized, is especially important for students changing programs.
"Students are consistently turned away," he said. "When you have questions, you should have to go to an academic advisor that's from a different faculty [than the one you want to get into]."
Questions about the future GovWeek…. we mean, Student Leaders Week
The future of the infamous GovWeek, now known as Student Leaders Week, arose during question period. Candidates were asked if they would continue the venture and if so, how would they make it worth student's money.
Einarson said he would keep the Student Leaders Week, especially since the new name connotates a more accessible topic for all students: leadership.
Draper said he would also continue Student Leaders Week, but would hold the event closer to the beginning of the week so that it can support new student leaders in their advocacy, rather than catering to Students' Union Election candidates with a later event date.
— Khadra Ahmed
VPX candidates debate methods of advocacy
During debate, Rowan Ley, fourth-year political science student and current Board of Governors representative, asked his opponent how he would get ordinary Albertans on our side and show them the importance of a well-funded post-secondary education.
Robert Bilak, fourth-year political science student and speaker of Students' Council responded that not everyone believes student issues are of equal importance. He believes that the University of Alberta senate thinks it's important that "financial institutions succeed and not necessarily that students are able to succeed."
Bilak wants to reach out to Albertans through collaborating with organizations such as Students Not Silent and the Council of Alberta University Students (CAUS) to advertise student issues through television and newspapers.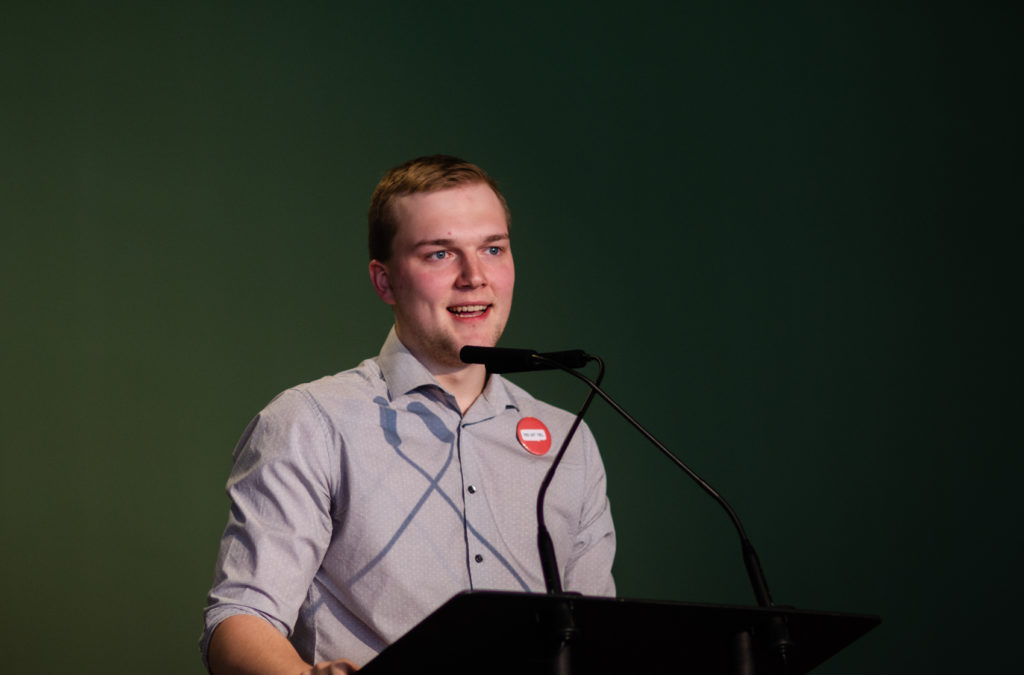 In contrast, Ley believes "everyone can see post-secondary education in a way that impacts them." He thinks that post-secondary issues are important to parents planning for their kids' futures and individuals who reside in the university area are also impacted by the current budget cuts.
Ley believes in reaching out to people who are personally affected by targeted advertising. He does not believe in solely relying on CAUS for support.
Bilak asked Ley about his game plan for looping in department associations, residence associations, faculty associations, Aboriginal Student Council, and other student representative associations into the Students' Union.
Ley responded by stating that departments want more consultation in the future. He referred to consultation as a "buzzword" in the current context of the Students' Union elections, rather believing in talking to student representative associations and providing them with the opportunities to make changes.
Ley promised to "decentralize and more democratically organize student advocacy in the university."
He also proposed to collaborate with student associations to make decisions about protests and other kinds of activism to make it more democratic, inclusive, and collaborative.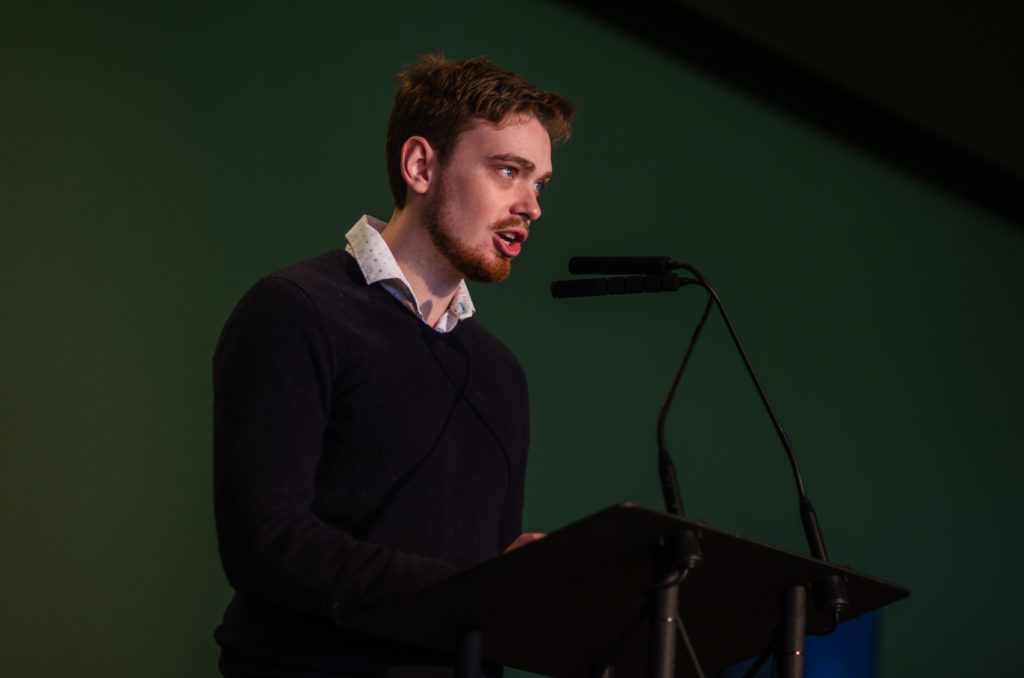 Bilak said in his experience, student representative associations have not "been in the loop" with regards to protests and activism. He believes that such associations are "key partners because they care about students."
Bilak also claimed that such associations are not aware of larger advocacy decisions, and that this can be overcome by hiring an organization coordinator that loops student representative groups in.
"The issues that go on in engineering are not the same issues that go on in arts," Bilak said.
Bilak said working with student representative associations (SRAs) is important in helping in advocacy efforts against the university or the province.
From the audience, candidates were asked what they would do to ensure a better balance between staying on campus and national advocacy.
Bilak responded by stating that he would prioritize provincial advocacy over national advocacy. He also reiterated about hiring an organization coordinator that would serve the same purpose.
Ley supported Bilak's position and added he would like to introduce more opportunities for student stakeholders to have direct involvement with advocacy efforts.
"Gives students and leaders department and faculty associations a chance to personally get involved, personally help in decisions, and personally make a difference." Ley said.
— Shaunak Mistry