Campus
Elections 2020
Opinion
Opinion
Is there a best of both worlds in the vice-president (academic) race?
Both candidates focus on very specific principles, but a combination of their ideas would work best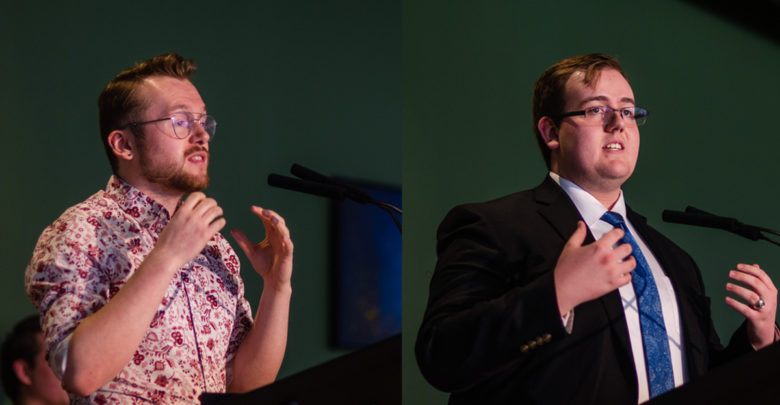 This week's second SUBstage forum featured the vice-president (academic) candidates divulging more about how they would approach their role if they were elected. David Draper spoke extensively about his past experience sitting on various academic boards, and used this approach as a precedent to all of the vice-president (academic) duties. On the other hand, Eric Einarson said he would do his best to accommodate student's needs by "break[ing] out of the board room" and being more approachable. The question is, are either of these positions realistic on their own?
Draper's approach focuses heavily on revitalizing the role of academic boards with his expertise. When asked during the Lister Forum about connecting all 14 U of A faculty associations, he said he would train members as soon as they were elected to maximize efficiency. In addition, Draper spent a long time during today's forum encouraging students to join the General Faculties Council (GFC). To most students, the GFC may be an unfamiliar organization. Its role is to make the university's most important decisions on academic affairs. Administration representatives from each faculty sit on this council, as well as elected and appointed graduate students.
What Draper is bringing to the table is a candidate who is willing to do what has been done before, except somehow better and faster. It's too soon to tell whether or not this will actually be the case. He also wants more students to take part in student governance on faculty committees, possibly to make them seem more relatable in some way. But not every student on campus will be able to do this, so it still leaves unanswered questions of accessibility and representation on these boards.
Einarson delivers an alternate perspective with his platform, which involves the vice-president (academic) being more hands-on and helping students outside of committees. His comment on how academic boards do not always maintain the best interest of students certainly cannot be dismissed. Whenever poor decision making is on display by these institutions, questions of their existence may be brought up. Because of this, Einarson's platform is more built on listening to student's needs and implementing changes.
While this would definitely be the ideal, it's difficult to picture it in action on a campus of over 40 thousand students. There is no possible way that his approach would represent every single student on campus. At some point, people will fall through the cracks. How Einarson deals with this inevitability could make or break his platform.
Whichever candidate wins the ballot will at some point have to consider their opponent's sentiments. An academic committee cannot speak for an entire student body if it does not change, and one SU executive cannot accommodate every single student's academic needs. Since neither of these outlooks are viable on their own, it would be useful to satisfy both perspectives. Now is the time for the candidates to find a middle ground between both of their platforms, before committing to either path.