Institutional
News
Students' Union
Draft Student Charter of Rights to be released this month
The Student Charter of Rights was first proposed and started by Marina Banister in 2017-18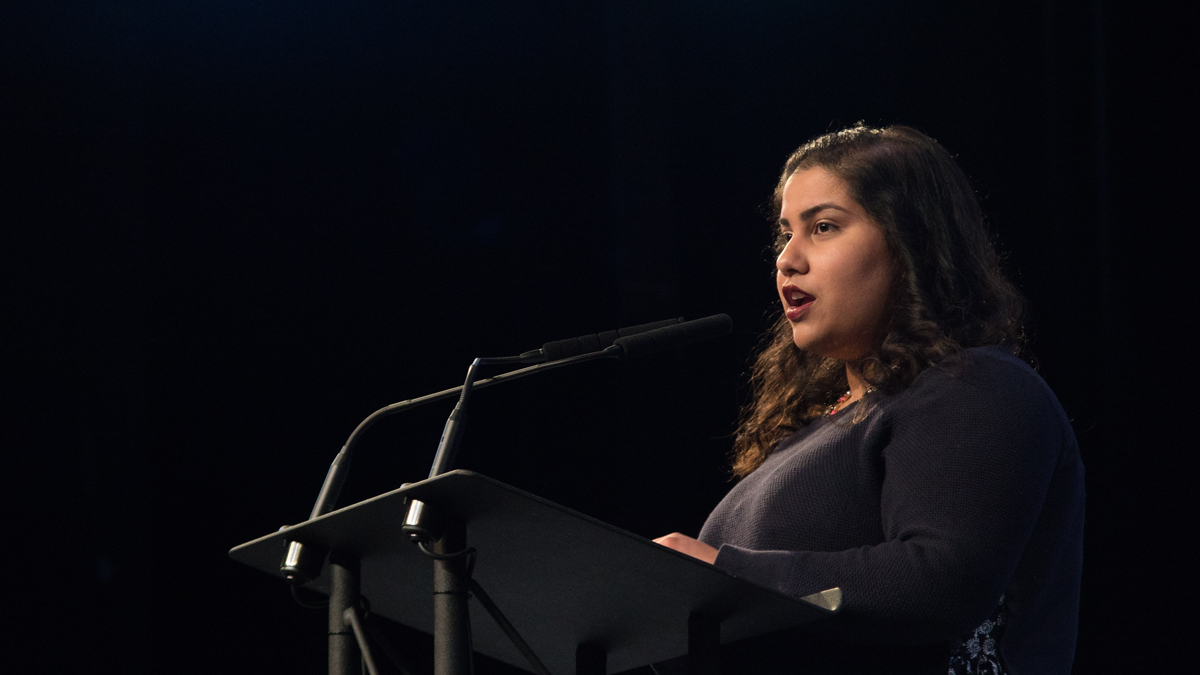 The University of Alberta will soon have a Student Charter of Rights, a first for the university, to help students see their responsibilities and rights.
Spearheaded by the Students' Union, the Student Charter of Rights will codify all existing policies, rights, and responsibilities students hold and what they can expect from stakeholders like appeal boards, faculty, and university administrators. Akanksha Bhatnagar, Students' Union president, said the charter will be finalized and published by the end of the 2019-20 academic year.
Stakeholders like the Graduate Students' Association, Dean of Students, and other U of A offices have helped piece the document together.
Bhatnagar said there is a first draft of the document ready that will be walked through the university governance system for feedback before being finalized.
The document will proceed through the General Faculties Council (GFC) — the highest academic decision-making body at the U of A — system first, appearing at their Council of Student Affairs, committee on the learning environment, executive committee, and academic planning. According to Bhatnagar, if all goes well, it will go for GFC endorsement on January 27. Students' Council will see the document sometime in December. At the same time, the Students' Union will gather feedback from faculty associations.
"We want the feedback from these committees and bodies," she said. "We will also be looking for their, quote-on-quote, endorsement of the document."
The Students' Union is also considering presenting the document to the Board of Governors, the overall highest decision-making body, for further consultation.
Awareness of student rights and responsibilities
According to a Students' Union research study prepared for this project, 58 per cent of students of the 1721 student respondents indicated they "did not know much" or "did not know anything at all" about their rights and responsibilities on campus.
Students were most aware of the Code of Student Behaviour and the Grading Policy and Procedure. Further, 60 per cent of students were unaware of the disciplinary appeal process. Only 43 per cent reported awareness of the Sexual Violence Policy, while 34 per cent said they knew of the Discrimination, Harassment, and Duty to Accommodate Policy. 10 per cent said they were unaware of any of the aforementioned documents.
The numbers contained in the research report show Bhatnagar that the student charter of rights is not just needed but "absolutely necessary."
"If people do not even know there are appeals, then how can we say the system is working?" she asked.
"Knowledge of policies is one thing, but actually knowing what the policies can do for students is incredibly important," Bhatnagar said. "This is why we need the charter. So that it is easy for students to look up all their rights in one place, at one time."
Drafting charter only step one in a further project, says Bhatnagar
For Bhatnagar, creating the document is only one phase of a huge project to help students understand their rights. In her view, the next step for a future Students' Union executive team is to actually look at all the existing policies and evaluate which ones work, need updating, or should be made to better suit students.
"We unfortunately can't do a policy centralization and policy review all in one year," she said. "The hope is we finish the centralization piece, and the policy review will be done next year."
She mentioned how research and comparison between comparable documents at other universities across Canada led the Students' Union to identify gaps in student rights at the U of A.
Some of these student rights the U of A is missing as compared to McGill, McMaster, Bishop, and Trent University include:
undergraduate students are not guaranteed ownership of their intellectual property, while graduate students are;
the U of A does not require evaluation criteria for courses to be published prior to courses starting;
students are not formally entitled to be informed of their academic standing in a course. Currently, this is at the discretion of instructors;
and students are not entitled to representation on university bodies that make decisions on student affairs beyond the Board of Governors. The U of A has a consultation guideline it encourages its bodies to use, however, its use is not mandatory.
Additionally, she said that having a charter will be one positive step. The next will be advertising it, getting students to read it, and having students actually understand what is contained within it.
"Listing the rights is one place is great," Bhatnagar said. "Once the draft is released as a final document, we will have to advertise and educate students on how to use their rights so they understand them even better."
Student Charter of Rights a multi-year project
The idea for a charter of rights for students emerged first during the 2017-18 Students' Union election, when newly-elected SU president Marina Banister announced it during her campaign. She could not complete the project within her term; only the "initial stages" of research were completed. In the meantime, she instituted a landing page on the Students' Union website so all the different policies and regulations revolving around students were gathered in one place.
In the following year, all three candidates running for Students' Union president campaigned to continue work on the charter. Reed Larsen became president and continued to conduct further research and comparative studies on similar documents at other universities.
Bhatnagar also campaigned to continue the work being done and finish the charter. According to her, the reason it took such a long time to complete the project is because it is a "sensitive issue." She said it felt great to finally push the multi-year project to the finish line.
"This project has been a long-time coming," Bhatnagar added. "I'm really grateful for Reed and Marina to have set such a strong foundation for the project."
For her, multi-year projects like this showcase the strength of the Students' Union.
"It shows that when someone identifies a legitimate problem, we work together collaboratively to finish their work and idea," she said.
"At the end of the day, if students have a better time navigating their rights on campus when their rights are exploited by the university by looking at this document, I am very happy that it will be done in my term."