News
Students' Union
CAUS lambasted again by Students' Council
The group was criticized by Students' Council for the second year in a row as it gave an informational presentation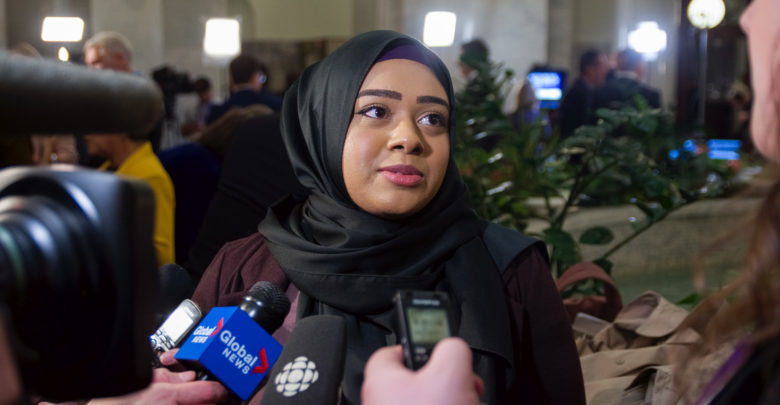 For the second year in a row, the Council of Alberta University Students (CAUS) presentation to Students' Council was full of criticisms directed at the organization.
CAUS was criticized for its lack of Indigenous focus and that it should be more than just a provincial lobby group. CAUS is a student advocacy group whose membership includes each participating students' union president and vice-president (external) in Alberta, that lobbies post-secondary student interests to the provincial government.
The presentation given by CAUS on November 19 was meant to inform Students' Council about the organization's internal and external priorities. Their five priorities for 2019-20 include: student mental health, sexual violence on campuses, affordability and student aid, institutional funding for post-secondaries, and more employment and work-integrated learning opportunities.
Chair of CAUS Sadiya Nazir, vice-chair Bailey Harray, and executive director Jon Mastel were part of the presentation.
Lack of Indigenous focus
President of the University of Alberta Students' Union Akanksha Bhatnagar asked CAUS if they had any progress to report on a project they began last year with regards to Indigenization.
"I am curious if you could specifically touch on as to where that file is at," Bhatnagar asked the presenters.
"The focus should be on Indigenous issues," she said. "[This] is something which is, or should be, a huge priority for schools across Alberta."
Last year, CAUS presented to Students' Council about their Indigenization project, which was one of the organizations main priorities for the year. At that time it was in its "early stages." The advocacy group received criticism from council because Indigenous students were only to be consulted and not directly engaged in the project.
This year, there was no mention of Indigenization or anything specifically about Indigenous students in the CAUS priorities document.
Nazir responded by stating that Indigenization was "thrown" into the organization's priorities last year. She added that none of the executives present last year were the same as this year.
"Last year when — and I will be completely frank — CAUS came and gave this presentation, we sort of just threw up… this priority [into the presentation]," she said.
She added that the U of A Aboriginal Relations and Reconciliation Committee sent a letter to CAUS last year criticizing the initiative after the presentation. Nazir said CAUS took it to heart and it influenced the response made by the organization this year.
"What we did this year, is really take a look at where we are in terms of our relationship with Indigenous students on our own campuses," she said. "Moving forward, yes we will probably be pursuing the research side of [Indigenization] but we won't come out with any priorities until we have consulted with specific Indigenous students."
Further, Mastel said the project is still only in its "very early stages." He said CAUS may hire an Indigenous student or person with university experience to help with the project if their budget permits.
Open studies councillor Charles Blondin asked CAUS how committed they actually were to consulting with Indigenous students about this project.
"Because I also sit on Aboriginal Student Council and we have heard nothing about this," he said.
Nazir said the first three months of terms for members of CAUS is just getting "settled into their roles." The next three months had a complete focus on the budget. She said the next six months will allow members "the capacity to work on some of our other initiatives."
In response to this answer, Blondin said that this meant CAUS is "not very committed" to Indigenous students.
Nazir added the federal advocacy group for post-secondary students, the Canadian Alliance of Student Associations (CASA), is taking Indigenization as a priority and is making "tremendous strides" with it. According to her, CAUS will support CASA's efforts and take their lessons learned to apply on a provincial level.
Bhatnagar said she personally or any member of either the Students' Union or Students' Council would be willing to help support the "important" project of Indigenization.
CAUS should be more than a lobby group, says Students' Council
Board of Governors representative Rowan Ley said CAUS' website was "out of date" and asked CAUS if they see their role expanding from simply lobbying to the provincial government.
In his view, the organization could help organize provincial-wide protests and encourage more grassroots movements as opposed to simply meeting with provincial officials, especially with the latest Alberta budget.
"That is definitely something we are looking into right now," Nazir said. "If you have further recommendations feel free to email me."
Arts councillor Juan Vargas Alba echoed Ley's question. He said some students from other universities across the province had sent him "angry" messages about inaction from their student union organizations in response to the latest provincial budget. He wondered if CAUS could help organize larger movements and help smaller student union's mobilize.
In response, Nazir said CAUS must be "strategic" about its messaging and how it mobilizes students.
"I think it is important to recognize that it is not a response over the next couple of weeks here, it is also leading up to the spring budget," she said. "We have a lot of space to come out with our messaging and really presenting a united front."
Vargas Alba responded by asking when is "enough is enough" to start acting. He cited cuts to post-secondary staff already being announced at the University of Calgary.
Mastel said CAUS is "a member driven organization" where agreement between parties is when action is decided upon.
Nazir said talks are ongoing with CAUS' board of directors about this. She said it is not a traditional role of the organization, however, they are considering "next steps."
"We are continuing to see what the student mood is," she said. "Home office is taking a look at how we can get students informed and the public informed about the budget."
Engineering councillor Amlan Bose asked CAUS what they have done to oppose this budget. In his view, he has not seen actually initiatives or anything other than photos from meetings.
Nazir said on budget day she was there and provided media interviews about student impacts. Following that they released a joint statement with other provincial advocacy groups.
With files from Khadra Ahmed