Institutional
News
Increases to international student tuition and other fees receive final approval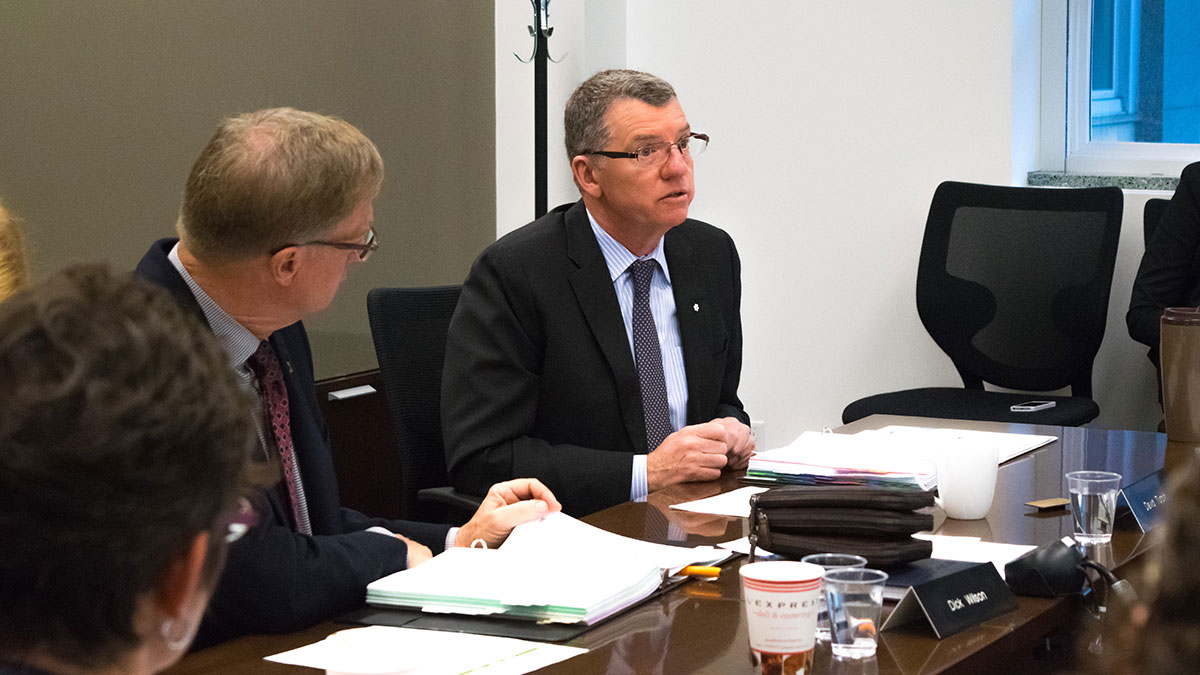 Despite opposition from student representatives, various increases to international student tuition and other fees were approved at a Board of Governors meeting earlier today.

The university's 2019-20 budget passed March 15, including a 2.77 per cent increase to international student tuition, a five per cent increase to all University of Alberta residences rates in Edmonton, a 2.27 per cent increase in meal plan rates for Lister Centre and Peter Lougheed Hall, and a three per cent increase to residence and meal plan rates at Augustana campus.

During the meeting, there was opposition from the three student representatives on the board — Students' Union president Reed Larsen, undergraduate Board of Governors representative Levi Flaman, and Graduate Students' Association president Sasha van der Klein — who all spoke about the impacts the fee increases have on students.
Larsen opposed all of the motions and spoke against each one.

"I just want to reiterate that small percentage changes, such as the ones we are thinking about today, have incredibly large effects on individual students," he said, regarding the increase to international tuition.

Flaman voted against the international tuition increase, and the residence and meal plan increases for North Campus, but voted in favour of the three per cent increase to the Augustana meal plan and residence. He said the reason he didn't vote with Larsen on this motion was that students in Augustana find value in their meal plan and residence, and so the increase seemed reasonable. He added that his responsibility belongs to the board.

"What's interesting about my position here is even though I was elected by my peers, my fiduciary duty is not to the student body, but it's to the university and to the board," he said.

Like Larsen, Klein opposed all four motions, speaking about the 40 per cent of graduate students who are international students, as well as how "incredibly" impactful these changes will be for students.
Regarding the five per cent increase to residence rates, Klein said "residence is viewed as a luxury product here but not advertised as such." She also spoke about students living in Michener Park, the university residence for students who parent, who she described as a "vulnerable population."

Rowan Ley, the incoming Board of Governors undergraduate representative, who was an observer at the meeting, said there were a lot of "disappointing" things that happened, and said he hopes they can do better next year.
However, Ley said the implementation of Bill 19 will change discussions about tuition for international students.

"It's not a day of celebration, but there are also things to look forward to," he said.

Ley added when these kinds of decisions come up in his term, he intends to put together cases to explain that what is in student interest is also in the university's interest. When asked about his predecessor's work, Ley said it is a hard job, but thinks his approach next year will work better.
"I do think the approach I want to take is going to be more effective than the one that was used this year, and I do think more could have been said, particularly by the Undergraduate Board of Governors Representative, for some of the motions that were passed," he said.

There was no protest from students about the increases, and no students other than the elected representatives spoke to the issue during the meeting.