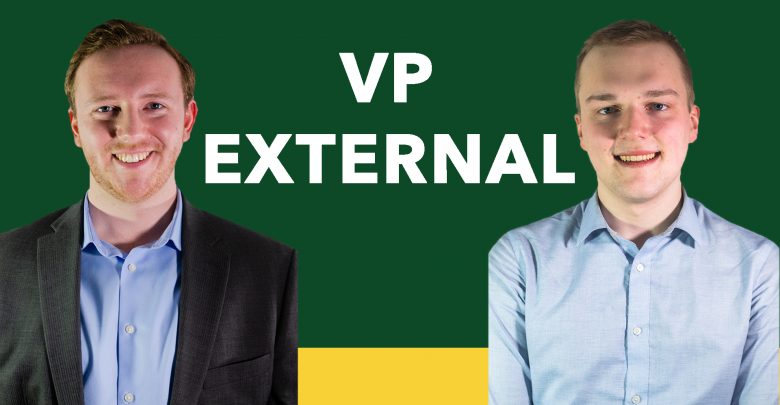 Representing the undergraduate student body to the outside community falls onto the Students' Union's vice-president (external). It's their job to engage with governments, provincially and federally, meet with politicians, and represent the Students' Union within larger student advocacy bodies like the Council of Alberta University Students (CAUS) and the Canadian Alliance of Student Associations (CASA).
This year, two candidates are running to fill the spot, including third-year political science student and current arts councillor Robert Bilak and fourth-year bilingual business student Adam Brown, who is the incumbent.
The following interviews have been condensed and simplified for clarity.
---
In one minute, can you tell us why you are running for Students' Union vice-president (external)?
Robert Bilak: Over the last couple of years, I've had the chance to sit on all levels of student governance, and I've grown to learn and care about the issues that affect students, and I believe it's my time to step up and do my part in solving the issues I want to make headway in.
I don't think the SU is doing a lot in the areas I really care about, such as mental health funding or deferred maintenance. I want to step up and do my part and serve my community by mitigating these problems and working to solve them.
Adam Brown: I was really proud of the work that we were able to do, especially with Bill 19, that was a tremendous win. But I'm not done. I have more ideas that I want to bring to the table, and I do believe that having been in this role for the last year does allow me to have a very particular understanding of what the vice-president (external) does and how the role can change.
I do want to add a fundraising responsibility to the VP external so that they are out there in the public looking for donors. So last year was great, but I'm just not done yet and I hope students can let me stick around.
Can you concisely explain your platform?
Bilak: The first point is enriching the campus community. To me, this means what can I do to make life on campus easier for students. This means things like residence: how are we ensuring students in residence are enjoying their experience as much as students who aren't in residence?
The second point is employment opportunities. I think we need more employers connected with more employees on campus. I know I want a job when I graduate, so does every student here. The SU needs to step up and ensure we are providing degree-relevant experiences to students who want to take that forward.
Lastly, reshaping and refocusing our external advocacy priorities. We've had some wins in the past with Bill 19, but now it's time to change our focus. I think the big one would be mental health funding, continuing to fight for international student tuition regulation, and combating policies that would take away our ability to collect fees.
Brown: The first is advocating for affordability, so with the progress that we had last year on Bill 19, that was great, but we need to look at the fact that Alberta has the worst student financial aid system in the country. We have the lowest amount of grants compared to loans of any province and we need significant investment from the provincial government to support that.
I also want to focus on infrastructure and student spaces. So looking at the deferred maintenance problem, that needs to be tackled, Campus Saint-Jean infrastructure as well.
I think mental health needs to have a bigger role this year as well, especially with certain decisions that might bring certain services off-campus, we need to make sure we have increased funding for mental health, and that we push for changes to student employment programs.
Then finally empowering the Students' Union. Integrating the fundraising role into the vice-president (external) permanently. But also, opposing voluntary student unionism that has popped up in Ontario. It's a very dangerous idea. I think there's a lot of misconceptions about what Students' Unions do, so it's important that all parties across the board understand why they should not meddle in our governance processes.
Earlier this year, the Council of Alberta University Students (CAUS) presented to Students' Council about their Indigenization project, which garnered criticism. If elected, how would you ensure Indigenous student voices are heard within government?
Bilak: I was not a fan of CAUS's presentation at all for many different reasons. I do worry that tokenization is something that is happening, and it shouldn't be. Some of the Indigenous individuals in council brought up some really valid points. I think the first thing we need to do is consider what they said alongside what other Indigenous leaders are saying on campus. I think that strong and solid consultation is the biggest thing.
I worry that the vice-president (external) role is often distant in Ottawa and doing work over there, which is great, but they're not on campus actively enough, not doing enough consultation with students, basically not doing enough research on what they should be fighting for. I would make sure the vice-president (external) spends more time here on campus talking with more students, and then ensuring those voices are heard there.
Brown: I did meet with the Aboriginal Relations and Reconciliation Committee to get some feedback on how specifically our federal advocacy can change. I took those notes back to the Canadian Alliance of Student Associations, which I chaired this year, and we have been able to shape a new approach for how CASA includes Indigenous voices at the table. Not just in terms of consultation, but looking at a member sponsorship program, where members can bring Indigenous students from their campuses and have them at the table. So the implementation of that for the next year is going to be very important federally.
Provincially, though, I think our Indigenous students were completely right in how they questioned CAUS on their approach. CAUS is going to need to build a much better relationship with Indigenous students, and the members themselves are going to have to take on a lot of that responsibility. So making sure that we are able to go to our Indigenous students to consult with them, making them feel like they're a part of the process, not that we're tokenizing them or asking them to speak for a larger body, but that we're actually looking at very specific issues and that we're coming to Indigenous students with prepared research, saying "What do you think of this? How can we best move forward?"
We have to continue shifting our priorities and how we advocate on Indigenous issues. This year was progress, but I think next year we can really break through some pretty significant barriers that exist.
If there is a change in government following the provincial election later this year, how will you approach the government with student concerns?
Bilak: The first thing to note is that the role of vice-president (external) is non-partisan. No matter who is elected, the job is the same, and you continue advocating for student interests to the best of your ability. If there is a change in government, that aspect wouldn't change. I would still be doing my part in listening to student voices and bringing that forward to the new government. However, there is the aspect of getting off on the right foot with them and ensuring student voices are heard.
I think it's important to present a clear and concise message about what student interests are and to make sure the government is actually listening. Then we can work together to ensure that we are pushing forward on what we want campus to look like.
Brown: Having been the vice-president (external) this year, I met with candidates and MLAs of all parties. I do think that the Students' Union continuing to be non-partisan is one of our greatest assets when it comes to government advocacy.
If the governing party does change, we need to analyze what the current political situation is going to be like, what parties promised in their platforms, what they can deliver on — whether we agree or disagree with some of the proposed ideas.
But we need to make sure that we're continuing to build relationships with parties. I think we've done a really good job this year at becoming a very well-trusted source for parties. I've had MLAs call me personally before saying, "Hey what are your thoughts on this portion of Bill 19," or something like that, so I think I have already built and established a good reputation amongst all the political parties.
Similar to the Ontario government's announcement, the United Conservative Party might be looking at making student fees voluntary. If the UCP forms government, how will you deal with this?
Bilak: If those policies came into practice, it would suck, but it's not the end of the world. Student fees only make up about 25 per cent of our revenue here, so it would be more focused on trying to adapt rather than falling apart.
I think the first thing we could do is increase our ability to take donations. This year we really started to see that with Moody Gartner donating $40,000 last summer. The opportunities are here, and we really need to capitalize on that.
I think working with the Alumni Association and the [university's] senate will really make this ability clear to the community. For example, the university gives $140 million in donations every year. If we got $2 to $3 million of that, that would change the game completely.
Secondly, developing more revenue-generating mechanisms for the SU. SUTV would be the biggest example. Finding business partners we can work with to make sure we have money coming in, to make sure we can serve students in ways we wouldn't' be able to before.
Brown: I do think that we need to be very vocal in opposing what's been done in Ontario and making sure that it doesn't happen in Alberta in the first place.
There are a few things we need to do in approaching that. One is making sure that all provincial post-secondary student groups are in unison. That means working with the Council of Alberta University Students, Alberta Students Executive Council, and ab-GPAC, which is the provincial graduate student body. I think all these groups need to come together to show the government that this is the student voice, that we don't want this. I don't think its government's place to interfere in the democratic and very transparent process of individual student associations.
We are completely separate from post-secondary institutions. I log every single receipt that I pay for with my SU credit card, we're extremely transparent about all of that. So for government to come in and say, "Well we think that students should have this," well students vote on every fee, students vote on their executives, they vote on all of this, so why should government be meddling in this process?
It's important that all parties, regardless if it's the UCP or anybody else, understand that student unions provide services, businesses and advocacy. We're not labour unions, we're not really far right or far left political organizations. We are non-partisan. We bring very pragmatic ideas to the table, and making sure that all governments or all parties are aware of that is going to be really crucial.
If you were sitting down in a meeting with the Minister of Advanced Education and he said the government would be cutting the amount of money the university receives from the Campus Alberta Grant, the university's primary source of government funding, what would you do?
Bilak: The first thing I would say is that we should not be doing this. I think taking away that money is literally taking away money from our future. Education is the future of our country and they would be de-investing in that future.
I would come back with data about what exactly the money is going towards, what it would be taking away from as well as how it would be affecting students. I think the job of the Minister of Advanced Education is to really serve the university in ways the rest of the government can't. And with showing them how taking away this money is going to negatively hurt the university I would hope that using that evidence, they would respond by saying, "You're right, we can't do this."
Brown: First I'd tell him that that's a step in the wrong direction. The university is in a period now where it's trying to reorganize its finances. The university has introduced a new three-year rolling budget model, and so cutting any sort of Campus Alberta Grants right now is going to make so many problems that we have worse.
When we look at things like deferred maintenance, when we look at things like programming, or the number of students we're taking in, or fees that are levied, we want to make sure that education is as affordable as possible for students, so I would communicate that very directly to the minister.
I think that for the Students' Union to highlight our political policies that exist already on that, if we need to do a press release, we need to go to the media. I don't think protesting at the first sign of trouble is the way to go. We need to show that we are mature student voices that can sit down at the same table as government and really talk this stuff out to make sure they understand the dangers of cutting any sort of funding.
And at the end of the day, if we can't get anything done in a productive and respectful manner, then I think we would need to turn to protest.
Joke question: Students demand a wall is built between MacEwan University and the U of A. How would you secure funding for this?
Bilak: GoFundMe has worked well in the past for some people, so maybe one of those pages. We could also get a big intramural game happening between students at the U of A and MacEwan, where they would put money into a pool and then whoever wins gets the money and can build the wall as they see fit.
Brown: First, I think the wall needs to be on the north side of the river. Why should we have to deal with it on our side of the river? I think the fact that we would have a wall and a river would be a fantastic barrier, two fantastic barriers.
But I think, in terms of who would pay for it, MacEwan is opening a new student association building. We could pay for maybe a little bit of it, but I think most of the funding would come from them.