News
Residences
$117 million renovation project proposed for Lister Hall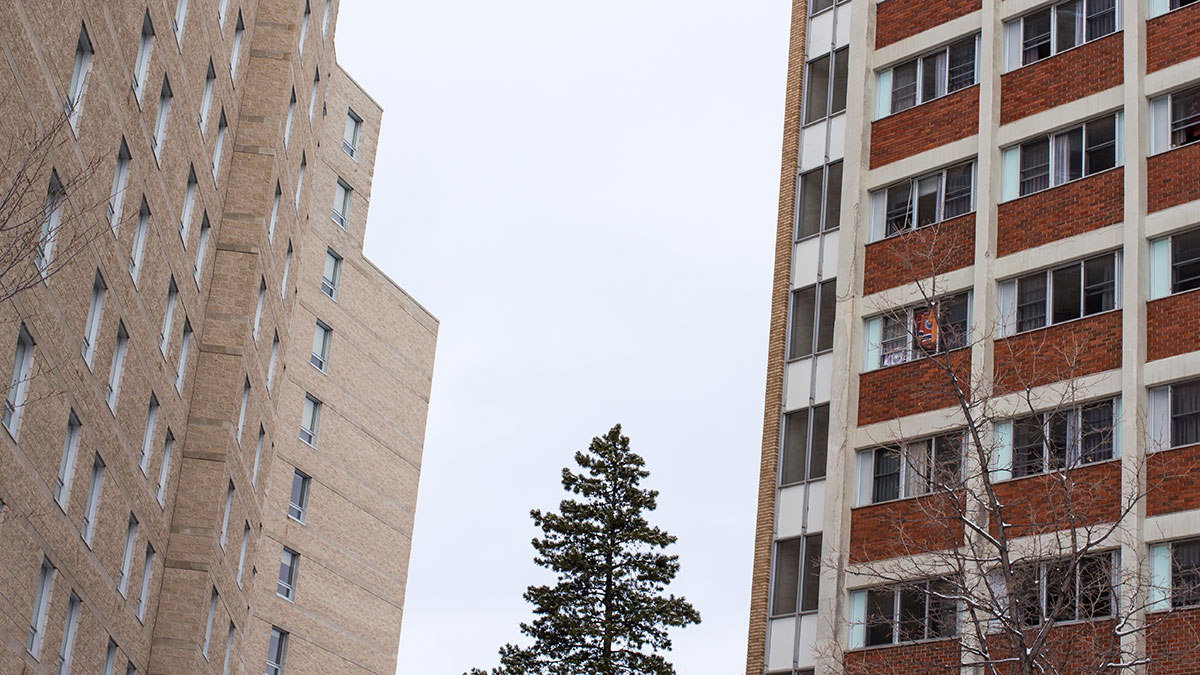 A $117 million renovation project has been proposed for Lister due to a risk for "significant failure of major building systems."
The proposed two-phase overhaul of the Lister towers, expected to begin this year, still needs to pass at the Board of Governors meeting on May 11. Andrew Sharman, the university's vice-president (facilities & operations) said the renovations will address many of the buildings' deferred maintenance liabilities. Lister's many building systems including lighting, sprinklers, fire alarms, and windows fail to meet current code and life safety standards. Without repair, Sharman said the university may soon be unable to operate Lister towers as a student residence.
"It's long overdue," Sharman said. "The building systems are very close to their life expectancy. We will (eventually) have major critical failures so we need to get on and do this."
Phase one involves renovating individual rooms and addressing the building's failing mechanical and electrical systems. The university estimates a cost of $85.5 million for which $75.5 million will be borrowed from the Alberta Capital Finance Authority on a 30-year term. The remaining $10 million will come from mortgages rolled over from the construction of Lister 5 and East Campus Village 9, which both ran under budget.
Financing for phase two is yet to be determined but will involve redesigning and expanding Lister Centre's community and amenity spaces.
Ancillary services said they have been unable to invest adequately in the long-term sustainability of Lister because they kept residence rates as low as possible. Many issues plaguing current residents including outdated interiors, unreliable elevators, and a lack of gender-inclusive washrooms were reported in past surveys.
"The Lister classic towers date back to the sixties and they haven't had any major renovations in fifty plus years," Sharman said. "They were not designed for the students of today."
While he thinks the renovations are warranted, Student's Union vice-president (student life) Ilya Ushakov said the SU is concerned rent prices may rise in the future to pay for the incurred debt. U of A residences have already seen a four per cent rise in rent prices this year.
Because the university's residence system is expected to be self-sustaining, Ushakov said the majority of money needed to finance the loan will likely come from rent revenue.
"Because the renovations are quite significant, if students are the ones paying for them, it may potentially mean that the cost of rent and services may go up drastically," Ushakov said. "Rent prices are already out of the market and we don't want them to go higher and higher every year."
Sharman said rent revenue will not be used to finance the loan until the renovated towers are reopened to students. However, whether rent prices will need to be adjusted in the future remains to be determined.
The project will require closing each tower for a minimum of one year. By phasing the project over four years, ancillary services hope to reduce the impact on occupancy by diverting a portion of residents into the newly constructed Lister 5.
Sharman said Mackenzie Hall will be renovated first, with plans for completion by August 2019. The university expects "substantial completion" of all three classic towers by July 2022.
Initial design work has since commenced and will involve input from the Lister Hall Students' Association and Lister residence assistants.
"As we get the first iteration of the designs from the consultants there will be workshops and town halls," Sharman said. "We certainly want input so we get the best possible outcome for our future residents."