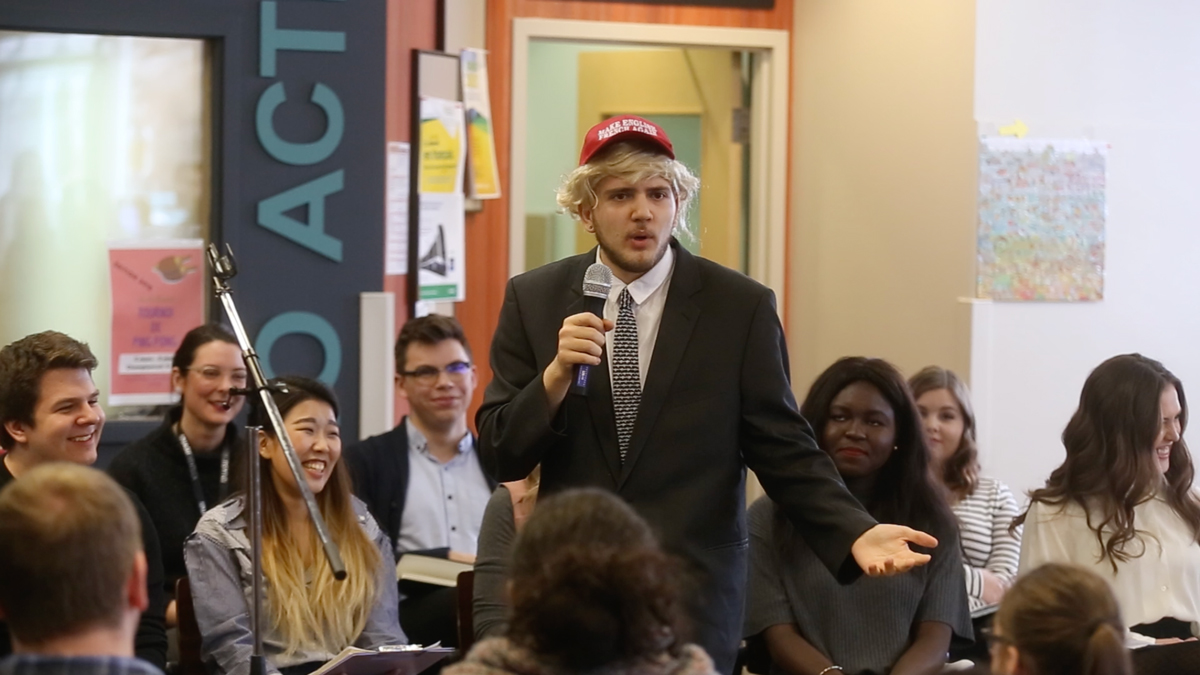 In the 2017 Students' Union Executive and Undergraduate Board of Governors election, two furry friends stole students' hearts: Donut the Cat and the late Banana the Hamster. These two joke candidates, running for president and vice-president (academic) respectively, were welcome relief from an otherwise tense election cycle. They fulfilled one possible function for joke candidates: to introduce levity to a too-often austere affair.
Donald Straump, AUFSJ vice-president (finance) Jesse Benoit's Trump-inspired character, doesn't quite fill the same role. Straump has made two appearances on the campaign trail – one at the CSJ forum, where he's at home, the other at the ISA forum, where he refused questions so as not to distract from earnest discussion. It was at the CSJ Forum where his raison d'etre became clear: Straump is a megaphone for Francophone interests in the university. While his promise to 'make English French again' and his remarks about giving CSJ its own SUB are meant to be funny, they have a deeper resonance with CSJ students' alienation from the Students' Union and North Campus in general.
As Gateway opinion writer Aidan Herron remarked in his discussion of the vice-president (operations and finance) race at the CSJ forum, "These points are legitimate, and I am left wondering why Stroump needs to be a joke candidate." Indeed, Straump's platform, albeit half-serious and CSJ-centric, speaks to issues foreign to the status quo of North Campus.
What Straump identifies, whether deliberately or not, is a blueprint for joke candidates to serve as gadflies in a political arena too often drowning in narrow and hollow discourse. By drawing the attention of candidates and students at large alike to issues faced by marginalized or ignored student populations, joke candidates could sound out as activist voices on the campaign trail, cross-examining complacent candidates who might otherwise float in a sea of politicking sludge.
This discursive function is especially salient given the change to SU bylaw back in September which defanged joke candidates as actual political options, making it no longer possible for joke candidates to win elections. With 'none of the above' continuing to serve as the SU's mechanism to flush out disastrous candidates, joke candidates may more fully inhabit their symbolic role as agents of chaos and callouts in forums.
By drawing attention to Francophone disaffection in particular and serving as a dissenting voice in general, Donald Straump may be just what we need to revitalize campus elections. Joke candidate's of Straump's persuasion have a unique opportunity to pop the governance bubble and engage students from across campus culture.
In short, Straump can make student governance great again.