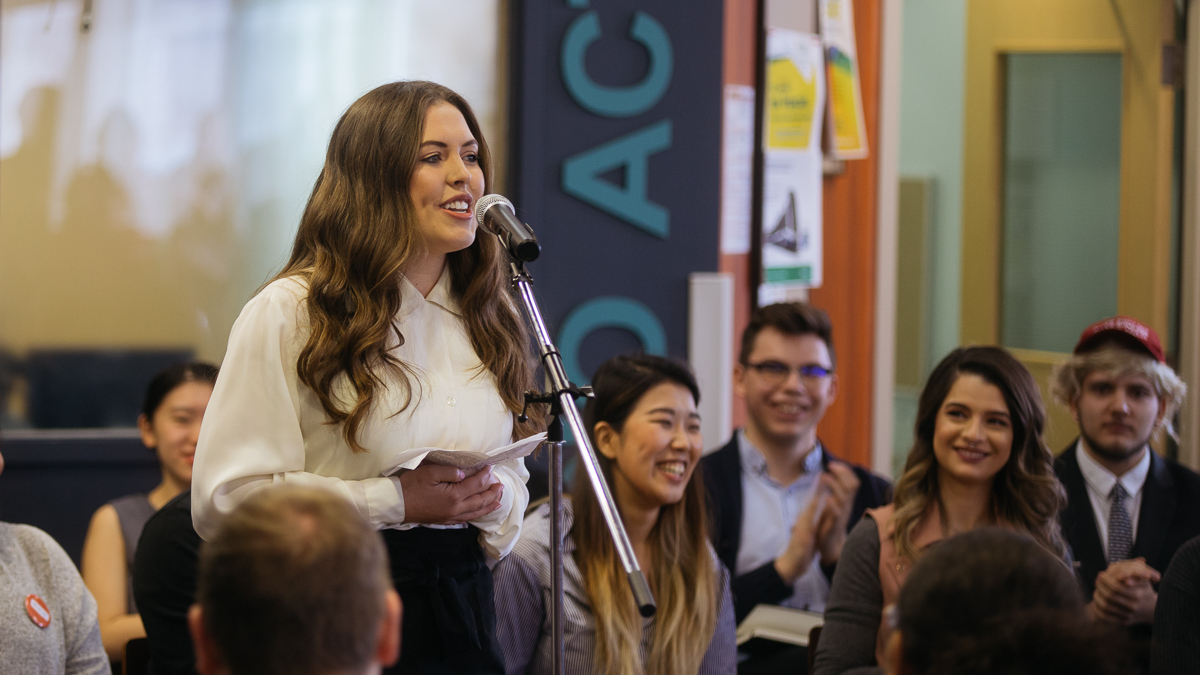 Yesterday, both of the vice-president (operations & finance) candidates had a good run — even though only one candidate is technically "real."
Emma Ripka represented herself well at both forums. She expressed her intent to ensure both international and Francophone students feel represented by the SU, and answered questions on the financial allocations for the International Students' Association forum and scholarships for international students at Campus Saint-Jean. She also mentioned that if the Student Events Referendum fails (a referendum which affects her platform), she would try to renegotiate it and try to pass it again. Oh, and as far as the eggs at L'Express question goes: she said she would express to the manager how terrible they are.
Obvious puns notwithstanding, Ripka had a great showing today. She delivered her opening speech at the Campus Saint-Jean forum in perfect French, she answered every question she was asked well, and demonstrated she has the charisma to be both a politician and an SU executive. She would be a legitimate candidate even if the race was contested, and I appreciate her taking the race seriously even though she has effectively already won the position.  
However, I have yet to see any evidence that she is an exceptional candidate. Her platform is very safe and analogous to previous years' VPOF platforms. Ripka isn't here to reinvent the wheel or drain the swamp as it were, and she doesn't have to. She's just here to be a solid candidate who will (hopefully) translate into being a solid VPOF.
Donald Stroump made his debut at the Campus Saint-Jean forum, and discussed issues such as the disconnect between the SU and Francophone students (including how most SU documents are not even translated into French), and inequalities between North Campus and Campus Saint-Jean. These points are legitimate, and I am left wondering why Stroump needs to be a joke candidate. A strong advocate for Campus Saint-Jean and Francophone students sounds like an important voice to have in the SU.
I think the character of Stroump is meant to embody what the growing divide between Campus Saint-Jean and North Campus could create, but perhaps that divide could be reduced if we had people like Jessie Benoit (Stroump's real-life alter-ego) actually running for office rather than just as a joke.
Stroump spoke at the ISA forum only briefly to say that he would not be answering questions as would detract from the real issues at hand. He even refused to answer a joke question about the terrible eggs at L'Express. I have to say I'm impressed. Stroump being willing to step out of the spotlight to let other issues take precedence shows character hardly seen in any politicians.