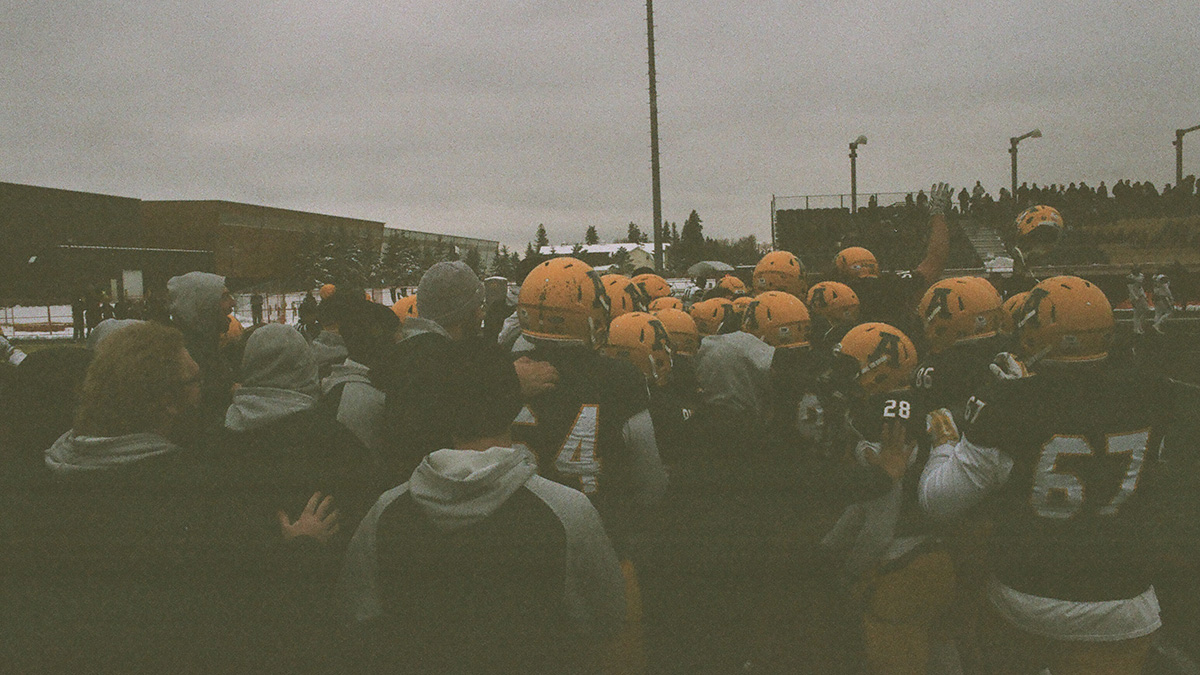 On October 15, the Golden Bears football team were 0-5 on the season and playing host to the Regina Rams, the fourth-ranked team in the nation. Down by two with seconds left on the clock, Bears kicker Brent Arthur split the uprights to give his team a 19-18 lead, and cement their only win of the season.
Arthur would go on to win the USports Special Teams Player of the Week for his efforts against the Rams, where he made all four of his field goal attempts, including one from a career-high 41 yards out. All this, and Arthur only started playing football in high school.
Growing up in Brights Grove, Ontario, Arthur said there was no opportunity to play football. Instead, Arthur played soccer. Despite this, Arthur grew up only a short distance from the US border, and football's pull was strong. Living only an hour away from Detroit, Arthur grew up a diehard Lions fan.
Come his Grade 11 year, he had the opportunity to merge his soccer skills with football. Transferring to a high school in nearby Sarnia, Ontario, Arthur finally had the opportunity to play football. In addition to punting and kicking, Arthur caught passes at wide receiver throughout high school. Wanting to pursue a degree in Education and continue his career on the gridiron, Arthur started looking at colleges.
Eventually, the NCAA came calling for Arthur in the form of Quincy University, a 1,100-student Division II school in southern Illinois. After two season in the States, Arthur found himself looking for a change of scenery. Citing disagreements with coaching staff and a desire to be more of an impact player, Arthur said his options in changing universities were limited by several factors.
If he had transferred to another NCAA program, Arthur would have been required to sit out for a full year. Not wanting to sit out as well as being unable to afford US tuition without an athletic scholarship, a move back home would allow Arthur to continue playing. Reaching out to "every school with a football team and an Education program," Arthur said a lot of teams showed interest, the Golden Bears personnel sealed the deal.
"Ultimately, it was (Golden Bears Head Coach) Chris Morris who made my commitment to the U of A final," Arthur said. "He's a great coach and really cares about his players on and off the field, something I didn't find at Quincy."
In his first season with the Bears, Arthur made seven of eight attempted field goals, and led all Bears kickers in points. Coming back to Canada, Arthur said three-down football places a larger responsibility on the kicker than its four-down American cousin.
"It's one fewer down before the punter or field goal kicker has to come into the game," Arthur said. "On top of that, (Canada) has the goalposts at the front of the end zone, so you're in field goal range more often."
Arthur said that the kicking team is not only relied on for points from field goals and points-after-touchdowns, they are also a key part of the defensive game.
"If we pin the ball deep on a punt or a kickoff, it means that the offense has to go that much further and it makes it that much easier for our defense," Arthur said. "It's a big part for field positioning."
Though it's an integral part of the game, Arthur said that kickers tend to go about preparation in a very different way than other players on the team. When the rest of the team is in the locker room before a game "listening to Future and getting hyped up," Arthur said he tries to find somewhere else to "do his own thing."
"I have to be in my own mindset and just be relaxed," Arthur said. "If you get hyped up and over-emotional about a kick, you start thinking about it too much, that's the last thing you want to do."
"A lot of kickers can hit 40 or 50-yard field goals like it's nothing," Arthur said. "But what separates a good kicker from a great kicker is can you do it in a game and under pressure."
Arthur's preparation may differ from position players, but he said mental preparedness plays a large part for any spot on the field.
"The chances of you dropping a pass are much more if you start thinking about it rather than you just going off muscle memory. The same is true for kicking."
Though their 1-7 2016 campaign is a season Arthur and the Bears would like to forget, he said his team was already beginning the improvement process for next season. Most of the squad will be returning next season, and Arthur said the players are prepared to fulfill their potential.
"The guys definitely know where our weaknesses were this year and are already putting in the work to fix them," Arthur said. "We have the talent of any other team in the country, and I think a lot of people are going to be shocked with the impact we have on the league."