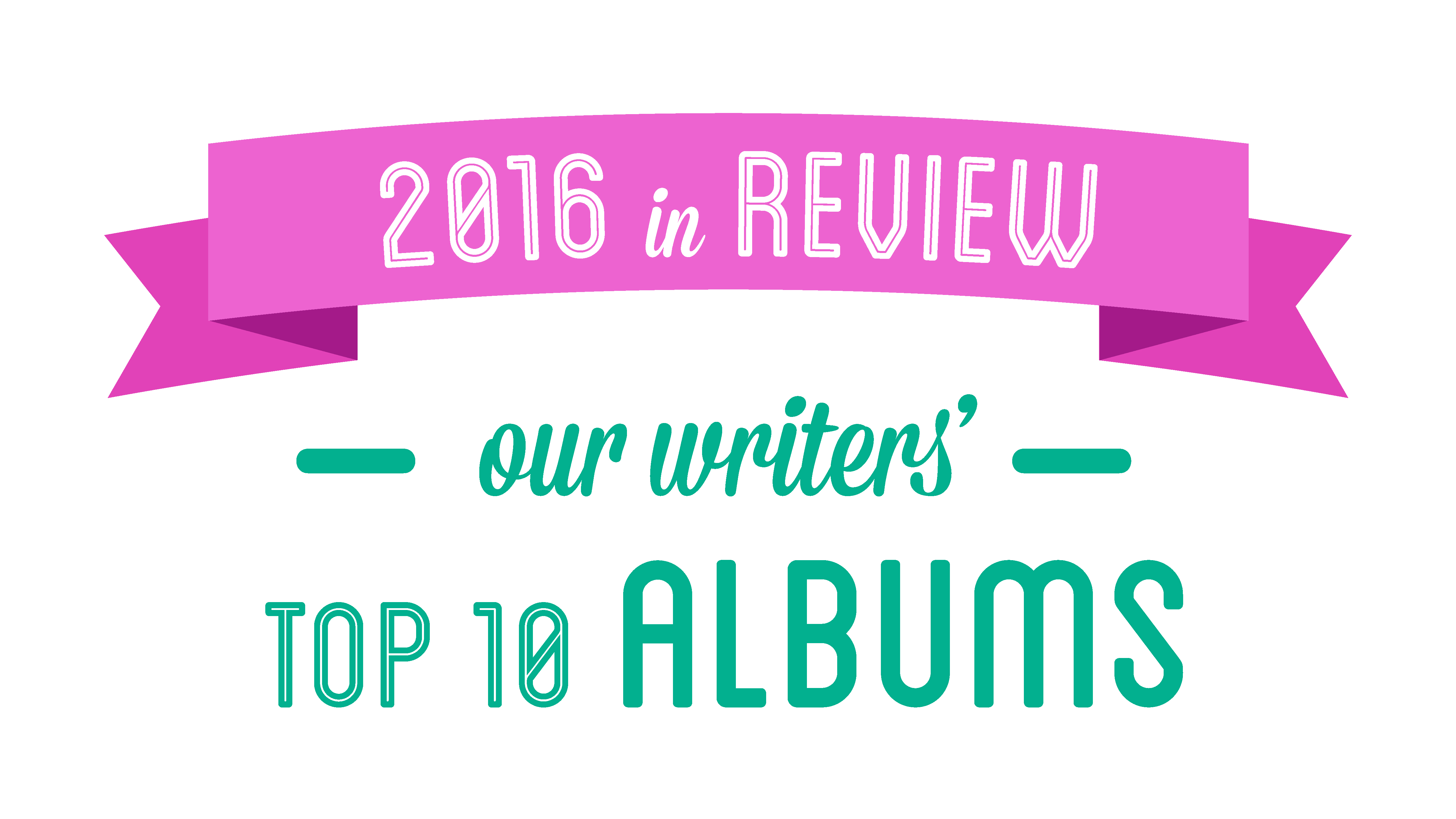 To cap off a 2016 flush with excellent music, we tasked a few of our most dedicated audiophiles with compiling their top 10 albums of the year. Here are the results.
---
Andrew Magnaye:
Untitled. Unmastered (Kendrick Lamar)
Coloring Book (Chance the Rapper)
Blank Face LP (ScHoolboy Q)
The Sun's Tirade (Isaiah Rashad)
Malibu (Anderson .Paak)
The Life of Pablo (Kanye West)
Birds In The Trap Sing McKnight (Travis Scott)
In My Mind (BJ The Chicago Kid)
We Got It From Here… Thank You 4 Your Service (A Tribe Called Quest)
Awaken, My Love! (Childish Gambino)
In 2016… Top Dawg reigned supreme. Chicago found their voice. R&B broke down borders. Trap birds sang. Tribe reunited. Pablo bleached.
---
Stefan Makowski:
https://www.youtube.com/watch?v=nbzsE-GOjBg
Psychopomp

(

Japanese Breakfast

)

Indifferent Rivers Romance End

(

Wreck & Reference)

The Colour in Anything

(

James Blake)

A Moon Shaped Pool

(

Radiohead)

Blackstar

(

David Bowie)

Love Streams

(

Tim Hecker)

Blonde

(

Frank Ocean)

Goodness

(

The Hotelier)

Skeleton Tree

(

Nick Cave & The Bad Seeds)

Slow Forever

(

Cobalt)
I'm only about the ten billionth person to say this, but 2016 suuuucked. It seems, however, turbulent times make for exceptional art, as I found myself swamped with more great music this year than any other in recent memory. Maybe it's just because I sold my soul for an Apple Music subscription (my apologies to independent music), but was no shortage of albums falling into my lap week after week, from an increasingly diverse range of artists. The world may be in shambles, but if 2016 taught me anything, it's that there will be plenty of forward-thinking music to get us through whatever comes next.
---
Evan Mudryk:
My Woman

(

Angel Olsen)

Coloring Book

(

Chance the Rapper)

HOPELESSNESS

(

ANOHNI)

A Seat at the Table

(

Solange)

/

Lemonade

(

Beyoncé)

Secret Path

(

Gord Downie)

Skeleton Tree

(

Nick Cave & the Bad Seeds)

We got it from Here… Thank You 4 Your service

(

A Tribe Called Quest)

A Moon Shaped Pool

(Radiohead)

Paradise

(White Lung)

Next Thing (Frankie Cosmos)
Chance the Rapper's album Coloring Book is only a mixtape, but that's okay, just listen to the song "Mixtape." ANOHNI gave us a wonderful album from the perspective of a transgender woman about war and hopelessness. Beyoncé and Solange tie because they're sisters — spot four can be shared since they share the last name 'Knowles.' Canadian's Gord Downie and Kevin Drew (Broken Social Scene) created a powerful and sad concept album that will keep the story of Anishinaabe boy Chanie Wenjack (who at 12 years old died from hunger and exposure after trying to find his way home from a residential school) alive. Hopefully, Downie keeps on living too! Nick Cave's Skeleton Tree is haunted and chilling ear-to-ear — "I Need You" is absolutely necessary to hear, as its the pinnacle of Cave's sadness and personal healing. Finally, Frankie Cosmos's Next Thing is amazing, so check it out.
---
Jonathan Zilinski:
Blackstar (David Bowie)
The Life of Pablo (Kanye West)
Coloring Book (Chance the Rapper)
Islah (Kevin Gates)
Konnichiwa (Skepta)
Savage Mode (21 Savage & Metro Boomin)
Atrocity Exhibition (Danny Brown)
Lemonade (Beyoncé)
Endless (Frank Ocean)
Lil Boat (Lil Yachty)
Okay okay okay okay okay OKAY, beggars can't be choosers, and we weren't given a lot to choose from in 2016. Let's take a minute to be real. Indie music is dead because of massive streaming companies, even if it's good, nobody will hear it. The Chainsmokers are cancer, but "Closer" is tied for best song of 2016 with "Ultralight Beam." The 1975 are still awful. Lemonade wasn't that good (you'll be going back to listen to Beyoncé's "visual album's" bangers rather than ever touching Lemonade again). Solange more politically correct third wave fourth dimension(?) feminist Beyoncé is not even in the same stratosphere as Beyoncé. Blonde is long, overrated and boring. Radiohead released a Radiohead album in 2016, who cares, go listen to Kid A or Ok Computer. Millennial music writers don't buy albums, are too antisocial to go to music festivals, don't listen to full albums front to back anymore, and spend more time trying to make memes out of music than actually reviewing music. So stop kidding yourself with the annoying pretentiousness and bang the top 100 on hot new hip hop.
---
Sam Podgurny:
Lemonade (Beyoncé)
JEFFERY (Young Thug)
You Will Never Be One of Us (Nails)
Love Streams (Tim Hecker)
Luke Cage (Original Soundtrack) (Adrian Younge & Ali Shaheed Muhammad)
The Impossible Kid (Aesop Rock)
The Colour in Anything (James Blake)
The Life of Pablo (Kanye West)
Savage Mode (21 Savage & Metro Boomin)
Bottomless Pit (Death Grips)
A toast to 2016: To 21 Savage, who proved Young Metro can trust him. To Kanye, who told the world he "made that bitch famous." To the opening three minutes of blistering guitar bliss on Bottomless Pit, and the 10 tracks of pure powerviolence perfection on You Will Never Be One of Us. To old hip-hop legends teaming with black heroes, and new legends forming fresh identities (my name is… JEFFERY). To lush electronic landscapes, and empowering female formations. To ballsy blue dresses, Becky's with good hair, and kittens named Kirby. 2016, here's to you.