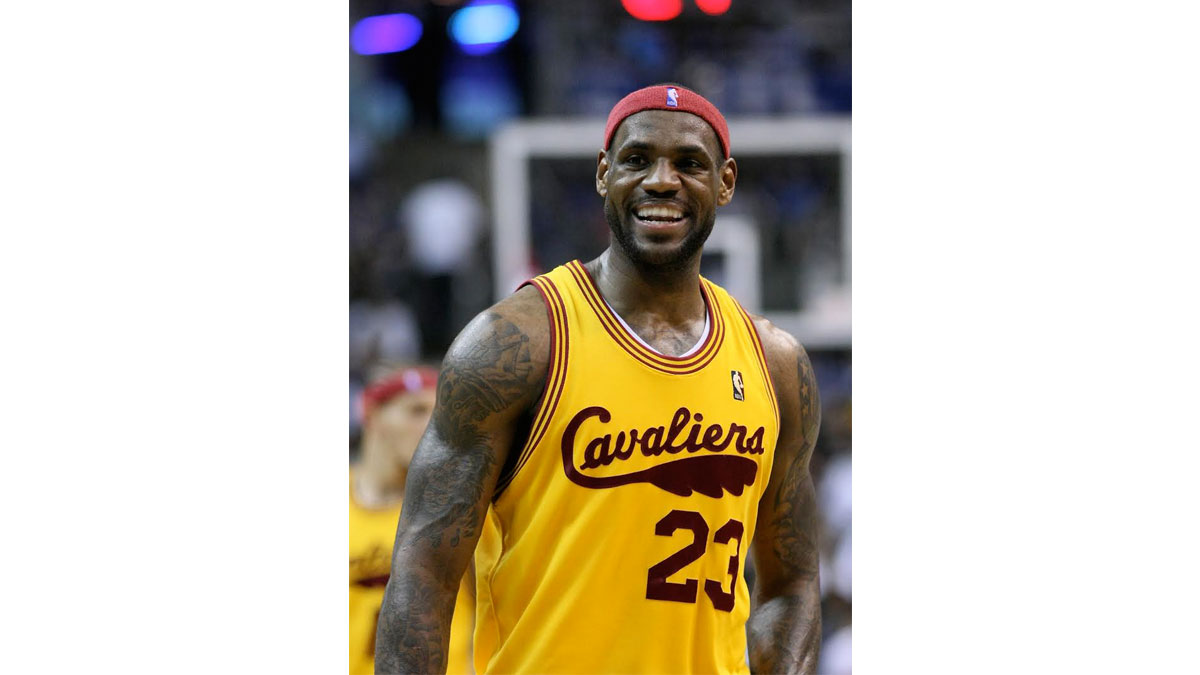 He finally did it.
13 lucky years ago, the Cleveland Cavaliers were blessed to land the most important draft pick in franchise — and northeastern Ohio — history. The local 18-year-old rookie phenom out of St. Vincent–St. Mary was the deemed the Saviour, the Messiah. The King. This generation's greatest NBA player was shouldered with lifting the decades-long curse which kept all of Cleveland's major professional sports teams from winning any championships.
With an NBA Finals Game 7 triple double of 27 points, 11 rebounds, and 11 assists in 47 minutes, LeBron James finally did it — and he did it all.
LeBron James: led all players on both teams in points, rebounds, assists, steals and blocks in series

— ESPN Stats & Info (@ESPNStatsInfo) June 20, 2016
He is the first player in NBA history to lead all players in all five categories for an entire playoff series https://t.co/5tCfyA606A

— ESPN Stats & Info (@ESPNStatsInfo) June 20, 2016
And we do stress "finally." Here's NFL Red Zone's Andrew Siciliano for some context on exactly how long it's been.
My father was 19 the last time Cleveland won a title.
He's 71.

— Andrew Siciliano (@AndrewSiciliano) June 20, 2016
Damn, that's a long time ago. The city of Cleveland has been starving for a title since the 1964 Cleveland Browns steamrolled the Baltimore Colts 27–0 in the NFL Championship Game. Browns running back legend Jim Brown, who ran for 114 yards to lead Cleveland to its last championship, chimed in on James' and the Cavs' success.
What a great night and moment for the city of Cleveland. Congratulations to the entire @cavs organization for bringing it home.

— Jim Brown (@JimBrownNFL32) June 20, 2016
How an 80-year-old Brown knows how to use Twitter, I'll never know. But it does give great perspective on how long it's been for the city of Cleveland. This one was long overdue.
The dominating season-long narrative leading up to Game 7 was whether the reigning Finals MVP Stephen Curry and his 73–9 Golden State Warriors were the greatest team in NBA history.
After averaging 28.5 points, 5.5 rebounds, and 5.4 assists throughout the NBA playoffs and fresh off a 30-point effort in a loss, Curry sure looked poised.
The MVP looks ready… #NBAFinals https://t.co/iG9GObz3GF

— NBA TV (@NBATV) June 19, 2016
And so was Oracle Arena and it's fans who were willing to pay outrageous prices to attend tonight's game. There's been some friendly and not-so-friendly jabbing between Golden State and Cleveland fanbases throughout the finals. We think this qualifies as the not-so-friendly variety:
There's a good chance this boy will see his father beaten up in a parking lot one day. pic.twitter.com/RIIyliV8sK

— TBG (@ThatBoysGood) June 19, 2016
OK, straight up disrespectful is more like it. On Father's Day, no less. But it really set the tone, didn't it? Curry vs. LeBron, Cavaliers vs. Warriors, Ayesha vs. literally everyone — there were enough storylines this series to fill an NBA decade.
Despite history stating that no team had come back from a 3–1 series deficit, Cavalier fans packed downtown Cleveland and Quicken Loans Arena.
Fans hanging out of parking garages, out windows. Electric atmosphere inside and outside Q. #NBAFinals pic.twitter.com/1mewNRspZL

— Tom Withers (@twithersAP) June 19, 2016
And who could blame them. Although the first six games of the series proved to be blowout duds, Game 7 was primed to be something special.
After the first quarter, James and co. struggled with turnovers, as his total of three first quarter TOs matched his total TOs from games 5 and 6. His jumper appeared broken, as the Cavs stayed within striking range with a 17-point in the paint differential, compared to the Warriors 15 points from long distance advantage.
End 1Q: Cavs 23, GSW 22. James 6p,6r,3a; Love 5p,7r; Irving 4p; Smith 4p. GSW Curry 6p; Klay 5p; Green 7p. CLE 43%,4TO; GSW 40%,2TO

— Jason Lloyd (@ByJasonLloyd) June 20, 2016
Charged by a record-tying beyond-the-arc onslaught from Draymond Green, the Warriors surged ahead of the Cavs with a 49–42 lead in the half. With two quarters of NBA basketball remaining, Game 7 could go one of two ways.
Warriors are 24 minutes from doing two things: Becoming greatest NBA team; avoiding biggest choke in league history

— Joe Vardon (@joevardon) June 20, 2016
Pretty boring, hey? We know, we know, but fear not, as there was an obvious halftime solution, thanks to Mrs. Kanye West.
I know game 7 is on but so is Keeping Up With the Kardashians for the non sports fans lol. Well we go skiing in avail. That's pretty sporty

— Kim Kardashian West (@KimKardashian) June 20, 2016
Anyway, while the second half kicked off, the Cavs remedy for success appeared to be fixing that broken jumpshot.
LeBron's #NBAFinals jumpshot:

In wins: 20-for-41 from outside 8-feet
In losses: 6-for-22
Tonight: 0-for-3

— J.E. Skeets (@jeskeets) June 20, 2016
Cavs are 2-20 from outside the paint…

— Cassidy Hubbarth (@CassidyHubbarth) June 20, 2016
Whatever Cavs Head Coach Tyronn Lue told his team in the locker room, it must've worked. The Cavs came out blistering to start the second half, as they scored eight straight points behind a JR Smith rally to tie the Warriors at 54 apiece. After two Kyrie Irving free throws, the Cavs retook control of the lead, with a 62–59 edge. By the end of the quarter, the Warriors held a minuscule one point advantage over the Cavs, 76–75.
More than a dozen lead changes in a Game 7 of the #NBAFinals
Yeah, this'll do…

— Rachel Nichols (@Rachel__Nichols) June 20, 2016
There's only been ONE fourth-quarter lead change in this whole SERIES. Something tells me we're in for a few on this frantic night …

— Marc Stein (@TheSteinLine) June 20, 2016
"Frantic" would be an understatement.
With 333 of the 336 regulation minutes of this 7 game NBA Finals series in the books, the Warriors and Cavs are tied 699-699.

— Dave McMenamin (@mcten) June 20, 2016
After cold shooting from both sides, which was attributed to strong defence, LeBron bolted towards a streaking Andre Iguodala in what we'll remember as one of the greatest plays in NBA Finals history to preserve the tie game.
LeBron is on another level! #NBAFinals https://t.co/TzTkzwPyld

— NBA (@NBA) June 20, 2016
Which sent NBA Twitter into an absolute frenzy.
https://twitter.com/rickyrubio9/status/744719231565070336
https://twitter.com/Isaiah_Thomas/status/744719052065509377
Best block in finals history

— Robbie Hummel (@RobbieHummel) June 20, 2016
And if the game couldn't get any nuttier, this happened with 53 seconds remaining:
https://vine.co/v/5Bua50t9Igd
HO-LY SHIT.
After a missed LeBron dunk attempt that surely would've sucked the stadium into the ninth dimension had he connected, the King sunk the free three dagger into the Warriors to catapult the Cavs to a four-point lead with 10.4 seconds left.
POST GAME
We won't be needing this anymore, now will we?
We can throw this graphic out now. pic.twitter.com/pmMsYXgcjl

— NBA on ESPN (@ESPNNBA) June 20, 2016
Or this stat.
After the last two years, I'm never looking at a 3-1 series lead the same way again.

— Arash Markazi (@ArashMarkazi) June 20, 2016
And your Finals MVP?
https://vine.co/v/MFWZahKIQAj
Get you a fanbase who can do both pic.twitter.com/s69fe5zzsE

— Heroin is safer than being a Bears fan (@FlowsAndolini) June 20, 2016
Oh, LeBron, we've come a loooooooong way. After ditching the team in 2010 to sign with his pals in Miami, LeBron returned home two years ago to bring Cleveland the championship they've been waiting for.
When LeBron left, the Cavs dropped from one of the best teams in the league to the worst, resulting in them drafting this guy first overall in 2011:
Kyrie Irving puts up 26 points in game 7 of the 2016 #NBAFinals! https://t.co/kYyku4C57J

— NBA (@NBA) June 20, 2016
Damn! Imagine if Kyrie was there earlier, then LBJ never would have left!
A year ago, Kyrie Irving was in a hospital.

Last night, he hit a 3 for the ages. WATCH: https://t.co/g7SZVTBsVD pic.twitter.com/h3CHC5reEE

— ESPN (@espn) June 20, 2016
Last year, Kyrie got injured in Game 1 of the NBA Finals, and was relegated to watching his team get dropped in six games from a hospital bed. This year…?
When you wake up and realize it wasn't a dream. Cleveland…we are champions. https://t.co/XLcXpgjvzF

— Dave @ BIGPLAY (@BIGPLAY_dave) June 20, 2016
Kevin Love became the joke of the NBA after a very, very disappointing performance in the Finals leading up to Game 7.
https://twitter.com/NoChiIlSports/status/744730973162475521
But hey, as long as you have a big final game (and your team wins) none of that matters! It's almost as easy to go from the hero to the goat as it is to go from the goat to the hero sometimes.
Kevin Love finally knows how it feels. pic.twitter.com/IktYx8bejP

— maurice (@tallmaurice) June 20, 2016
This moment is AMAZING, especially after LeBron snubbed Kevin Love of a high-five in the team's win win in Game 5.
DEFENSE WINS CHAMPIONSHIPS @kevinlove pic.twitter.com/aJzUeokew1

— Chino Lui Pio (@chinoluipio) June 20, 2016
And he deserved it. After playing like a donkey for the entire series, Love, who has been known for literally his entire career — from high school, to UCLA, all the way to being an All-Star in Minnesota and today — as a defensive liability, shuts Steph Curry down with seconds to go on the clock. It was perfect.
LET'S ALL TALK ABOUT KEVIN LOVE'S DEFENSE ON STEPH CURRY, ON AN ISLAND, DURING THE MOST CRUCIAL POSSESSION OF THE ENTIRE NBA SEASON!!

— John Meyer (@thedailywolf) June 20, 2016
Kevin Love never has to play defense again. Toss all your jokes in the recycling bin.

— TBG (@ThatBoysGood) June 20, 2016
Kevin Love earned his entire contract with his defense on Curry in those last 10 seconds..

— Bill Plaschke (@BillPlaschke) June 20, 2016
And here's what the rest of the NBA universe had to say about the Cavs win:
Congrats @KingJames @KyrieIrving and the rest of the @cavs unbelievable series. Well deserved #champs #enjoy

— Kobe Bryant (@kobebryant) June 20, 2016
Salute to my brother @KingJames .. 3x Champion!!! #Brotherhood

— DWade (@DwyaneWade) June 20, 2016
Congrats to my brother @KingJames on his masterpiece & the @cavs Epic Game 7! The city of Cleveland deserves it! #NBAFinals

— Chris Bosh (@chrisbosh) June 20, 2016
Wow But I told u guys congrats to Cavs one of the best series ever Cavs 1st team Nba history down 3-1 to win 1-32

— Paul Pierce (@paulpierce34) June 20, 2016
https://twitter.com/thinkiminthe90s/status/744721559189753856
https://twitter.com/JCrossover/status/744722305755013132
LeBron James took this series over in the last 3 games, like the great ones do and brought the championship home to Ohio!

— Earvin Magic Johnson (@MagicJohnson) June 20, 2016
And finally, none of this would be complete without some savage trolling of the Golden State Warriors.
https://twitter.com/BronBronCrying/status/744754330599829504
Steph: what's for dinner?
Ayesha: dinners for winners
Steph: https://t.co/CIQei5LWHg

— Josiah (@jo_holsey) June 20, 2016
Lmao pic.twitter.com/tghjdBEgVb

— FunnyPicsDepot (@FunnyPicsDepot) June 20, 2016
You know what they say, "You can win as many games as you want in the regular season, but if you don't win the last one, you'll become an internet meme."
— Jake (@Pawksy) June 20, 2016
Been saving this one… pic.twitter.com/4Cz8K7mtX0

— Spencer T. German (@Spencito_) June 20, 2016
— Im talkin bout bald head and the Bob (@FuckKegan) June 20, 2016
Thank you for the incredible season, playoffs, series, and Game 7, Cavs and Warriors. I'm sure we'll see you again this time next year.