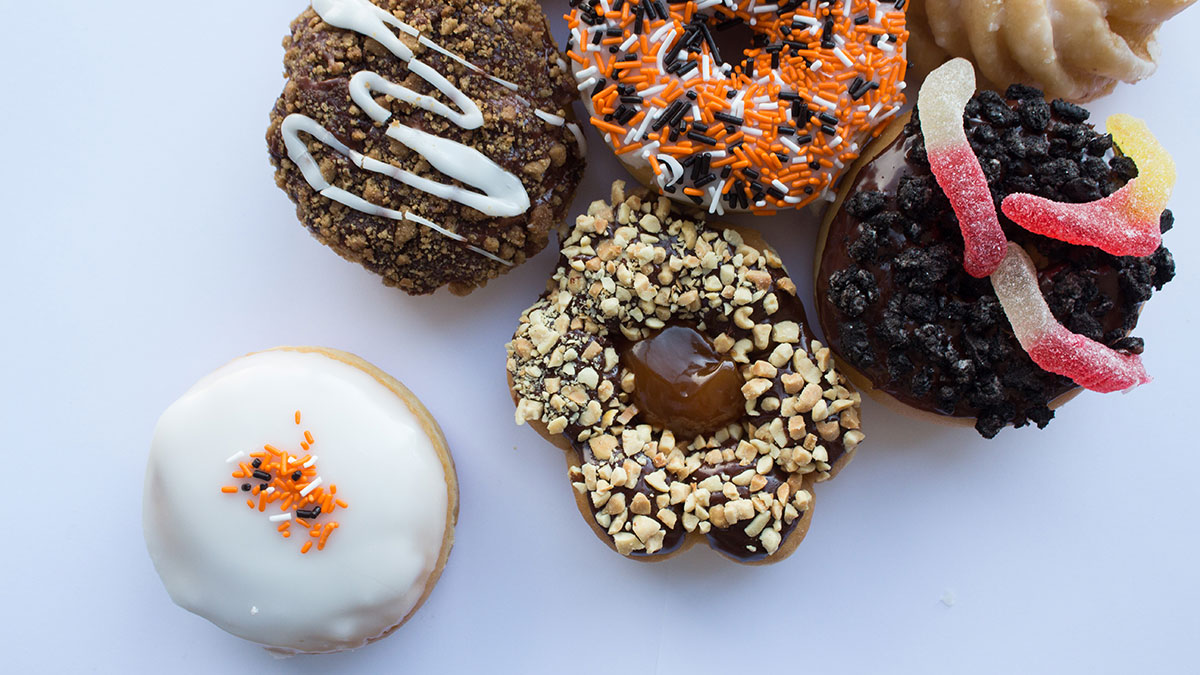 We are well-aware that we don't have every kind of Tim Hortons doughnut. The Gateway is a not-for-profit organization and our staff isn't able to frequent every Tim Hortons in the city for doughnuts. We would gladly accept your Timcard donations so we can redo the bracket if you feel that our financial situation has offended you in any way.
Losers
Vanilla Dip
The sprinkles to doughnut ratio is key for the vanilla dip. It's an underrated characteristic of the doughnut; who doesn't love sprinkles? They add an important visual aspect to your doughnut. Our only wish is that they used the round, Nerd-like sprinkles instead of those wimpy, skinny ones
Strawberry Vanilla
You would think that strawberry jam in a doughnut would be amazing, but it adds a layer of messy sweetness that's completely unnecessary. The overkill of sweetness and mess makes for a treat that's more effective as a "muff dive" vs. an actual doughnut. Bring one to the bar if you want to embarrass your drunk-ass friends.
Chocolate Dip
Who doesn't love the chocolate dip? How about when the doughnut is fresh with a gooey chocolate top? What about when that perfect chocolate goodness cools off in the little brown pastry bag and the entire goddamn top gets stuck to the bag. Goodbye chocolate dip. This doughnut travesty happens all too often to this favourite.
Honey Cruller
It's a classic for a reason. Sure there are probably more than 400 calories in a full cruller, but nutrition can be overlooked when your doughnut tastes like grandma's pancakes. Its light, air-y and fluffy texture combined with that signature cloying honey sweetness will have your mouth reaching for another bite before you're even done chewing.
Semi-finalists
Apple Fritter
We're not sure if adding the caramel filling to the already classic doughnut was needed, but it sure was welcomed. A warm, crisp fritter dusted with confectioner's sugar isn't anything like an apple pie, but this treat comes close. Also, if you're looking for a bang-for-your-buck doughnut, the apple fritter has the greatest surface area, and is a good bite or two more than anything else on this list. The only thing missing are actual chunks of apple.
Maple Dip
Simple, quintessentially Canadian, you cannot deny how important the maple dip is to our culture today. The Maple Dip brings the patriotic, thick syrupy taste of syrup to the standard breakfast doughnut. Who are we kidding, if you're ever needing an extra kick of patriotism, go get yourself a maple dip.
Second Place
Boston Cream
It's like biting into a regular doughnut and you're like — this is a regular doughnut. ugh, this is okay. but then it ejaculates into your mouth and it's like whoa, this is amazing. You bite it once and then you realize it's filled with cream, and then you ball it up all together and it's gone.
Winner
Double Chocolate
This doughnut is perfection. The sweet chocolate glaze contrasts perfectly with the fairly dense, yet luscious chocolate pastry to give chocolate lovers a perfect chocolate experience. Surprisingly, the chocolate-on-chocolate doesn't create an overwhelmingly sugary doughnut – but the dueling chocolate layers create a simple concoction that's worthy of a meal-replacement. If you're buying an assorted box of doughnuts, this is the most likely to be gone before you even have the option of picking it.