Features
Going for a run in the City of Champions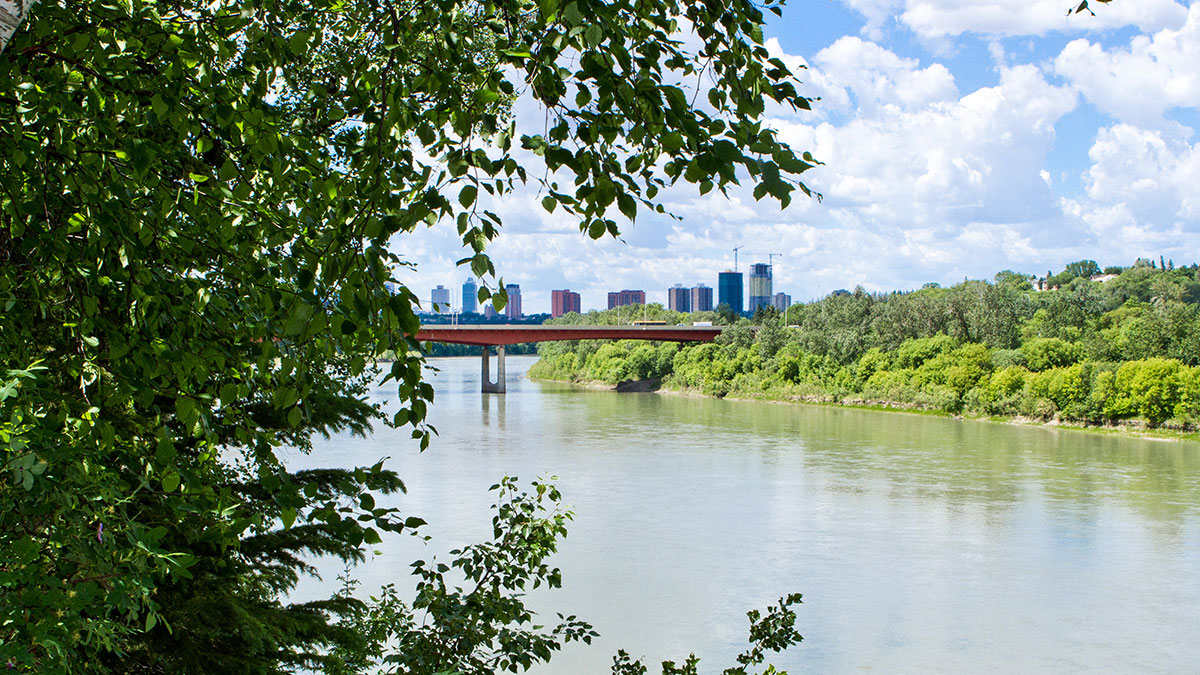 There are two types of runners. There are those who run because they love the movement and technique of the sport, and those run because they love the scenery.
Jack Cook, owner of Fast Trax Run and Ski Shop, said that he's an intrinsic runner, meaning he enjoys running because he loves the feeling of having his technique just click. Jack would call me an extrinsic runner because I enjoy running outdoors, taking in the scenery of a nice summer day.
"The extrinsic runners enjoy the scenery and enjoy being outside, but my big thing is that I enjoy the movement of exercise and the feeling of technique and a smooth stride," Cook said. "There's some days when you're out on the trail and everything just clicks. The stride is perfect and the effort doesn't seem that much but you're clicking along.
"That can happen in downtown Edmonton or in Hawrelak Park, I'll equally enjoy both places because I like the movement."
Becoming an extrinsic runner is something that comes with time and experience, Cook said. A big issue that people run into when they get into running is over thinking their technique rather than letting their body naturally take over.
"The body has a nice, natural way of knowing how to walk and how to run," he said. "Everyone has a slightly different style, so when you're trying to duplicate something it can be frustrating and you over think it and it makes running more complicated.
"If you stay relaxed and focus on your core strength that progression of becoming a smoother runner becomes considerably easier."
Once runners get their technique down and let running become more natural, they start to enjoy the intrinsic side of it.
"I think when you start off you tend to be more extrinsic because you like being outside," Cook said. "Once you start working on your technique and become aware of what your body is doing, over time, you would really start to enjoy the intrinsic side of running."
We can't help you with your running technique, but we can help you if you're an extrinsic runner looking for a nice place to stretch out and get your legs moving this summer. Our staff has compiled a list of our favourite places in Edmonton to head to for a nice run, ranging all the way from the luscious grass of the River Valley to the shiny Talus Balls off Fox Drive. If you like scenery, we have places for you. – Cam Lewis
Riverdale
If you're someone who's sick of hearing everyone talk about how nice the River Valley is, then this isn't the trail for you. It has all of the River Valley staples: lush greenery, a nice view of the North Saskatchewan river, and to top it all off, a lovely pedestrian bridge. Who doesn't love a nice pedestrian bridge? Starting in the community of Riverdale and winding its way toward the low level bridge, then looping back towards where it started, this trail is an excellent choice for anyone seeking traditional Edmonton River Valley scenery, as it also provides numerous scenic viewing areas in case you simply want to stop and take it all in. The trail also passes by River Valley Tours, so if you get tired during the course of your run or walk, you can rent yourself a bike or Segway to take you the rest of the way. – Zach Borutski
Capilano Park
Capilano Park is the perfect running trail if you're looking for a bit of unintentional interval training. As with most of the best running spots in Edmonton, the winding trails will have joggers trotting alongside a quiet stretch of the North Saskatchewan. Most of the trail is in a shaded off-leash area alongside the river, so you can shade yourself from the hot sun, while your legs grow fiery and threaten to combust from the many mini hill climbs. The steady up and down terrain will definitely get your heart pumping, and if you're feeling really energetic Satan built a staircase for you on the other side of Wayne Gretzky Drive. It's not an easy run, but that bod don't come for free. – Lisa Szabo
Wolf Willow Stairs
There are countless reasons why this is the best trail in Edmonton. Firstly, being that it's not very busy since it's not really a high traffic area so you don't have to dodge every other Edmontonian desperate to get outside. Secondly it has many different sites and views, as the Fort Edmonton Footbridge connects Fort Edmonton to Riverbend and Wolf Willlow. You can see everything from ducks to dragon boat teams, so you'll never be bored. And third, in true Edmonton fashion you'll find some monstrous stairs. They might be the toughest stairs in the River Valley. They are so high and steep, they really give you a killer work out. Try not to pass out on them, though. – Adaire Beatty
Dudley B. Menzies Bridge (LRT Bridge)
Starting from the University, you can go down to the footbridge that hangs under the LRT line that crosses the river. Then skip your way up to the stairs beside the Royal Glenora Club. I don't know what it is about these stairs, maybe it's just the central location, but they are always full of people, from tourists to hardcore excercisers doing endless laps of the huge staircase. And if you don't lose your breath from the cardio, you definitely will from the view. The High Level Bridge can be seen from here, and the river is just always so beautiful with the sun beating down. From there, you can find a few really nice trails alongside the north and south side of the river that go into the trees where it's nice and shady, so you can get a nice cool down after some butt-busting stairs.– Adaire Beatty
In and Around Fox Drive
The trails around Fox Drive are connected to almost everything. There's Fort Edmonton Park, the big shiny artistic balls right by Quesnell Bridge, and the horse stables. Honestly, you could run in circles and still have so much fun. Along with all of the scenery is a hidden gem — there is a knit bomb at the top of the stairs adjacent to the Alfred H. Savage Centre. It's super quirky and colourful, which is a visual treat after climbing all the steps of the staircase. Note that these stairs aren't ideal for working out on, as they are narrow and rickety, but definitely worth the journey up.  – Adaire Beatty
Ada Boulevard
Even if you don't run, jog, or do any sort of physical activity altogether, taking a walk down Ada Boulevard just might inspire you to start. Ada Boulevard is the scenic route that brings together the beautiful residential areas of Virginia Park and Highlands, which are situated along the north edge of the river and just east of downtown. In terms of location, they are pretty much perfect, especially if you live there. Moving down Ada Boulevard, when you turn your head to one side, you catch sweeping views of the river valley, Highlands Golf Club, and the growing downtown skyline. Looking to the other side, you can admire and creep on charming, historic houses dotting the boulevard, such as the landmark Magrath Mansion and the Bidwell Holgate Mansion, along with newer homes that have just as much beauty and character. When you need to take a breather, benches can be found all along the road and in the neighbourhood parks, making the area overall an ideal place for anyone just wanting to be outside. – Christina Varvis