Campus Life
Institutional
News
AASUA concerned about U of A enrolment goals, president says
AASUA launched its annual Fair Employment Week, highlighting concerns surrounding enrolment growth and it's impacts on short-term contract staff at the U of A.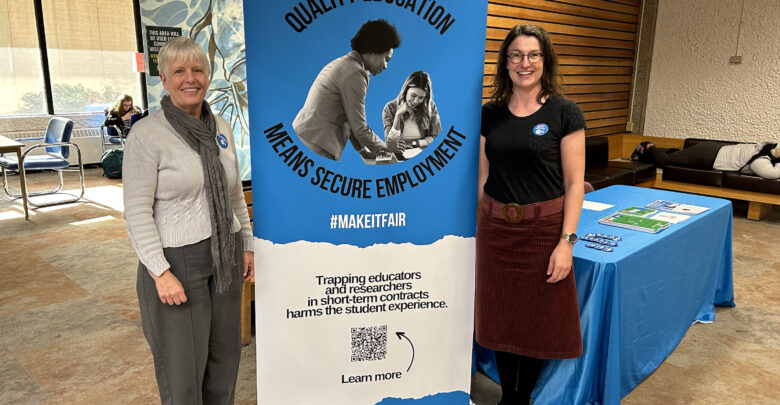 On October 17, members of the Association of Academic Staff of the University of Alberta (AASUA) held an online media event as a part of their annual Fair Employment Week (FEW), which ran from October 16 to 20. AASUA President Gordon Swaters, Vice-president Kristine Smitka, and Laura Schechter, director of ATS, all spoke at the event.
Through FEW, AASUA raised concerns regarding the U of A's new strategic plan, SHAPE. Additionally, they wanted to bring awareness to the impacts short-term contracts have on post-secondary education (PSE) in Alberta.
SHAPE is the U of A's 10-year strategic plan. Unveiled by U of A President and Vice-chancellor Bill Flanagan on September 19, SHAPE aims to boost student enrolment. Ultimately, the U of A hopes to increase the student body from 44,000 to 60,000 students by 2030. However, the U of A is "growing the wrong way," Swaters said.
AASUA president says short-term contracts pose a "significant threat" to student learning experiences
Currently, instructors in short-term contracts teach half of all courses offered at the U of A, Swaters said. He added that out of the approximately 2,800 academic teaching staff at the university, one in three do not have continual full-time employment. This means that they must re-apply every year.
"We ask a very simple question: who will teach these students?" Swaters asked. "The clear trend over time is that the university is increasingly relying on contract academic staff to teach undergraduate and even graduate students."
Swaters said that many academic staff face "precarious employment." They often don't find out whether or not they have a fall term teaching contract until late August. As well, contract academic staff often have a lack of benefits and face a pay gap which impacts their wages. In order to "cobble together a living wage," they often work at multiple institutions.
These factors create unstable work environments, which Swaters said poses a "significant threat" to students' learning experiences. Academic staff work hard to achieve and provide university education to students. However, short-term contracts impact their ability to do so, Swatters said.
"Wrapping university teachers in short-term contracts ultimately results in less time for course planning and exam and assignment marking. [And] for keeping up with the latest scholarships necessary to provide the latest insights in the lecture hall, seminar room, art studio, and laboratory," he said. "Importantly, [it results in] much less one-on-one time with students who are very eager to learn."
He added that precarious employment causes time constraints and uncertainty. In turn, opportunities that students have "every right to expect as a part of their learning experience at the U of A" are greatly diminished.
Despite precarious employment, contract academic staff continue to do good work, Swaters said.
"In public, precarious instructors often receive university awards for their dedication to teaching. Behind the scenes, they are disrespected by the employer, forced each summer to consider leaving the academy altogether."
Swaters said that precarious employment will be a "silent killer" of the high-quality education the U of A offers. However, the U of A can change that by "telling the truth about what is happening."
"Planning for massive enrolment growth without committing to secure ongoing appointments for academic staff will be disastrous."
"Absence of stability really limits what we can do, both in and outside of the classroom," AASUA ATS director says
Swaters then asked Schechter to speak on the "first-hand impacts of precarious employment" that she has experienced. Schechter is the director of the constituency made up of more than 900 contract academic teaching staff at the U of A, of which she is a part of.
Schechter said that many ATS members have equivalent qualifications and classroom experience to permanent faculty members at the U of A. Despite this, there is a 57 per cent pay gap between them.
Because they work at multiple institutions, these instructors are "pushed in many different directions," Schechter said. As a result, they have less time to give to their students. AASUA is "concerned about the impact for students [from] this kind of precarity from year to year," she said.
"Many of us teach the same students in multiple classes over many years. We will see them in junior and senior classes. But, we can't guarantee that we'll be around to write reference letters when they want to apply to grad school … because we may or may not be employed the year that they're applying."
For years, Schechter wasn't a full-time contract instructor. As a result, she had to find her own health care during the spring and summer semesters. As well, she had to apply for access to the U of A libraries from May to August. These things "distance us from the community that is here, that could really be flourishing if we were able to be more a part of it."
"It's difficult to give the kind of care, time, and attention that we'd like to to every student who comes in," Schechter said. "This absence of stability really limits what we can do, both in and outside of the classroom."
Schechter said that there are steps the U of A could take to create more stable and secure employment for these staff members. In the end, this would benefit both students and staff, she said.
"We really are so concerned about our students, [and] we really love teaching."
"It is extremely demoralizing to have to re-apply for your job over and over again," AASUA vice-president says
Smitka said that the unstable employment contract academic staff members face impacts students, often in ways they aren't aware of.
For instance, a lot of work goes into planning classes, even before the term begins, Smitka said.
"If I want to have textbooks in the bookstore for my students in September, I have to be putting those bookstore orders in in May to ensure the bookstore has enough lead time."
Right now, there are many conversations happening at the U of A about community impact, Smitka added. One way instructors do this is by partnering with organizations in the community to give students the opportunity to give back. In order to set these opportunities up, instructors build connections months in advance.
However, if instructors are only getting course assignments in August, they don't have enough time to make sure that the "material conditions are there for their students to be successful." Smitka said this happens frequently at the U of A.
"What really concerns me about having half of undergraduate classes at the U of A taught by contract instructors is that the students who are paying the same tuition, regardless of which section they're getting slotted in, are not being afforded the same learning conditions."
Smitka said this wasn't because instructors don't want to provide "excellent quality education" to students. In reality, the "working conditions are the learning conditions of students."
A key component of SHAPE is ensuring that everyone at the university feels included and valued. Smitka said that moving U of A employees into stable, continued employment is a concrete way to achieve this.
"It is extremely demoralizing to have to re-apply for your job over and over again," Smitka said. "It is beleaguering to have to apply for employment insurance over the summer because you don't have a job for two months. And to be perfectly honest, it takes a lot of time to continue to re-apply for your job over and over again."
Many U of A employees in precarious positions provide services the university needs, Smitka said. This includes temporary librarians, instructors, research staff, and administrative staff.
"They need those workers to provide education to students, to keep the research labs running. They need to invest, come forward, and provide secure employment for academic staff in order to actually be able to grow into this vision that they're proposing."