Institutional
News
U of A strategic plan to increase student enrolment by 16,000 in 10 years
The plan focuses on boosting enrolment, national and international rankings, and increasing focus on certain research.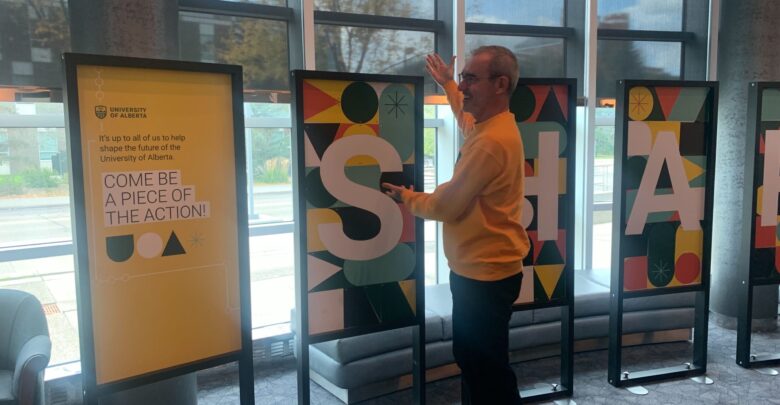 On September 19, University of Alberta's President and Vice-chancellor Bill Flanagan unveiled SHAPE, the U of A's 10-year strategic plan, at the Timm's Centre for the Arts. SHAPE aims to boost student enrolment, as well as raise the university's ranking to be among the top three universities in Canada by 2033.
The Strategic Plan Steering Committee, led by Interim Provost and Vice-president (academic) Verna Yiu, developed the strategic plan. It focuses on elevating areas in Indigenous research, agriculture and food, and social transformation.
"We have set the audacious goal to grow our enrolment by more than 35 per cent in the next decade," Flanagan says
Currently, 44,000 students attend the U of A. Within the next decade, the university plans to grow that number to over 60,000 students.
"This represents an additional 16,000 students, 6,000 of whom will be international students from around the world. Almost 5,000 of these 16,000 new students will be graduate students," Flanagan said.
"We … live in a province with a rapidly growing young population, and a province that continues to draw newcomers from across Canada and around the world. With this remarkable projected demographic growth, we have set the audacious goal to grow our enrolment by more than 35 per cent in the next decade."
The plan to grow domestic student enrolment is based on the rising numbers of young students in Alberta. Flanagan said that domestic application numbers are rising exponentially.
"They're up 20 per cent in the last five years. We're predicted to grow by at least another 20 per cent in the next five years," Flanagan said.
"We're getting huge demand for our programs, so we think we can grow our domestic enrolment very easily, providing we can secure adequate funding from the Government of Alberta to do so."
There is also demand for international enrolment at the U of A, Flanagan said. Flanagan emphasized that more than half of these new international students will "likely choose to stay in Alberta upon graduating, contributing to a growing and evermore diverse province."
Revenue to go toward bolstering teaching and research at the U of A
"We projected [that] growth at this scale can generate over $400 million in new revenue," Flanagan said.
According to Flanagan, revenue generated from student enrolment would go towards investments in teaching and research, including the hiring of faculty and staff.
The strategic plain aims to have the U of A rank among the top 50 research intensive universities in the world and the top three universities in Canada. Flanagan plans to increase the U of A's annual research funding from $550 million to $650 million by 2028.
The plan identifies three areas of research excellence for the U of A to focus on. In these areas, the U of A has "already demonstrated its internationally ranked institutional strength." These areas are energy and the environment, artificial intelligence, and health and well-being. The university plans to increase numbers of graduate students and post-doctoral fellows and incentivize community-based research to support this endeavour.
The U of A will be dedicating $24 million toward Indigenous research. This research will focus on sustaining the "health and well-being of Indigenous communities and environments," the plan says. SHAPE's implementation work will integrate the "Braiding Past, Present, and Future: University of Alberta Indigenous Strategic Plan."
The U of A ranked seventh in the world on the 2023 Times Higher Education Impact Rankings, which assessed universities using the United Nations' Sustainable Development Goals. The plan explains that the university wants to continue working toward sustainability.
In addition, the university wants to lead "innovation in smart and digital agriculture" and drive "cellular agriculture research." For instance, a new institute is being developed to teach students how to create food from cell cultures.
As well, Flanagan highlighted the importance of collaborating with others globally to meet these research goals.
"Deepening our global partnerships … will enable us to leverage [large-scale] interdisciplinary research opportunities."
"To get to 60,000 students will require some significant investments," Flanagan says
As infrastructure needs to grow with the rising student population, Flanagan plans to invest in capital infrastructure to maintain the student experience.
"We want to ensure that the student experience will remain a really strong one at the U of A. We think we can grow to about 50,000 students within our exisiting infrastructure," Flanagan said.
"We're also exploring hybrid and online opportunities, but after 50,000 [students], we're going to have to invest in capital. This is going to have to include student housing, classrooms, [and] labs. To get to 60,000 students will require some significant investments."
"Our priority is making sure that the student experience keeps up with the pace of enrolment growth," Fotang says
The U of A Students' Union (UASU) was involved in the creation of the strategic plan. UASU President Christian Fotang sat on the steering committee last year when he was vice-president (external). He said the UASU took a role in creating the plan with the student experience in mind.
"It was a co-created plan. We brought a lot of students' concerns into those conversations. There were town halls and other consultation processes that students were able to provide their input in," Fotang said.
Currently, the UASU's main priority is maintaining service delivery and the student experience.
"Our priority is making sure that the student experience keeps up with the pace of enrolment growth. That means maintaining services, such as academic supports, clinic and counselling services, work-integrated learning supports, [and] financial supports," Fotang said.
However, Fotang has some concerns about how the enrolment growth will affect the student experience and quality of education.
"What [will] 60,000 students on this campus look like? We're not growing currently in physical space, so what are classrooms [going to] look like? Are classroom spaces [going to] get more exhausted? Are professors [going to] have the resources they need to provide [the] supports that students need?"
If students have concerns about SHAPE, Fotang encourages them to talk to the UASU.
"If the university can be both ambitious in its goal of improving the student experience as it is in improving the enrolment goal, then there can be benefits for students."