Campus Life
News
Humans of UAlberta: Christian Zukowski
"For me, a big part of it has been supporting council in making connections, developing skills, and being the best council they can be," UASU speaker says.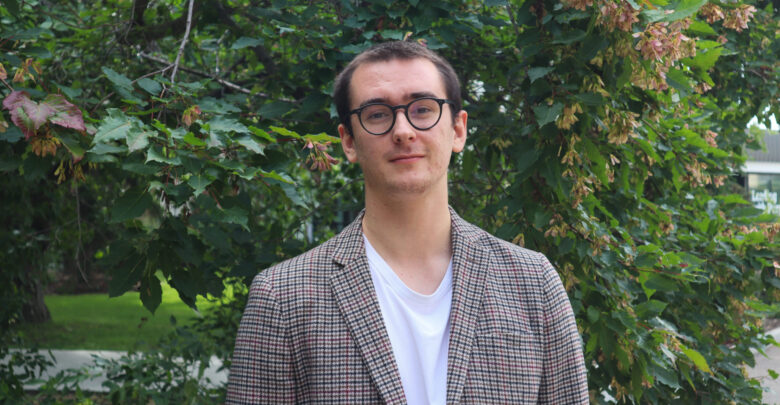 When Christian Zukowski decided to run to be the University of Alberta Students' Union (UASU) Students' Council speaker for the first time in May 2022, it was at a time when council was undergoing many changes. Previous years had a lot of conflict, the COVID-19 pandemic, and a high turnover rate. As a result, Zukowski said there was a lack of institutional memory in council.
In that, he saw an opportunity to join council in an "impartial support position, rather than the face of advocacy." Through this opportunity, Zukowski hoped to support a "very new council" in the work they do. Now, Zukowski is in his second year in the role.
Even though he's graduating in the fall, Zukowski is staying on as speaker. In the UASU, non-students can hold two positions: the chief returning officer (CRO) and the speaker. The length of time a speaker stays in their role fluctuates, Zukowski said.
"I think it really depends on council dynamics, to be honest. So the last few years, the speakers have just stayed for one year terms. I've heard stories back a decade or two ago of someone staying for seven years as speaker, which is just mind-blowing. It would feel weird, because you don't have a strong connection."
The speaker doesn't have set hours, Zukowski said, but his role revolves around council meetings, which happen bi-weekly on Tuesdays.
A part of his role is preparing and reviewing the items brought to council meetings. That way, they're "presented in a way that council can actually work with, digest, and do something with." After that, it's all about preparing for the meeting itself.
"I've heard people compare council and these big public meetings [to] theatre. Not in the sense [that] they're not genuine, or they're a performance. But, in the sense that it requires a lot of preparation and knowing what's going into it."
Although "not very many" controversial motions have been made this year, Zukowski said he has to be prepared to deal with them when they happen. To Zukowski, this means he has to be ready to guide council to a solution, or figure out how to handle the concerns being brought up.
By doing this, Zukowski hopes he'll be able to support council as they navigate their roles.
"For me, a big part of it has been supporting council in making connections, developing skills, and being the best council they can be."
A part of this has been changing how council "engages with campus in general," Zukowski said. In the past, council has gone to other U of A campuses, like Augustana or Campus Saint-Jean, and held council meetings there. Zukowski said they've found this isn't the "best way to engage with students, because our council meetings are pretty dry."
Instead, they've decided to host workshops with student leaders ahead of council meetings on these campuses. That way, everyone gets to know each other, develop relationships, and learn about the "unique challenges" they all face.
Going to other campuses and holding council meetings lead to Zukowski's favourite moment as speaker, he said. Last year, council went to Augustana and received "direct feedback" from student leaders there.
"They felt really genuinely engaged with and they were actually being listened to. Not just checking off a box or finding a quick solution to something, but more broad, open-ended questions of, 'what does it mean to be a student on this campus?' I think that sort of relationship building, and just open curiosity to different students' experiences was really valuable for them."
Zukowski has been working on establishing a proper onboarding system for future speakers to ensure institutional memory isn't lost.
"There's no training programmes that help to bridge that gap year-to-year, because I probably won't be here for seven years," Zukowski said. "So, whoever takes over for me in the future, I want them to be prepared."
For Zukowski, the best part of his role is working with people. Although he has a broader interest in law and governance, watching councillors grow in their roles and achieve what they set out to do is wonderful, Zukowski said.
Going into his role as speaker, Zukowski already had lots of experience in student governance and with the UASU. Zukowski is in his seventh and final year as an undergraduate political science student.
He served on the Discipline, Interpretation, and Enforcement Board (DIE) for four years before he decided to run for speaker. The DIE Board enforces and interprets UASU bylaws, and is a separate entity from the UASU. For three years, Zukowski served as a general member before eventually becoming the chief tribunal in his last year. At this point, Zukowski was nearing the end of his degree, and decided to run for speaker.
Zukowski's experience in governance and politics extends beyond the UASU. At the beginning of his degree, he served as the governance director of the Organization of Arts Students and Interdisciplinary Studies (OASIS). In this role, he supported then-Oasis President Chris Beasley by revising bylaw, encouraging student engagement at the Annual General Meeting, and preparing bylaw amendments that came forward.
He also volunteered with the Elizabeth Fry Society of Northern Alberta, where he supported women and vulnerable populations as they went through the criminal justice system. In high school, Zukowski was on the Edmonton Public School Boards' Student Senate.
"I think a lot of [my work] has been governance policy," Zukowski said. "But also, I really value supporting people."
"Rules and procedures fascinate me. But what's really valuable is the recognition of relationship building, because relationships are the heart and soul of governance at the end of the day."