Arts & Culture
Lifestyle
'Euphrates Storyteller' shows Aboud Salman's story as a refugee artist
This exhibit explores the life of a refugee artist and his struggle to see hope.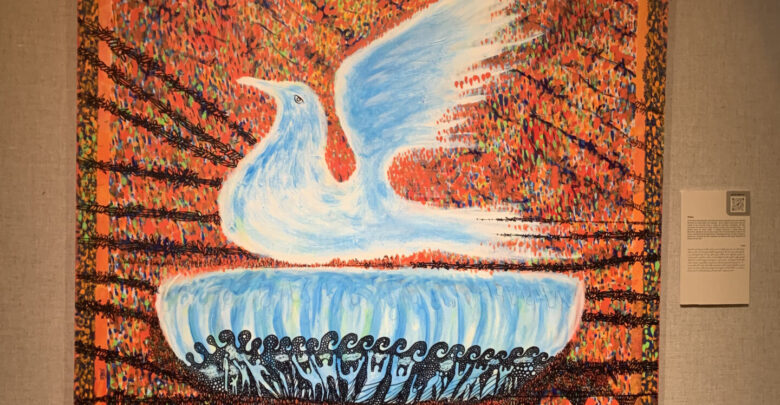 Euphrates Storyteller, an exhibition that was on display at the McMullen Gallery, showcased the life of Aboud Salman and his journey as a refugee artist. 
His pieces tell a story of his experiences and struggle as a refugee in Canada. Likewise, he uses his artistry to express the traumatic experiences from his war-struck home city of Mayadin in Syria.
Salman uses figuration, but his art is mostly abstract and focuses more on emotional resonance than direct representation. The gallery arranged the pieces to tell his story in sequence, which I found compelling.
His piece titled Refugees captures the story of refugees during the Syrian war. The label stated that his painting shows the "untold number" of refugees trying their best to survive the destruction.
Refugees depicts a bird that acts as a sail for a boat. This symbolizes the hope that people had as they tried to escape the ruin that had fallen upon them. The story behind this piece was truly powerful. As well, the unique colours used to evoke it leave a striking impression on viewers.
Riyadh, evoking the desert landscape through yellow and orange tones, was one of my favourite pieces. The label for this artwork stated that Salman got a job as a teacher in Riyadh in Saudi Arabia. Despite having to move away from his family, he accepted the job. They needed the money so that he could start his career in art — opening a gallery in Damascus was his dream.
Palmyra is another painting that I truly enjoyed. The shades of blue and green in the painting made it stand out from the others. The colours told me that the piece would be hopeful, unlike some of the others that used red and orange, where fear and rage were showcased.
The painting portrays Salman's travels to Damascus as an 18 to 19 year old with the goal of enrolling at the Damascus School of Art. Sadly, this did not happen. Through this experience, he learnt that connections are sometimes more important than a passion for art. 
As he headed back to his home, he passed Palmyra, the setting of this painting. Queen Zenobia, a queen from the Palmyrene empire in the third century, is the main focus of this piece. Salman portrays his hope by using the queen as his center, encouraging him to overcome the sadness he felt after being rejected from art school. 
This exhibit gives viewers a taste of what Salman's life was like through all his pivotal moments, troubles he faced, and lessons he learned.